Subscribe
Three Steps to Selecting Your Superhero Strategic Planning Team
School Districts | Innovative Leadership | Strategic Planning
"One bag of peanut butter M&Ms, please." It's the first step I take as I enter a movie theater before selecting the perfect middle-center seat – a ritual I began with my mom as a child. On this day, instead of rushing to the front of the line, I took a moment to look around. There was a buzz in the room as kids and adults of all ages lined up to see the first black superhero. There is no doubt that Black Panther was a major milestone for the United States and the world. Throngs of people viewed the film multiple times, relishing the opportunity to be represented in such an empowering way. A couple of years later I noticed a similar sense of pride at the release of Captain Marvel, a film featuring a female superhero. I knew the Avengers was a well-regarded team but it was clear that these additions were crucial. It's difficult to imagine a complete team without the most recent additions because of the unique perspectives they bring. It is the first step in a longer commitment to inclusion and empowerment.
When it comes to selecting a team to build your strategic plan, you probably want to have a superhero team of your own – one that represents multiple voices in your community while also being an agile body that executes flawlessly (to save the city, of course). These needs often seem at odds with each other. How do you marry diversity of experience with a desire for cohesiveness? If we are not intentional with considerations around this tension, we end up with a strategic plan fraught with cliches and buzzwords resulting from attempts to compromise.
"If we are not intentional with considerations around this tension, we end up with a strategic plan fraught with cliches and buzzwords resulting from attempts to compromise."
At Education Elements, we believe that there are ways to include representative voices and ensure a nimble decision-making process. Consider taking the following simple steps to select strategic planning teams:
1. Identify everyone you want to involve
As you begin your process it is important to first identify how you want to engage your stakeholders; check out our previous post, Stakeholder Engagement and Change: 4 Steps to Effective Engagement. Through this process, you have likely identified a great number of people who are highly invested in the future of your schools. With your stakeholder groups in mind, make a list of the individuals you think are important to involve. Go for quantity; you will narrow down your list in the next step.
Deeper Dive: Join our upcoming webinar on designing and launching a responsive district strategic plan!
2. Plot the individuals on your list in the engagement matrix

It's important to have a representative strategic plan, but not every person wants or needs to be engaged in the same way. With the engagement matrix, you will plot your list of individuals along the x-axis according to how much interest and investment they have in the plan. Then, along the y-axis, you will determine how much influence they have in making decisions.
Depending on where each individual landed you will determine how you would like to involve them in the creation of the strategic plan.
3. Select the level of involvement of each individual
Using your insights from the engagement matrix, select a team that best matches the needs of your stakeholders. You'll want to include anyone in the "Consult," "Innovate +Collaborate," and "Empower" categories in your team. For a better understanding, check out our Guide to Creating Strategic Planning Teams.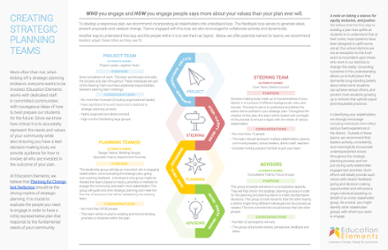 Use the Creating Strategic Planning Teams guide to help you determine what your teams should be, and who should be on them.
On the Matrix
Strategic Planning Team
Characteristics

Empower

Project Team

Steering Team

This team synthesizes and edits the process and plan throughout. These individuals are part of the Steering Team and have additional responsibilities between steering team meetings.

This is a decision-making body comprised of representatives of your district. It is inclusive of different backgrounds, roles, and tenures. This team's role is to synthesize and deliver the action items outlined in your strategic plan. Throughout the creation of this plan, this team will be tasked with oversight of the process to ensure it aligns with the needs of various stakeholders.

Innovate + Collaborate

Planning Team

This leadership group will play an important role in engaging stakeholders, communicating the strategic plan, giving and receiving feedback, etc. Individuals in this group might be divided into teams based on topics, priorities or interests to engage the community and reach more stakeholders. This group will guide and drive strategic planning and make the first line of decisions that will be validated by the core team.

Consult

Advisors

This group(s) will serve in a consultative capacity. They will help inform the strategic planning process in order for the working and steering teams to make representative decisions. Think of this group as being a bit more dynamic where you might bring in different individuals on an "as needed" basis. The time commitment would be less than the other two groups.
Investing time at the outset of your strategic planning process will ensure you have a representation of all of your stakeholders throughout your journey. Don't wait to reinvent your team at the end of the long and arduous process. Although it's been lucrative for Marvel and Disney, the many headaches the Avengers have had to handle would have been substantially lessened if someone had taken stock of available heroes at the outset. Although it is challenging and daunting to front-load the work on your strategic plan in this way, this early step can ensure smooth sailing and inclusive input from all your stakeholders.
For a deeper dive into strategic planning, and how to set yourself up for success, join us at the Strategic Planning Leadership Institute! You will gain practical insights and actionable next steps to develop a responsive strategic plan for your district. The small group, 2-day institute creates the perfect environment for targeted learning and hands-on collaboration for you and your team. Spots are extremely limited, so register today!