Subscribe
Tic-Tac-Toe or Checkers - What Rules Do Your Teams Follow?
Take a look at your calendars and consider the number of meetings you have each week. Can you say that you go through most of those meetings and 100% finish on time and in each of those meetings you get 80%-90% of the agenda items covered? While getting all this done, can you say that 100% of all meeting attendees get a chance to participate? I can. Just tweaking a few things about your meeting will make a significant difference in your organizational culture.
You often walk into meetings thinking you know the agenda, understand the goals, or expect certain decisions to be made. However, more often than not, you come out with more tension, less clarity about what to do next, and the meetings went over time, so you end up rescheduling the next meeting. In these meetings, you spend too much time just trying to figure out what people are saying and understanding, determining who's responsible, and voicing your assumptions and concerns. By the time you're done, you've covered 1 or 2 agenda items from a list of 8 items.
Let me give you a simple activity for your meeting teams to think about. This activity will demonstrate some strategies to help your meeting teams better understand the rules of engagement.
Activity Directions: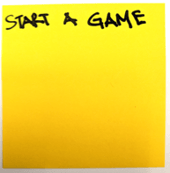 Pass a sticky note to each attendee.

Give them the direction to draw a game on the note. Provide about 10 seconds.

Ask everyone to name off what games they came up with.

What you will find is, some came up with: hangman, tic-tac-toe, Pictionary, connect four, or nothing at all.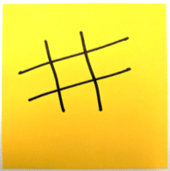 What you should have learned as a leader is that while giving directions like "draw a game" is an action, it doesn't help the team function together. In fact, as a leader, you should be providing everyone a sticky note with a tic-tac-toe board already drawn. If you provided each of the meeting team members this sticky note, everyone would be more clear on how to start, who goes when, and how to complete the assignment.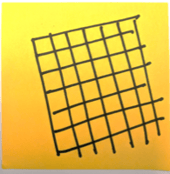 Once your team gets used to playing tic-tac-toe, you would be able to introduce more complicated games like checkers or chess. Imagine if you gave your team this board. They would know what to do because you've developed the predictability in your team that I describe in my "Start With Predictability to Build Trust in Teams" post.
Have you read The NEW School Rules? It's for every leader who wants to effectively make change and create environments of growth, excitement, and passion. Get your own copy of the practical guide for how to improve the practices of schools and districts!
When you improve the quality of your meetings it will change the culture of your organization.
Meetings shouldn't go over time

- people have other places to be. There is a negative ripple effect when meetings go over. If you want to reduce organizational hierarchy, understand that your meeting isn't more important than any other meeting.

Know what game you're playing

- are we providing updates, making policy decisions, brainstorming, assigning accountabilities, etc. Each of these should have rules or protocols that allow the meeting to move through them quickly. When we know how we're supposed to operate, we can get it done much more quickly.

Work on the meeting not just projects

- use the check-outs as an exit-ticket to see how to improve the next meeting. Meetings should be a place where we learn to work together in more and more complex scenarios. If you don't improve how you meet, you won't improve the work.
Trying some of these recommendations will initially feel uncomfortable. That is expected. When we try to undo old habits and learn new skills it's always uncomfortable. That's how you know you are learning. I tell all the people reading my book, "The New School Rules", educators can't work any more hours nor can they work any harder. The only way we are going to get more done is by working better. Meetings take up a ton of time and if we can get more out of meetings, I'm positive we can achieve more of the goals we set forth to make our schools, students, and communities grow.
If you're excited to dig into the ideas and practices from The NEW School Rules, join us at the upcoming Leadership Institute in March. Spots are very limited for an opportunity to learn directly from a team of experts in change management, organizational design, and leadership. The Institute also offers the unique space to grow your leadership practice, while learning and collaborating with school and district leaders from around the country who are thinking about the future design of schools and districts.
Originally published on The NEW School Rules blog.