Subscribe
The Six Competencies that Every Leader Should Model Through COVID-19
Organizational Leadership & Change Management | District Leadership | School Leadership
There is something about this crisis that has brought out the baker in many. Even the two of us, people who have tried elimination protocols to reduce our gluten intake, have made a few attempts at biscuit and sourdough making. And it's not just us! We recently learned that King Arthur Flour has seen a 600% increase in demand for their product as home cooks are rediscovering the art of making their own bread.
One would think that this was welcomed news for the flour company but with the unfathomable increase in baking, the company was faced with the challenge of meeting the growing demand. King Arthur's Flour was presented with unique challenges beyond simply increasing their production. Whereas home cook needs were increasing during quarantine, bakeries were pausing orders due to closures or a smaller customer base. Suddenly, industrial-sized bags of flour were needed less than the 2-3 pound bags you see in the store. Additionally, the King Arthur's Flour telephone helpline saw a decrease in the professional bakers calling for support while more novice bakers were calling in droves. Much like its namesake, King Arthur's Flour has had to meet the times, pivot with the needs, and reach deep within their creative processes to retrieve the proverbial sword to fortify the masses.
This is no small feat and it requires an immense amount of leadership from lineworkers to accountants to customer service and executive offices. In many ways, this mirrors the monumental shift that school districts have led to ensure the health and safety of their communities. We have seen leadership emerge in the creative ways you all are celebrating graduations, connecting with families, and supplying food. We know that COVID-19 has demanded new things from us and we wanted to share some of the lessons we have learned from the incredible leaders we work with. Below you find ideas for how to implement our 6 foundational leadership competencies:
Know Yourself
Knowing yourself means you know your strengths AND are able to share your story with others. When leaders model this they create an environment of authenticity and vulnerability.
Self-reflection

:

This is the perfect time to reflect on your own personal story thinking about your experiences, biases, values, and your strengths as a leader. Need some activities to help you reflect? Here are

over

twenty-five different reflective activities

for building self-awareness and gaining clarity about oneself you can try.

School/District Reflection

:

It is also important to take the time to think and reflect on the current state of your school or district. One activity you can do is a

SWOT Analysis

to reflect on your school or district's strengths, weaknesses, opportunities, and threats to be able to help guide decisions and/or next steps.
Nurture Trust
Support, understanding, and honesty assist your team in being willing to share feedback and take risks.
Share Failures:

This is a very uncertain time and there are no right answers as we are all trying things to see what works best. This is a perfect time to share failures to allow others to see that it is okay to try something and learn from it. It also shows vulnerability which builds trust. One idea from a school that we have seen work well is having a "fail fest". Teachers share out things that they have tried that didn't work well and then what they did to make it better the next time. This allows teachers to learn from one another but also be solution-oriented.

Focus on building culture:

Just because you are in a remote learning environment doesn't mean you can forget about culture. Make sure as a leader you are taking time to strategically think about culture; if you need some ideas

check out these strategies to build and sustain culture in a remote setting

.
Cultivate Curiosity
Curiosity allows us to find solutions and be responsive to the needs of our team amidst challenges.
Block time for learning:

We know this is hard, especially during this challenging time of working remotely, but as a leader, it is very important to make sure you are taking the time to learn. Ever hear of the

5-hour rule

? The 5-hour rule that many leaders follow–such as Oprah and Bill Gates–says you should be taking at least 5 hours per week to be learning and growing. This is as easy as blocking off one hour a day. Check out these

webinars

and

virtual conference

offerings on this topic.

G

enius Hour:

One of the best ways to motivate students and adults is through providing ownership; teacher Genius Hour does just that! Based on

Google's 80/20 theory

, teachers engage in 80% of the professional development offered but the other 20%, they can decide on something they are interested in and create their own professional learning experience. It can be a book study, a case study, or solving a problem of practice. Each teacher gets their own action plan, with check-in meetings just like students would get during Genius Hour in the classroom.

This fosters curiosity through teacher choice.
Communicate Effectively
Clear communication is key for a team's success in general but it is especially important when you are constrained by time and the physical space of an office. Regular communication keeps you and your team aligned and working towards your goals.
Office Hours:

During the school day you would see your staff in lots of informal ways–in the hallway, in the breakroom or they may have stopped by your office. Having open office hours allows for educators to take advantage of having one-on-one conversations on topics that are top of mind, ideas they want to share, or a discussion about a remote lesson that went well or maybe not so well to gain feedback.

Capture and Share Learnings:

It is important to share success stories with others so we can learn and grow. One great way to capture your school or district's wins/successes is by having a quick Google form that allows others to share their wins. Then in your virtual staff meetings or in your newsletters, you can share these wins for all to see and hear.
Listen Deeply
If we want to work collaboratively, we must seek to learn from one another. Listening with a genuine desire to understand helps increase the speed of collaboration by aligning on outcomes and working through miscommunication.
100/0 Rule

:

One of the best ways to show you are listening is by practicing the

100/0 rule

; which means you give 100 percent of your attention and focus to the person talking to you. To do this, it takes an extra step for the leader to close their laptop or turn their phone facing down. It is even harder to do when you are meeting virtually but one way you can do this is to only have the meeting link open, and no other tabs. Show your hands if you can in the video so they see you are not typing an email or browsing the web.

1:1 Meetings:

Set up one-on-one meetings with people that you know are thinking differently so you can reflect on their ideas along with elevating their work to others. For example, if you know a teacher or director in your district is doing something new and innovative, set up a meeting to learn more. You going to them shows you are interested in the work they are doing.
Deciding Deliberately
Decision fatigue is heightened these days and it's easy to feel helpless. Having processes and exercises that help you tackle decisions will help you be a more empowered decision-maker.
Reverse Brainstorming

: When using reverse brainstorm,

you begin by asking what would

cause

the problem instead of saying how are we going to solve the problem.

Use the reverse brainstorming protocol to develop decisions that will drive your team to the desired outcome. Learn more about

reverse brainstorming here

.

Making Space to Fail

: In the book Multipliers by Liz Wiseman, Greg McKeown talked about how you can help your team members thrive by helping them see their potential and reach farther than they thought was possible. In order to provide leaders with the space to innovate, you must provide guidance on where to create. An activity like the one linked helps you have a proactive conversation with those you manage so they can help maximize the decision-making process and take risks.
Leaders must lean on each other and dig within themselves to find the resilience to manage the uncertainty but we have faith that with these skills you will have what you need to endure. Just like in baking, whether you are making pancakes, cookies, brownies, or bread, we trust that you have the right ingredients you need to rise.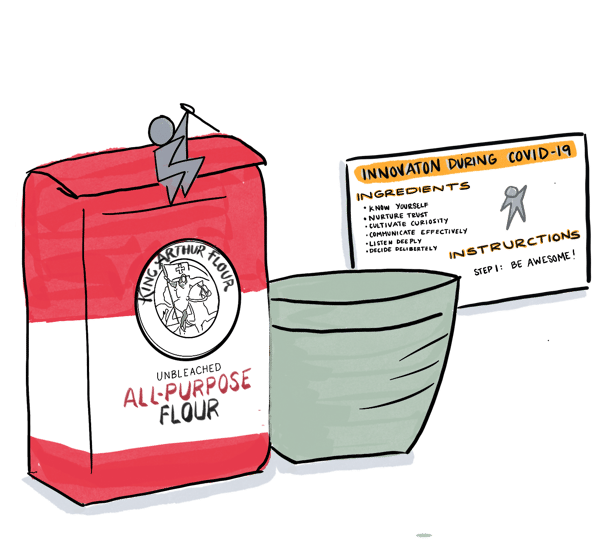 About Andrea Goetchius and Jill Thompson
Andrea Goetchius is an Associate Partner on the Design and Implementation Team working with schools and districts to best meet the needs of all learners. Andrea enjoys collaborating with and connecting clients across the country. Andrea began her career as a Special Education Teacher in Glendale, Arizona. As a teacher she experienced customized learning for her own professional development, solidifying the belief that all teachers and students deserve unique paths for learning and development. During her time in the classroom she coached and supported student teachers and led staff development. Andrea then worked for Teach For America as a Manager of Teacher Leadership Development where she coached and supported teachers PK-12 to match their strengths and skills with the needs of their students. In her current role Andrea specializes in projects that bring initiatives to scale across districts, regional centers and state entities. Andrea has also led districts through a strategic planning process to identify long term priorities and goals. She is passionate about the development of innovative leaders. Jill Thompson is an Associate Partner at Education Elements where she works with districts from around the country to solve their biggest challenges. Prior to working with Education Elements, she was the Director of Personalized Digital Learning at Charlotte-Mecklenburg Schools (CMS). She was responsible for leading the CMS transformation in a highly complex, large urban environment. She developed a personalized data driven model to provide professional learning, and created micro-credentialing learning paths. Jill is a former classroom teacher, who has won multiple awards for being an outstanding educator. She is an authorized Google Education Trainer and Apple Teacher. Some of her current projects are School Redesign and Technology Strategy Planning.