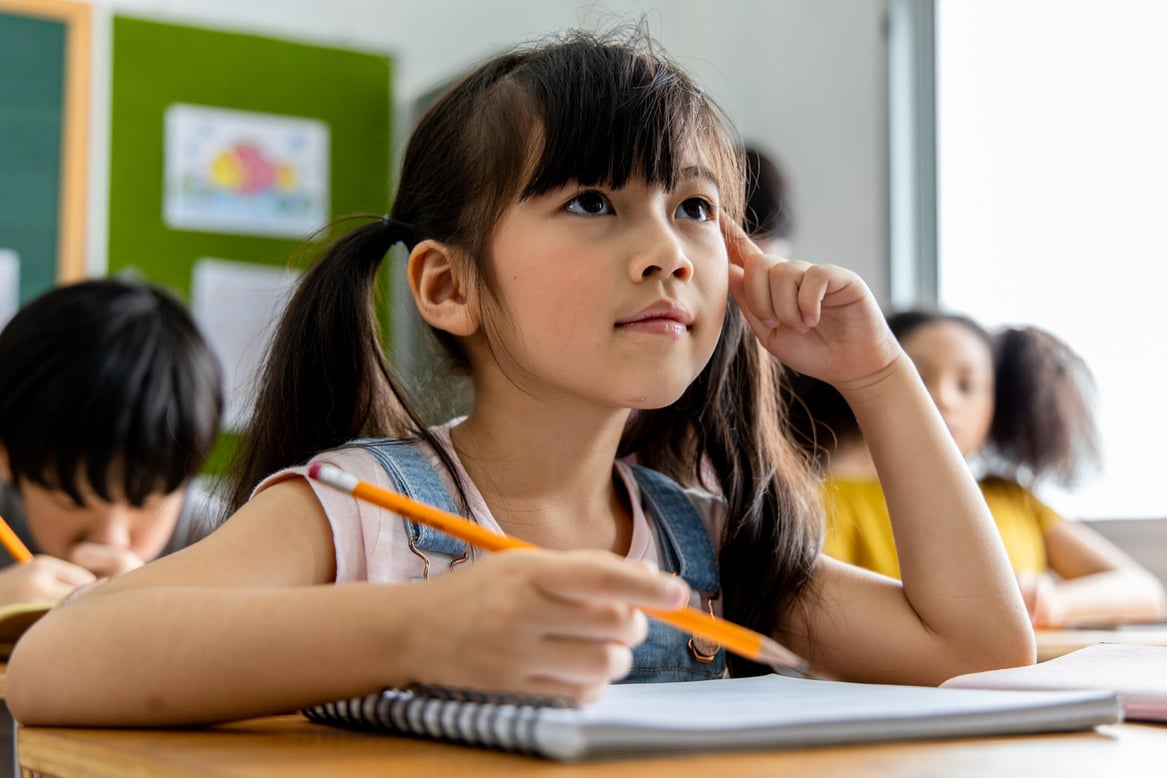 Subscribe
Preparing Leaders for the Upcoming School Year
Organizational Leadership & Change Management | District Leadership | School Leadership
Across the country, educators and educational leaders have celebrated their graduations, held their end-of-year promotion ceremonies, and cleaned out their classrooms. After another unpredictable year, many are eager to get some well-deserved time away this summer. As a leader, you likely want for your team to be able to really unwind and enjoy the summer. Consider setting aside some time for your team to officially close out SY 2021-2022, and to prepare for a strong start when they return to start SY 2022-2023.
We recently had the opportunity to work with a school administrative team whose experience of SY 2021-2022 was fairly representative of many school teams: they had weeks of missed schooling due to teacher absences or spiking COVID rates, they had a plan for the year to get learning back on track that was sidetracked by the emergencies of the moment, and they made it through the year by tackling the most urgent problems, one at a time.
What they did at the end of the year might not be representative of many school teams: they spent two days as a team, reflecting on the year they just completed, and resetting their team structure, responsibilities, and planning practices to prepare for a strong start to SY 2022-2023.
Reflecting
Research supports the value of reflection as a strategy for individual learning; moreover, group reflection can help with the collective understanding of a shared experience. Reflection can also serve to mark the end of an experience – in this case, bringing closure to the school year. This team started their reflection by using a protocol designed to foster frank and hopeful discussion about where they've been, where they are, and where they are going. They each spent a few minutes on four separate reflection prompts, completing one post-it note per idea: Future Direction, Lessons Learned, Accomplishments, and Problem Areas (FLAP). By capturing each of their reflections on these ideas, they were able to align on the vision for the team, what the potential barriers to success might be, and what the team would need to be successful in attaining that vision.
Resetting
At the end of a school year, or even the end of a project or initiative, it is important to revisit the roles and responsibilities that are assigned/assumed by different members of the team. Once work begins, things come up that nobody planned for, and people start to take on more responsibilities and tasks then they expected to at the start. This usually is concurrent with the whole team being busy, so information gets siloed, and you end up with 2-3 people doing the same or similar tasks, leading to a lack of clarity about who owns what, and whether or not things are getting done. This lack of clarity can have a big impact on the effectiveness of a team. In fact, when Google conducted research into the common characteristics of effective teams, Clarity made it into the five factors that were consistent and essential.
To reset for the work ahead of them, this team did an "responsibilities review." They wanted to be sure they all understood who was doing what, and re-calibrate the work so that it was appropriately distributed to the right people. This school added a group of grade-level deans to the administrative team for next year, and it was important for the existing team to be aligned on how their roles may shift for the coming year.
The team audit went through these steps:
LIST: This, too, was a post-it note party.

Each person was asked to list their responsibilities, and, if they were stuck, they could look at their calendar and think about the things they did that would have gone un-done if they were not there. As in the reflection activity, it was one per post-it note.
While the team filled their post-it notes, the meeting facilitator wrote the roles that will be on the administrative team for the new school year and placed those on a wall.

SORT: Each person shared their list

They found that some of the items listed were duplicated. Responsibilities such as, checking-in with students, check-in with teachers, communicating with parents, and assisting in hallway behavior monitoring came up in everyone's list, so we moved those to a new category,

Standard Operating Procedure

.
The next sort was to identify the responsibilities that would move to a different role for SY22-23, and discussions about the difference between accountability and responsibility: they clarified that responsibilities were tactical – things that must get done – accountabilities referred to the outcomes of the work implemented. So if the deans have responsibilities including student discipline, they are accountable for the goals connected to those responsibilities.
Planning
The final ask of this administrative team was intended to set them up for a running start when they return in August, thereby allowing them to rest easy and disengage from work so they could return rejuvenated for the launch of the new school year. They paired up and worked together to plan for projects that they would be collaborating on at the start of the year. Using the planning template below, they identified the steps they needed to take, and the metrics they would use to monitor implementation (did we do what we said we would?), effect (are we seeing what we thought we would see if we did what we said we would do?), and impact (did we reach the goal of the project?).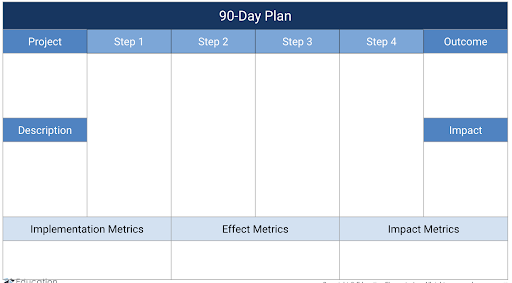 The articulation of the specific steps and metrics they would be using left the team feeling prepared and excited for the year ahead, and allowed them to close their computers with confidence, knowing that they had done all they could to set up themselves, their teachers and staff, and their students for the best possible start to the 2022-2023 school year.
If your team has gone their separate ways for the summer already, consider going through this process yourself as an opportunity to set yourself up for a strong start.