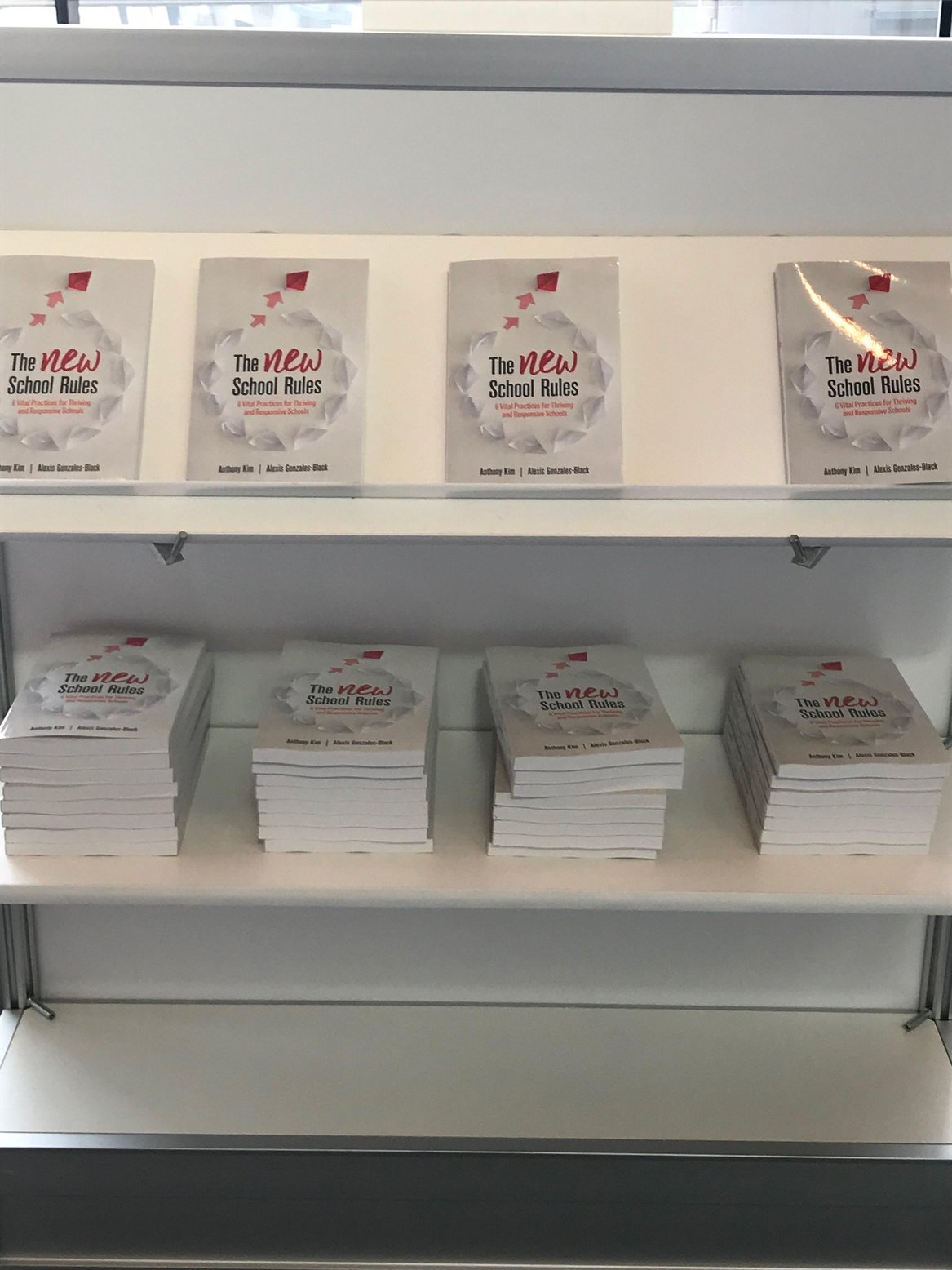 Subscribe
From Great Ideas to Successful Execution
In education reform, the focus is often on the sexy idea-of-the-day—the vision that lights donors up and causes them to give, that can grab headlines, that can give policymakers a political win. All too often we—thought leaders, foundations, policymakers, and, yes, some educators—forget about the real work that has to happen to put these things into action. The actual operations.
Giving short shrift to supporting organizations in implementing ideas—the day-to-day actions and tactics they must take—has created a huge chasm between great ideas and successful execution, one in which educators deservedly cry out for more support and ideas. It's one of the reasons educators collectively roll their eyes when yet another education idea comes out and assume that it, too, shall ultimately be a fad.
This is what makes Anthony Kim and Alexis Gonzales-Black's new book, The NEW School Rules: 6 Vital Practices for Thriving and Responsive Schools, such a refreshing read and vital contribution. The book focuses on how to help district and school leaders improve their organizational practices to create environments "of growth, excitement, and passion" that ultimately produce breakthrough gains for students.
Anthony Kim is, of course, one of the top thought leaders in the world on personalizing learning and blended learning. In writing this book, he suggests that a powerful reason for Education Elements' success in helping school districts get great results for students—witness the results in places ranging from the Enlarged City School District of Middletown, NY to Piedmont City School District in Alabama and Greeley-Evans School District 6 in Colorado—is how they help their district partners execute their lofty visions. Execution matters, and it's an area of expertise that Anthony and his team at Education Elements has been honing, in addition to and independent from their leadership in helping design educational models that personalize for all students. In other words, any school district can benefit from it, regardless of whether they are focused on personalizing learning.
Much of the inspiration for the six organizational practices that Kim and Gonzales-Black outline is holacracy, defined as a method of "decentralized management and organizational governance… in which authority and decision-making are distributed [through]… self-organizing teams rather than being vested in a management hierarchy."
The introduction lays out the central argument of the book. In education, much of the conversation is around "what is being taught and the methods being used to teach it. Comparatively little time is being spent on how schools themselves are organized and run to do this work." Working on this not only helps "schools and districts help resolve internal dysfunctions, it also leads to more time spent on educational content and pedagogy, and more energy for students and classroom learning," write Kim and Gonzales-Black.
The book then walks through six clear ideas of how schools should change the way they are organized: planning, teaming, managing roles, decision-making, sharing information, and the learning organization.
Each chapter is broken into six parts around the problem, the new rule, a case study from an actual district that has implemented the rule, lessons, ways to experiment, and how to know whether what you're doing is working. The impact is to help make the ideas digestible to readers, give them a proof point that what's being proposed—which in some cases feels quite radical—can work in a district, and a way to make the advice actionable.
I learned the most in the first chapter around planning, with the mantra being that we should now, "plan for change, not perfection." I found myself taking copious notes as the authors describe how all too often a commitment to the plans we make becomes more important than the purpose, and people become anchored to those plans, unwilling to change even as circumstances or evidence does. The key instead is to treat plans as opportunities to constantly learn and remember that the North Star is the purpose we've laid out, not the plan itself. The case study of a large southeastern school district shows that even a system with over 100 schools and nearly 100,000 students can overcome bureaucracy and years of plans to heed this advice and the flexibility it creates.
In the chapter on decision-making, I found myself nodding along with the advice of, "aim for 'safe enough to try' over 'consensus'" and thinking about how I could implement it. The risk of meeting paralysis, delayed decision-making, and the false promise of consensus are all too real, certainly in school districts, and the case study of a midwestern school district was helpful in understanding how the advice could play out in real life.
"Harness the Flow and Let Information Go," felt like a great rallying cry for how to share information in the digital age, with important advice for not only remembering that communication is key, but also remembering that how we communicate is important as well. We have an obligation to package things in ways that people with busy lives and responsibilities of their own can digest and understand.
Finally, the last chapter on creating a learning organization resonated deeply. In Kim and Gonzales-Black's words, "schools grow when people grow." This echoes the point that Heather Staker and I made in Blended: Using Disruptive Innovation to Improve Schools, where we said that "Innovating is a process, not an event. … Always seeking to learn and do better—is important. Making progress and never standing still is a hallmark of a healthy society and healthy schools, and it models the capacity for lifelong learning that we seek to instill in students." Furthermore, the assault on "best practices" in the chapter as a method that inhibits both learning and innovation resonates deeply, as it was a central point Clayton Christensen, Curtis Johnson, and I made in our chapter on research in Disrupting Class: How Disruptive Innovation Will Change the Way the World Learns. Despite this, "best practices" thinking continues to dominate education conferences, policymaking, and educators' decision-making, which makes the contribution against them valuable.
The NEW School Rules makes critical contributions to the thinking about how to help schools improve, contributions that should not only line people's bookshelves, but should also pervade the organizations and day-to-day operations of how districts and schools work. That means there's plenty more to do beyond just reading the book, but that's a great place to start - get your copy of the book.
For more great blog posts about revitalizing your organization, subscribe to The NEW School Rules Blog.