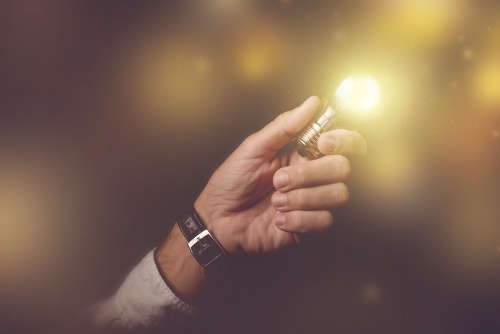 Subscribe
4 Ways to Empower the Intrapreneurs of K-12 and Ignite Innovation
Curriculum Strategy & Adoption | Innovative Leadership
In the 1980s, the organizational leadership world was introduced to the concept of the intrapreneur. Simply put, intrapreneurship is a working style that emphasizes innovation and risk-taking – traits we associate with entrepreneurs. The difference is that intrapreneurs use these skills within, and for the benefit of, an established organization.

I consider myself a serial intrapreneur because I constantly look for ways to encourage innovation at every company I am in. I've seen time and again what giving people ownership can do for results, be it in a private company, public utility, or school district. It's time for intrapreneurship to surge in K-12 education, and from my experience, here are four surefire ways to ignite innovation in your organization.
Walk the Talk.
Have you ever worked for someone who seemingly had no idea what they were doing? It's a sinking feeling when you know the person in charge is missing the fundamental knowledge to run things efficiently. It's frustrating and ultimately decreases cohesion and loyalty.
A leader needs command of the topic at hand if they want to inspire their team members to think outside the box. When an organization is ground-breaking, the leader must often also be a learner and take charge of their own professional development. For K-12 leaders, that might mean filling in personal gaps about finance, human resources, maintenance, or specific content areas.
In my first leadership role, I knew enough to know that I wasn't an expert. The organization, a leading telecommunications company, was strategizing around federal industry deregulation. My team was tasked with consolidating local and long distance charges onto one phone bill.
There was no other way to tackle the project but to spend my off-work hours voraciously consuming all that I could about the details of phone switch data. Taking the time to do my homework gave me confidence to clearly articulate needs to my team and guide them to become experts in their own right.
Set a Vision.
Knowing what success looks like and sharing the roadmap with your team is vital to achieving your long-term goals. Planning starts with thinking big. For instance, at Noodle Markets, we are focused on reimagining K-12 buying. That's a big hill to climb when it means solving antiquated processes, distrust between educators and vendors, and the siloed communications rampant in K-12 purchasing. Within those areas, there can be countless initiatives, tasks, and subtasks.
Keeping the larger vision in mind gives team members the space to contribute their own unique talents, and it's when the innovative, intrapreneurial ideas emerge. Don't shy away from taking time to reiterate goals. Open or close a meeting with purpose-setting, craft a detailed manifesto, or simply frame personal conversations.
Where you are is not where you finish. Many of my educator friends are familiar with the concept of a "BHAG"–a Big, Hairy, Audacious, Goal. It's a catchy way to remind people of the common purpose. This sort of thinking should not be reserved for classrooms. You are bound to see setbacks and celebrate wins along the way, but if you keep the long-term vision in mind, you can hit your target, and then some. Think big and empower your people to achieve and excel..
Delegate, Delegate, Delegate.
Encouraging innovation means knowing when to take your hands off the wheel and let someone else drive. A leader should have no desire to be the only person coming up with creative ideas. They have to hire people who are experts in what they do, people with a fire and commitment to excellence.
I think about the recent strides made by Metropolitan Nashville Public Schools, led by Dr. Jesse Register as superintendent up until 2015. When Register came on in 2007, Metro Nashville was in danger of losing their public funding because of subpar procurement practices. He brought experts to the team and engaged existing staff to revolutionize the way things were done in the district.
He started by hiring a third-party firm to audit every procedure associated with procurement. They discovered out-of-date practices that simply hadn't been updated. There was plenty of work to do, and it needed to be a collective effort.
As Assistant Superintendent of Instruction under Dr. Register, Dr. Kecia Ray tackled Federal Programs strategy to align the spend with the strategic plan. At the same time, Dr. Gary Appenfelder, Director of Purchasing, reformed Request for Proposal processes to increase competitive bidding. Other changes included redefining departments, introducing an inventory system, restructuring staff, and digitizing procurement practices.
Metro Nashville bounced back because Dr. Register had the foresight to empower the right people. When scaling an organization, you will see exponential progress and innovation when you give your team autonomy and ownership.
Put Competition in its Place.
I am a fierce advocate for increased competition amongst K-12 businesses. Competition historically drives up quality and efficiency by lowering costs and increasing innovation.
This philosophy cannot be directly applied within a company or organization. Leaders should be strategic about internal competition. For instance, sales is a natural place for competition. The drive to be the best and the top performer can serve the bottom line.
But for 99% of roles, people need a safe space to construct ground-breaking ideas. Today individuals, especially in K-12, feel the pressures of decreases in school funding. If employees are also looking across departments and worried about arbitrary targets or favoritism, that can be quite destructive. Leaders must counteract that fear.
One of the things I tell my team is, "Stay in your lane." What I mean is "I want you to do what you do best. Be great at that thing." I don't mean to avoid reaching out and supporting others, but instead be subject matter experts. That way, everyone around the table adds great value.
You might be familiar with the proverb: "If you want to go fast, go alone. If you want to go far, go together." A leader is only as good as the people he or she leads. Every single person has their own unique set of strengths. Leaders need to establish a culture that encourages their team members to seize opportunities as intrapreneurs.
In my view, intrapreneurs have the opportunity for two personal victories every day. The first is in just showing up when times are tough. The other is to innovate when things aren't perfect. Imagine if every member of an organization shared that mindset. Imagine what that could do for a school or district. Imagine the impact that would have for kids.
--
About the author: Nicole Neal is a visionary leader and pioneer at building transformative educational products. As the CEO of Noodle Markets, she leads the company in its mission to enhance efficiency and transparency within the education landscape by revolutionizing K-12 purchasing. Nicole holds a Bachelor of Science in Computer Engineering from Binghamton University's Watson School of Engineering and an MBA from the University of Maryland University College.
This blog post first appeared in Education Elements' Medium blog.