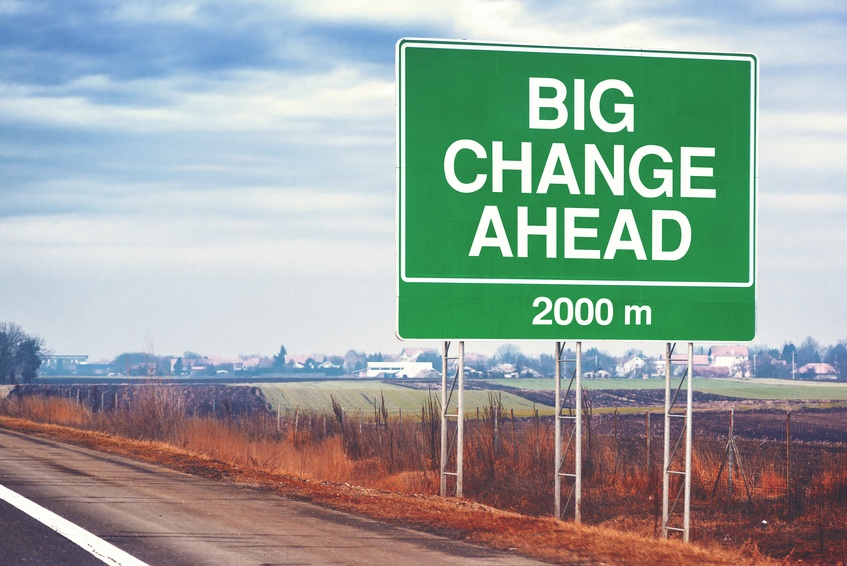 Subscribe
Why I am Loving Instead of Hating the Beginning of This School Year
Personalized Learning | Curriculum Strategy & Adoption | Classrooms
This year marks my 17th in the classroom, and I have had the best first few weeks of my entire teaching career. For your reference, I am in the same classroom, I have the same team teacher, I have the same demographic of students, I am teaching the same classes (mostly 12th grade English), so...what is different?
When it comes to what learning looks and feels like in my class, everything is different. Since dipping my toes in the pool of personalized learning last semester and then jumping into the deep end this year, there has been a complete transformation in the culture and climate of learning in my classroom.
I started with a physical change in the classroom environment. Since I am a very visual and tactile person, I wanted the students to immediately see that things would be a little different in my room this year. I got rid of more than half of the desks in my room and replaced them with tables of different shapes and sizes. There is now one huge table in the middle of the room that seats nine students, two smaller tables on one of side of the room that seat five each, and one table toward the back of the room that seats four. On the opposite side of my two smaller tables, there are still nine traditional student desks in rows of three. Although this may seem like too much furniture cluttering the room, it actually makes the rooms feel larger than it did with the rows of traditional desks.
This physical overhaul may seem trivial in the grand scheme of personalized learning, but it has allowed me to better employ targeted instruction by leveraging different spaces for different types of learning. Students are more collaborative, and I am able to conference and workshop with them much easier with the space configured in this way.
It has also created a stronger sense of community among the students in my classes. The students are responding in a positive way (most days) to this use of space, and it is creating a more positive climate in my classroom.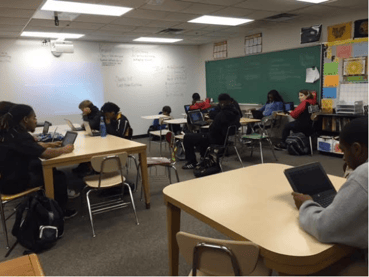 The next change was a little less physical. Instead of the traditional daily lessons and due dates, we switched to playlists for many of our units. The lessons and assignments that would be done over the course of a unit are put on in a dynamic online document (we use Google Docs and Google Classroom) and posted in the classroom.
Students are given an overall due date for all of the assignments, as well as links for the resources necessary (or helpful) for completing them. In many cases, they are often given options of what to complete on the playlist, giving students a sense of ownership in their learning.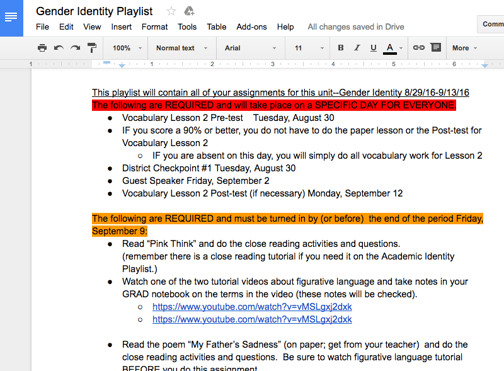 The idea that they have some voice and choice in their learning is having a positive impact on students' motivation and their grades. Another positive results has been a class-wide decrease in the number of incomplete and missing assignments. Students are encouraged to turn in assignments as they are finished (a portfolio is kept for each student), allowing me and my team teacher to work with students who are behind and struggling with certain skills.
On specific days, my team teacher and/or I will lead focus sessions where we will give direct instruction or reteach skills. Our room arrangement lends itself to this as well because a specific table, or tables, can easily be used for this purpose. Using a playlist also allows for more student reflection. As a student weakness is identified, the playlist model allows time for me to meet with students to reflect, set goals, and then meet again later to discuss the progress. For the record, I have never had this kind of one-on-one time with my students before! I actually feel like I know many of my students better now, after just 6 weeks of school, than I knew some of my students that I had for an entire year in the past.
The final change I made was also the most abstract. It was a shift in mindset, starting with my own.
I had always thought of myself as open and progressive until I started reading more from Carol Dweck about growth vs. fixed mindset and applying that contrast to how I had been approaching my classroom in the past. When I was finally honest with myself and began to shift to a more growth-oriented mindset, especially in terms of my classroom instruction, I realized that it was vital to get my students to make the same shift.
Mindset has been the most difficult change. There are ongoing discussions about how effort is as important as letter grades. I am even making instructional changes in the way points are given to facilitate this mindset shift.
Students are beginning to look at mistakes as learning opportunities, but this is an ongoing effort that will take time. More positively, it feels amazing to conference with a student and hear her say that she understands that she did not do her best but knows that she can do better next time. With this mindset shift, she is now receptive to me working with her to set a goal that she never would have (1) thought to set for herself, or (2) imagined she could reach.
How do I recognize a successful growth mindset? Well, simply seeing the look in her eyes as she works to achieve that new self-identified goal lets me know that this is working.
I used to come in to a new school year with a sense of dread, not because I hated my job or the students, but because I was unsure of what the new year held. I disliked not knowing my students' names and the monotony of the "beginning of the school year stuff."
With the implementation of personalized learning strategies and a shift in my mindset, the feeling of dread has been replaced with--dare I say it--excitement! While it's important to note that I am still tired at the beginning of a new year, unit, or strategy, this exhaustion is different. Finally, after more than 16 years of experience, the feeling of exhaustion is no longer accompanied by stress but a deep sense of accomplishment and pride that my students love learning in my classroom. And that feeling is incredible!
---
Heather Starks is a 12th Grade English teacher at Warren Central High School in the Metropolitan School District of Warren Township, Indiana. Check out #warrenbl on twitter for MSD's Warren personalized and blended learning progress!