EE in the news | Ed Elements in the News | Mentions | Organizational Leadership & Change Management
In each episode of the Inside Our MIND podcast, we take a look at issues and challenges facing education that we are working to address through research, technology and strategic initiatives. In our latest episode, host Brian LeTendre welcomes Anthony Kim to the show to discuss his new book The New School Rules: 6 Vital Practices for Thriving and Responsive Schools. Anthony and Brian discuss how schools and districts must change from an organizational standpoint in order to have a truly successful personalized learning model.
District Partners in the News | Mentions
Classrooms at Nikiski North Star Elementary have been incorporating personalized learning into their classrooms as a wave one school. The school's hands-on training ended this month, a year after the district started rolling out the personalized learning plan. Wave two schools are scheduled to complete their training by this winter. Wave three schools launched personalized learning earlier this month and are scheduled to complete the program in spring 2019.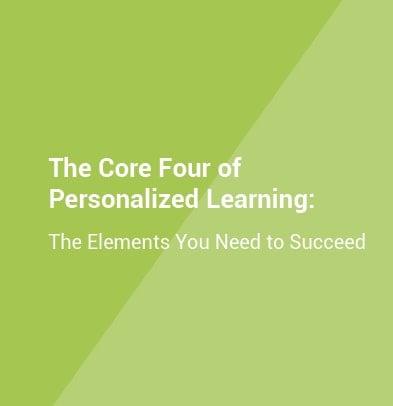 The Core Four of Personalized Learning
This white paper includes a framework, actionable ideas and insights from districts who have successfully implemented personalized learning, to help you get started.
EE in the news | Ed Elements in the News | Mentions
It is now April, and for many of us, the resolutions we set in January are starting to feel more like a memory than the habits we hoped they would be. Why is that? I think it is a combination of two factors: 1) We were not honest about our expectations — we shot too high or too low and didn't take into account what we could honestly do. 2) We focused on the wrong issue. For example, we wanted to lose weight but tried to increase our exercise rather than fix our diet. Right intention, but the solution didn't quite work because we didn't fully understand the problem.
EE in the news | Ed Elements in the News | Mentions
Don't call schools outdated; call them inadequate. Don't focus on technology; emphasize the benefits for teachers. And try not to talk about testing too much.
EE in the news | Ed Elements in the News | Mentions
Interest in personalized learning continues to surge all across the country. However, not everyone understands what personalized learning looks like or the changes it will necessitate, and people are often wary of what they don't understand. So how we talk about personalized learning can either engage families or push them away.
District Partners in the News | Mentions
Educating students in a safe nurturing and engaging learning environment, E. B. Ellington is a Gifted and Talented Academy with high expectations for all students. We're in Ravenel for our Cool School of the week.