District Partners in the News | Ed Elements in the News
In Putnam County Schools, students use a variety of carefully chosen digital resources to meet them where they are On day one of math class, about one-third of school students are ready to master grade-level standards while others aren't yet able to complete basic skills. Indeed, it's not uncommon that students' abilities span not just one grade level, but several grade levels. And while whole-class instruction may meet the needs of some students, more often than not, it leaves out many more students than it helps. An effective way to tackle the challenge of teaching core academics to all students across ability levels is to implement a personalized approach supported by a variety of carefully chosen digital resources.
Ed Elements in the News | Press Release
In this episode, we had a conversation with Megan Huneck. Megan is a Design Principal on the Design & Implementation team at Education Elements, collaborating with district and school leaders to develop and implement personalized learning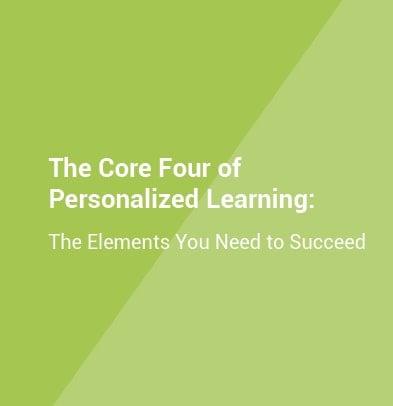 The Core Four of Personalized Learning
This white paper includes a framework, actionable ideas and insights from districts who have successfully implemented personalized learning, to help you get started.
Ed Elements in the News | Press Release
SAN CARLOS, CALIF. (PRWEB) November 15, 2018 Jason Bedford brings diverse experience from schools, districts, and education technology solutions providers to support school district leaders
Between navigating the personalized learning journey, and managing misconceptions and uncertainty, it can become an enormous task to communicate Personalized Learning efforts. This podcast will help understand how to create an inclusive and effective dialogue to get families and other stakeholders excited about PL.
Ed Elements in the News | Press Release
SAN CARLOS, CALIF. (PRWEB) OCTOBER 01, 2018 Based on 8 years of work with 750 schools in 140 districts, Education Elements – a K-12 consulting partner specializing in personalized learning and organizational design – released their annual report sharing the academic achievements and professional growth of their school district partners.
As educators, we are constantly revising our practice to focus our craft on student learning driven by sound instructional theory. With the classroom implementation of instructional technology, it is important to continue with the same journey. Blended learning is no longer a strategy that is relevant in some activities and with some lessons, but rather a consideration that must become a part of how we view our role in the classroom.