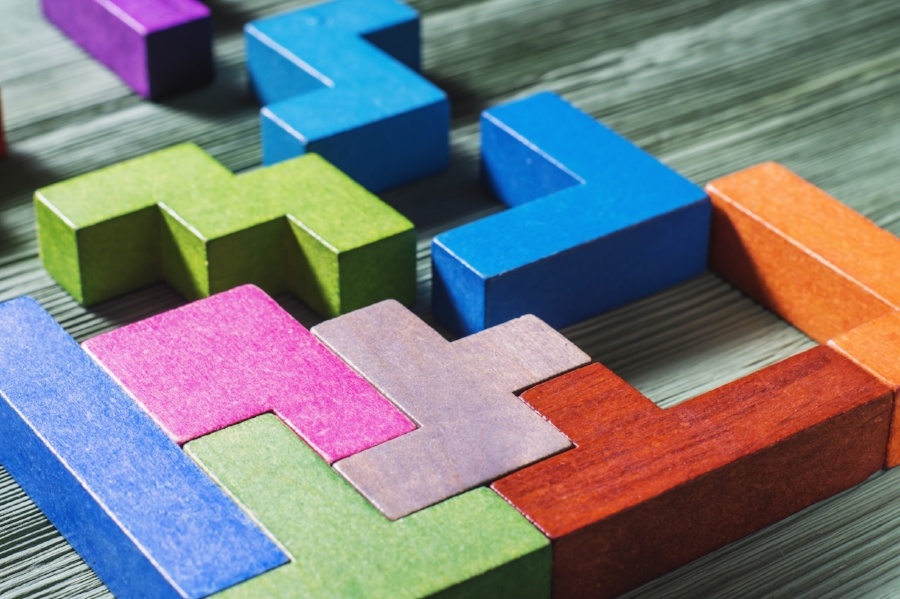 Subscribe
9 Steps to Buying the Right Digital Content for your District
Personalized Learning | School Districts | Curriculum Strategy & Adoption
Just like online dating or buying a new car, choosing a new digital content provider can often feel overwhelming, complicated, and like a shot in the dark. Thankfully, Education Elements created a 9 step process, and compiled tips and tricks from district leaders across the country in our new curriculum white paper: "Phase Three: Review, Demo, and Select Digital Content and Tools." You can also get Phase 1 and Phase 2 if you want to catch up first. But here are some highlights from Phase 3:

PART A: REVIEW
You have done all of the work we outlined in the first two phases (you know your vision, your goals and how everything aligns) and now you are about to start selecting. Your goal in the first part of this process should be twofold: 1) to understand your needs and priorities and 2) to understand the landscape of products available.
Start by designating a project lead and defining a process and timeline for selecting your digital content. When thinking about your timeline for selection, consider backwards mapping from your target use date so that you allow enough time for review, demos, procurement, account setup, and training.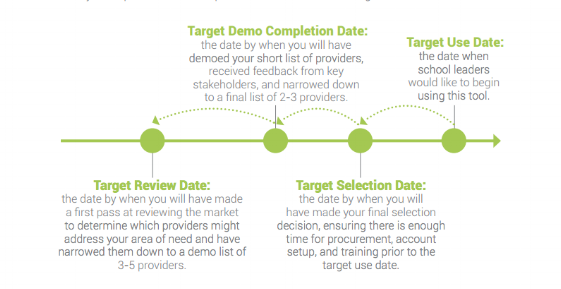 Once you have a target review date, begin to conduct initial research into the marketplace. Compile a "long-list" of providers that might meet your needs. Once you have a better sense of the marketplace, you may want to also create a list of "must-haves" and "nice-to-haves."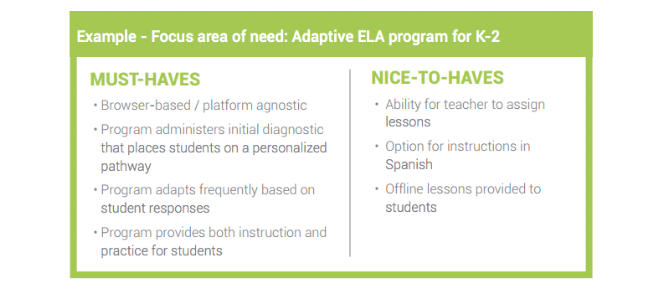 Your list of "must-haves" and "nice-to-haves" can help you narrow to a list of providers you'd like to demo. To assist in your demo process, you may consider creating a selection rubric. Here are a few sample demo rubrics to get you started (Fulton County Schools, DC Public Schools, Uinta School District One, Education Elements). When crafting your own, think about considerations like those below: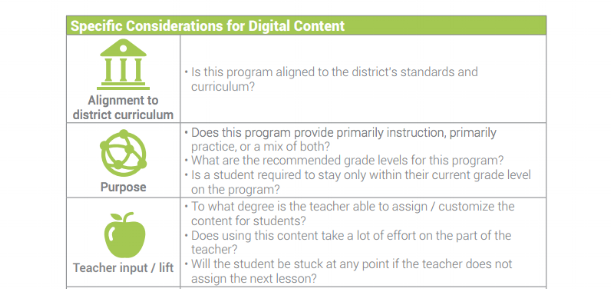 PART B: DEMO
Your goal in the second part of this process is to get first-hand experience of the programs you're interested in. Begin to contact providers for an initial demo and consider if you will hold a digital content fair or in-person demo to involve key stakeholders. For more about hosting a digital content fair or starting a pilot, see page 18 of the white paper.



PART C: SELECT
In the last part of the process you will use the information you've gathered during the review and demo phases to make a final decision, communicate that decision to key stakeholders, and prepare for implementation. Here are some of our favorite tips from district leaders as you consider making a final purchasing decision:
Jaraun Dennis of Uinta School District One shares that he often will "shop around" to ask other districts what prices they were quoted. "Often providers will match prices they've quoted to others. Another way to keep costs lower is to sign a multi-year contract because you can get a discount. Make sure you ask for a clause that renewal will be based on performance."
Heather Van Looy of Fulton County Schools says: "We purchased a subscription towards the end of the school year. In the fall, the provider offered free Common Sense Media lessons for any new users. I called and was able to negotiate getting those free lessons. If you see a promotion, even if it doesn't directly apply to you or would be too late, reach out to them and you may get a break!"
Don Bavis of Marion Central School District encourages leveraging buying organization membership. In his region of the Wayne-Finger Lakes, there is a buying organization (BOCES) relationship that ensures the small districts in the region are able to take advantage of larger-scale pricing discounts. "Encourage providers to work with your BOCES if you're able," he says.
Terence Wesley of Orange Public Schools shares that after the initial pilot was completed and a provider was selected, the district wrote a usage plan that specified:

The classrooms that would implement

What ongoing PD would look like

The usage requirements (i.e. based on provider recommendations, how many minutes per week should each student use the product?)

The monitoring requirements (what data was the district interested in monitoring?)

There is no one right way to select digital content, but there are a lot of things to do to get it right. For more details on all 9 steps, plus tips and tricks from district leaders from across the country, download the white paper.