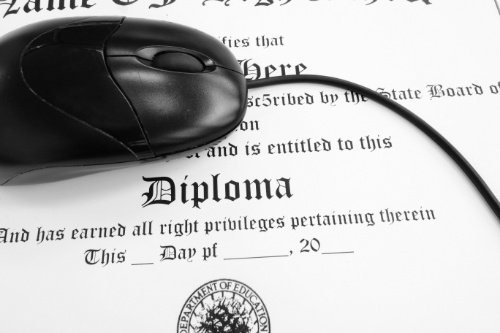 Subscribe
Virtual School Chat Series Part 4 - 25 things that will make or break the success of your virtual school
Curriculum Strategy & Adoption | Virtual Learning
It's your goal to make your virtual school program successful. My goal is to help you identify the key factors that can make or break the success of that program.
Here in part four of my virtual school blog series, I offer 25 things to consider for your virtual program's success, grouped under 5 main categories: Strategy, Design, Curriculum, Support and Operations. For each item I've asked one key question. Work with your team to answer that question and you'll be one step closer to a successful virtual school. (P.S. If this looks familiar, you are right. We've re-worked our well-received Personalized Learning Implementation Framework to focus on the needs of virtual schools. After all, why should the brick-and-mortar schools have all the fun?)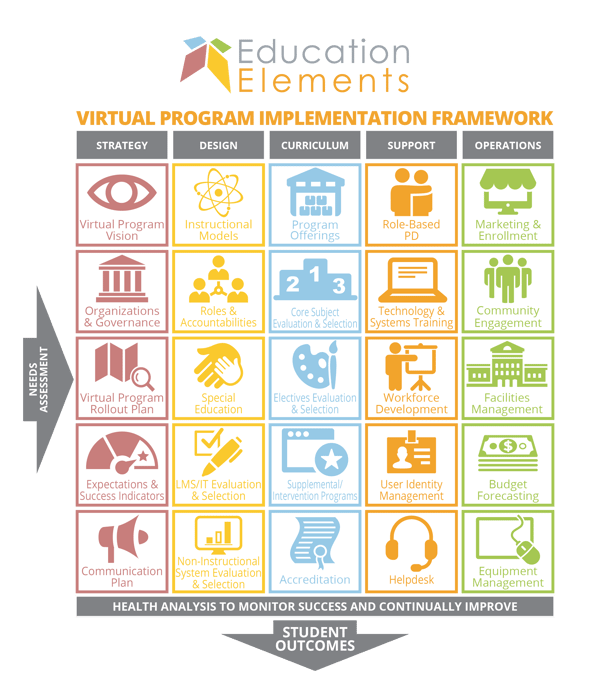 STRATEGY
Virtual Program Vision

- how does the purpose of your virtual program align with your district vision and/or mission?

Organization & Governance

- how do you plan to roll out your program and school structure and adhere to charters or policies?

Virtual Program Rollout Plan

- what are the key project milestones and goals across years 0, 1, 2, and 3?

Expectations & Success Indicators

- what are the district or school expectations for the virtual program program? How will you measure success?

Communication Plan

- how will you regularly communicate about your virtual program to stakeholder groups (community, school board, principals, teachers, students, families, etc.)?
DESIGN
Instructional Models

- what will the instructional model(s) look like? Will it / they share common design elements?

Roles & Accountabilities

- what are the roles needed to carry out your instructional and operational models, and what are their accountabilities?

Special Education

- how will you design for the needs of Special Education populations?

LMS / IT Evaluation & Selection

- how will you evaluate and select the LMS and IT tools necessary to run your virtual program?

Non-Instructional System Evaluation & Selection

- how will you evaluate and select the non-instructional systems (SIS, fulfillment, enrollment, etc.)?
CURRICULUM
Program Offerings

- which courses will your virtual program program offer? What will you list in your course catalog?

Core Subject Evaluation & Selection

- how will you evaluate and select the content provider(s) for core subjects?

Electives Evaluation & Selection

- how will you evaluate and select the content provider(s) for elective subjects?

Supplemental & Intervention Programs

- how will you evaluate and select the programs for supplemental and intervention needs?

Accreditation

- what are the key considerations to ensure your curriculum / program is accredited?
SUPPORT
Role-Based PD

- how will you support and develop the professional roles within your virtual program?

Technology Systems & Training

- what are the staff training needs for your technology systems?

Workforce Development

- how will you recruit, hire, train, celebrate, and retain staff to support your virtual program?

User Identity Management

- what are your plans for supporting various user identities and databases across systems?

Helpdesk

- how will you provide adequate support for the virtual program students and communities?
OPERATIONS
Marketing & Enrollment

- how will you market and enroll your virtual program to your community? (events, collaterals, community news, etc.)

Community Engagement

- how will you engage your school community, hear their voices and consider their input?

Facilities Management

- what is your plan for managing facilities (learning center, testing center, offices, etc.)?

Budget Forecasting

- how will you budget for ongoing costs to support and grow your virtual program?

Equipment Management

- how will you provide, replace and reclaim the equipment and resources related to students and staff?
These 25 topics and questions are what we call our "Virtual Program Implementation Framework". We use this to help virtual programs and schools identify strengths, needs, areas of growth, as well as potential barriers. We then work as an extension of your team to help execute strategic change management.
We know that a district's new virtual program or a charter virtual school that is moving away from a managed service is often not well informed of some of the "behind the scenes" processes, especially if handled by the management organization. You are likely faced with things that need urgent attention such as school board concerns, charter or policy renewals, community questions, school politics, staff issues, attendance reporting and parent questions, and don't have time to compile an exhaustive list of the (very important!) things that go into ensuring a virtual program offering that delivers the best possible learning experience for students. This reality urgently calls for thought leadership and partnership with organizations experienced in the industry. We are excited that through our virtual schools offering we can act as your partner and help ensure the success of your program. So go ahead and download our framework. Use it, share it, and ask us questions. We're here to help.