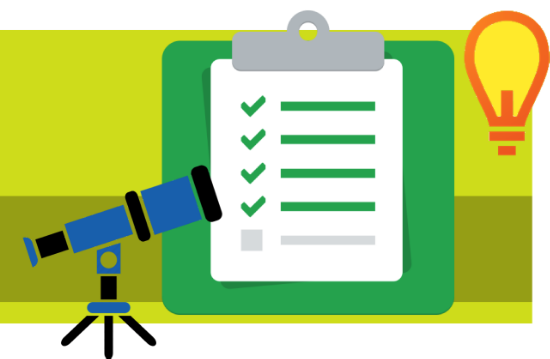 Subscribe
Virtual School Chat Series Part 2 - Your Virtual School's Checklist for Vision and Strategies
Curriculum Strategy & Adoption | Virtual Learning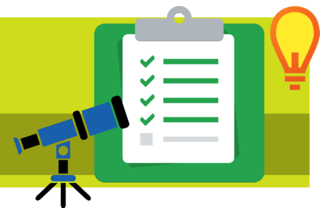 Everyone loves a checklist, but for a virtual school leader, there aren't many to be found. So here is a short one:
Know (and empathize with) who you are serving

Identify your critical team members

Develop your instructional model and school processes

Calculate your costs
Clearly this "30,000 feet" list isn't all encompassing, but it should serve as a foundation to getting things rolling.
Whether you are an established school or a start-up, these are some of the key components that should be analyzed regularly to ensure your virtual school's success.
Now, descending to a "lower altitude" let's talk in more detail about each item.
Know (and empathize with) who you are serving:
Types of students
Knowing and empathizing with the types of students that your virtual school passionately serves will help determine your vision and impact many downstream school choices you will be making. Think about the core student population your school will serve. Even if you are going to serve all students, having this knowledge will help you plan your marketing and messaging. Some types to consider are:
Full-time students

Part-time course enrollments

Home-schooled students

High-performing students who are on an accelerated pace of learning

Students who need to earn graduation credit

Dropout recovery

International students and non-district population
Surrounding community
Never underestimate the importance of your community of learners. The quicker you determine the makeup of your community and identify their needs, the better you will be positioned to serve them. Your community of stakeholders might include:
Family / parent community

Homeschool organizations

Religious distribution of families

Charter school board members

State and government policies and regulations
Identify your critical team members
Virtual school operations and management is not something that one person can or should do alone. If you're just starting out, who are the critical members of your team that need to share and synergize responsibilities until your school structure is ramped up? The key areas that demand independent ownership are:
Marketing and enrollment (website, enrollment management, events, etc.)

Instructional Design and Curriculum

Student Information Systems and technology infrastructure

Fulfillment Services for hardware and instructional materials

Operations (Staffing, finance, buildings, etc.)

Instructional platforms (digital content providers for general education, special education, assessment, emails and communication, learning management platform, integrated platform, etc.)
In addition, especially for schools moving away from a managed school environment, I would suggest having an internal program / project manager to keep the various moving parts in check. Working with experienced consultants to learn from people who have done this before may be an option if you don't have all of your critical team members on board yet.
Develop your instructional model and school processes
Instructional model
Your instructional model should be designed in accordance with your school vision. There can be various models incorporating:
Real-time / virtual / synchronous lessons

Independent / digital content / asynchronous lessons

Learning centers / drop-in sessions / tutoring support
Some states require that virtual schools have physical learning centers within a certain radius of the enrolled students' home, whereas others don't permit any face-to-face instruction. Your model will depend on a mix of what is required and what you envision is possible.
Processes and operational ease
Are your staff members doing too much "busy work" or "paperwork" in any areas? Can they be automated? What are the tools out there that will enable operational effectiveness? In the long-term, investing in operational effectiveness can gain you as much as 10 to 20% increase in staffing efficiency. Many times it is also helpful to look at the traditional "teacher" roles to see if there are more efficient ways to distribute responsibilities to maximize opportunities for students.
Staff / community empowerment and training
One of the often-underlooked categories in running a virtual school is teacher empowerment and training.
What are the ways you can do to empower the teachers to deliver more effective virtual lessons?

How can you best support them with the right PD and training?

Who are the early adopters in your school who will cast your vision for better teaching initiatives?

Who is the "resistant to change" bunch? Extra support and encouragement for this group can many times pay huge dividends.
Same thought process goes for the parent / family community empowerment.
Calculate your costs
Thinking through the above will give you a good set of scaffolding to start identifying budgetary items. Focus on breaking them down into operational, instructional, marketing, and other areas. Remember that your decision-making in certain areas is very dependent on your growth plan; many tools work for small implementations but don't scale well, and vice versa. Because the digital content and technology are changing faster than the educational world can keep up, I'd like to highlight some key things that you may wish to consider as "variables" in your modeling:
Digital learning content license fees

Hardware and fulfillment costs

Marketing (website and enrollment / re-enrollment management) platform costs, development and management fees

Student information system and cost for integrating with other systems (such as learning content and enrollment systems)

School-specific tech/identity management costs (such as state reporting)
Is this a comprehensive list? Of course not. However, I am hoping that thinking through this list will catalyze your vision and strategies that will positively impact student learning. Set your vision on who you are serving, gather a team of passionate people, and go change the virtual school world for the better… together.
Check out the Virtual School Chat Series Part 1: Why Is Running A Virtual School So Hard?