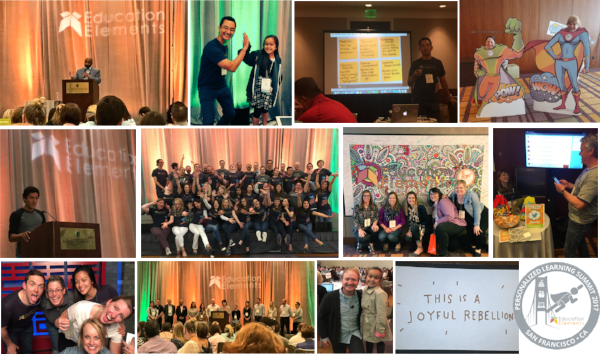 Subscribe
Reflections on our Epic Personalized Learning Summit
Personalized Learning | Education Elements | EE Summit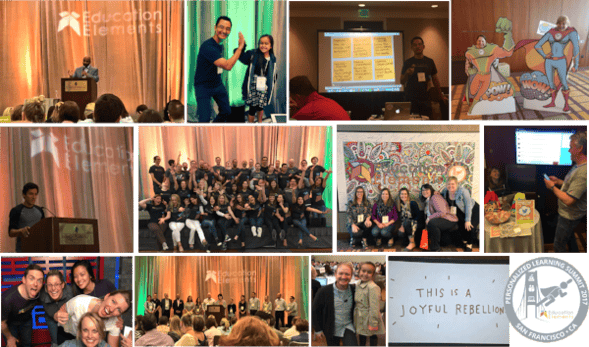 Epic Lip Sync Battle. I almost feel like I could both start and end this post with just those 4 words and a short description of what it was like to be in a room full of educators singing and dancing their hearts out (some in costume!) on Thursday night of Education Elements' 3rd Annual Personalized Learning Summit. But then I'd miss out on all of the other amazing moments, like Anthony Kim interviewing Kaya Henderson while wearing a sparkly gold jacket, or Ray Owens leading the entire conference in singing Row Row Row Your Boat as a wave, or Brad Montague making many people (not just me, although I was among those wiping my eyes) both cry and laugh. The truth is the whole PL Summit was epic.
What made it so special? First off, you, if you were one of the 500+ people who flew from across the world to join our Summit. Our theme this year was "Power up for Personalized Learning" and one of our goals was for everyone to build their personalized learning toolkits. And it happened. The room was filled with 500+ superheroes of personalized learning who shared ideas, resources, questions, best practices, and stories. The 46 workshops (selected from almost 200 submissions) were amazing across the board. I saw more engaging and interactive sessions than I have seen at any conference ever (and I go to a lot of conferences!). I heard people share what went well, what didn't, and the tools and strategies they used along the way. Every person who attended brought their best self and a willingness to learn from others. You guys were awesome or, as Brad Montague put it, you were the cream in the Twinkie.
Which brings me to Brad Montague, keynotes, and filing not just our toolkits, but also our buckets. Brad Montague, creator of Kid President, brought his messages of a joyful rebellion to the room. He shared videos, stories, and life lessons about hope and how together grownups and kids can make the world a better place. I truly think that by the end of the 45 minutes he stood on stage, we might have all become better people.
Not sure if I sounded starstruck introducing @thebradmontague but I totally am. This is kind of awesome #plsummit @EdElements pic.twitter.com/zftx1B4wTn

— Amy Yamner Jenkins (@amyyjenkins) May 11, 2017
At lunch Kaya Henderson took the stage and answered questions ranging from how she turned the tide in DCPS to her thoughts on a certain new Secretary of Education. From Kaya (who is, according to Anthony, cool like Kendrick) we learned about the importance of equity, how to build up your teachers, and how to make a school system which was losing students each year become a place where parents want to send their students. Kaya was in it to win it, and win it she did.
So Friday morning rolled around and quite a few people looked like they may have rolled out of bed and straight to the keynote. It was a big night of singing, dancing, and laughing the night before and for at least a few of us, it showed on our faces as we settled in for the first keynote of the day. And before you know it, Ray Owens had us on our feet singing, had shared his deepest secrets about group projects, and taught us all that sometimes you need to shout Amen!
Just a few hours later, energized by Ray, coffee, and some terrific workshops, the room filled up for the last time, chairs close together as we squeezed into a space, which admittedly we have probably grown out of, in order to hear from the people we do this for - students. Lily (4th grade) and Brian (9th grade) talked about life before, with, and after personalized learning. We heard about why they liked it, what made it hard, and how it changed what school meant to each of them. Sometimes we talk about what's good for kids without including them in the conversation and hearing from these students grounded us in the fact that we make these changes to our school systems because while, difficult to do, the impact is positive and significant.
2 people I look up to. Lily is 9. @anthonx is... a lot older. They both inspired 500 educators today at #plsummit @EdElements @ElemEdDept pic.twitter.com/vbhvNjdMuQ

— Keara Duggan (@kearaduggan) May 13, 2017
Another RUSD student keynote speaker. Thank you @EdElements for helping our students share #RUSDlearns Every student everyday pic.twitter.com/EUcKF0ai1g

— Kristian Sorensen (@RUSDSorensen) May 12, 2017
I don't know what the past tense of FOMO (fear of missing out) is but I suspect for anyone who has read this far but did not attend the Summit, you are feeling it now. So let me assure you of a few things:
We went digital this year and broadcast the keynotes on Facebook Live and Periscope. You can view a few of them

here

and

here

Over the next few months our PL Summit blog series will feature posts from workshops presenters and we will upload resources and slides that you can access at any time

The 4 videos we showed, showcasing the amazing work in

Horry County Schools

,

Uinta County School District 1

,

Loudoun County Public Schools

and

Racine Unified School District

are all on our new website (yes,

new website

!)

The 4 districts who received awards: "We Did It Our Way" for Wayne Finger Lakes and Erie 2 BOCES, "Schools on Fire" for Charleston County School District, "The Pioneer" for Fairbanks Northstar Borough School District, and "Small But Mighty" for Marion Central School District will be displaying them proudly in their districts. And maybe next year yours will win!

Someone from your district attended the summit. Or someone you know. And they will be more than happy to rub it in that you missed out

And finally, it was our 3rd Summit, but far from our last. You can sign up for info about the 2018 Summit

here
So yes, the lip sync battle was amazing. But honestly, so was the whole conference. See you next year!
Congrats to whole Ed Elements team for a great Summit!! #plsummit pic.twitter.com/D7fIxNlpUF

— SuptBavis (@SuptBavis) May 12, 2017