Subscribe
Tips for Educators: The Innovator in You and the Future of District Organizations
Personalized Learning | School Districts | Innovative Leadership
Within the last two decades, the barrier to entry to be innovative has dramatically decreased. Today, people can have multiple careers and innovations within a lifetime. Innovation has become so frequent that it's part of everyone's vernacular and a topic in many industries including healthcare, auto manufacturing, and education. Who doesn't want to be innovative? It's cool to be considered innovative and disruptive. Clayton Christensen wrote several best selling books on innovation and Clayton and Michael Horn put out a seminal book which in many ways shaped changes we have seen in education, "Disrupting Class: How Disruptive Innovation Will Change the Way the World Learns". This book made innovation cool even in education. Inspired by the practices of responsive organizations in other industries, Alexis Gonzales-Black and I co-wrote the book, "The NEW School Rules: 6 Vital Practices for Thriving and Responsive Schools", to help schools and districts become more innovative and agile.
The evolution of the entrepreneur
Below is a timeline which looks at two careers - Henry Ford and Elon Musk.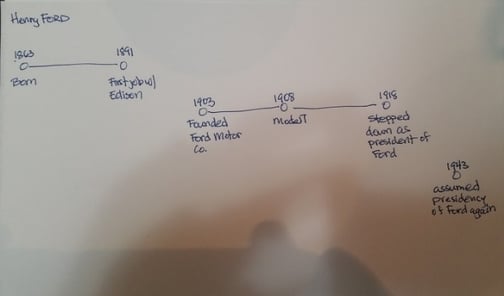 We are all generally familiar with Henry Ford. He founded Ford Motor Company at the age of 40 in 1903 and released the first Model T six years later in 1908. The Model T was a huge innovation -so many things about it, and its production, were game-changing. Ford continued to be involved in his company until the end of his life in 1947.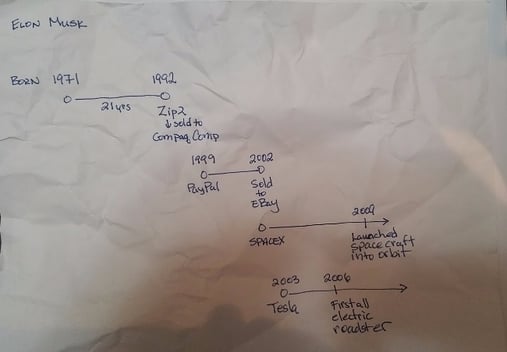 Elon Musk was born in 1971 and at the age of 24 started his first company Zip2 which he sold to Compaq Computers. Then he went on to be one of the co-founders of Paypal, founded SpaceX and launched the first privately owned rocket ship into orbit, and founded Tesla Motors which built the first all electric roadster. It took him 7 years to launch a rocket built from scratch and 3 years to build the first all electric roadster. Elon started four very successful companies in the span of 20 years. Incredibly different from the life of Henry Ford.
Innovation is creating rapid change
If the barrier to entry to be innovative is lower and we are globally connected, it means that we will see an exponential number of innovations to come at a much faster rate than ever before. Want an example? Check out MakerBot's Thingiverse, where you will see an unlimited number of random things people are creating at home with their 3D printers.
As innovations occur more frequently, organizations are having to adapt more quickly as well. The expectations of workers, consumers, and customers are all changing rapidly. Change is happening at a faster pace and as a result we have to be more nimble because new information is coming to us faster than ever before. Our ability to mobilize globally is almost instantaneous. For example, today a worldwide relief effort can be initiated in minutes after you read about the earthquake in Nepal on Twitter. 20 years ago, how long would it have taken? How inefficient would it have been?
Other industries are realizing that the pace of change is more rapid and working to develop organizational mindsets around the future. They are trying to crack the code for what the new organization structure needs to be, as they are experiencing a shift in power. Workers are networked and socially empowered and must work outside of the traditional silos. The old beliefs of "built to last" don't work anymore, it's too rigid for today's world.
Organizations with underlying technology offerings are able to evolve more quickly and are dominating today's industries - Netflix, Spotify, Tesla, Uber are all digital companies. Other organizations in those industries are just watching and waiting...and disappearing. These leading organizations think and operate differently. How is Uber different than the taxi commission? How is Netflix different than the Blockbuster, which is now only a memory?
Organizations are now "built to evolve". To prepare students for the future of work, schools need to be designed to evolve.
How can districts design themselves to evolve?
Schools and districts need to focus on adapting to changes quickly, and creating an environment where innovation is the norm. Districts can start making changes by rethinking the following areas:
Purpose: What is your mission? It needs to be concise and easy to remember. Facebook's mission is "to give people the power to share and make the world more open and connected". Google's mission is "to organize the world's information and make it universally accessible and useful". School districts' missions need to understandable to everyone.
Process: Many organizations make people choices before process choices. Often this results in smart people not on-board with the process of how an organization gets work done. The organization needs to agree on how it will measure and get results. It's how you know that "it's" working.
People: Rethink people and roles - who is doing what work? Large organization don't have all "A players". If you believe in iteration and feedback, you don't need as many managers to make sure the work is getting done. Feedback should come directly from the people doing the work and from the stakeholders.
Product or service: What is the service the district is offering? Is it education and learning? How you offer services need to be responsive to the needs of the customer. Who is your customer? Additionally, start considering what your MVP (minimal viable product or service) is - when is something good enough to try? An MVP is one way of testing and learning if an idea works.
Platform: How can your district become a platform for the community? What will make the community and other organizations WANT to engage with the district? Becoming a platform for the community makes it possible for a district not to provide all the services but for other services to plug-in to the district platform. Companies like Starbucks offer more than coffee. They are a platform for people to meet, work, and get away.
Everyone at the district needs to internalize these concepts for the change to happen. When it doesn't happen, you might be the next Blockbuster. And I am talking about the store our students don't even remember, not the next Hollywood hit!
If you're interested in becoming a more innovative leader for your school or district, apply to join us at The New School Rules Leadership Institute to learn from experts in change management and other education leaders from across the country.