Subscribe
Tips and Tricks: Three Things to Consider During Your Transition to Virtual Work
The past few weeks have been full of new routines for all of us as we try to plan for and navigate through uncharted territory. The shift to full-time virtual work has been yet another challenge to face on top of everything else. Even for our team at Education Elements, where virtual work has always been a consistent part of our work culture, the transition has necessitated revisiting and reimagining best practices as we support our team and others. While you might have felt you were thrown in the deep end for the past couple of weeks, here are three small things you can adjust to make your new routines and habits work for you.
1. Work Space

First, think about your physical set-up. Ask yourself: What are the things I need near me to be able to work? How am I taking my comfort into consideration? How am I planning for noise and interruptions?
The checklist below is a starting point as you get your physical space set up for yourself and for virtual meetings.
Workspace checklist:
A comfortable seat
A surface to work on
A door that closes
Enough light to be seen easily during your virtual meetings (Pro-tip: sit facing a window instead of having one behind you so you aren't hidden in the shadows).
Looking for ways to build connections with your virtual team? Consider asking everyone to add a picture of their new workspace to a document you are using during a meeting and have people guess which space belongs to each person!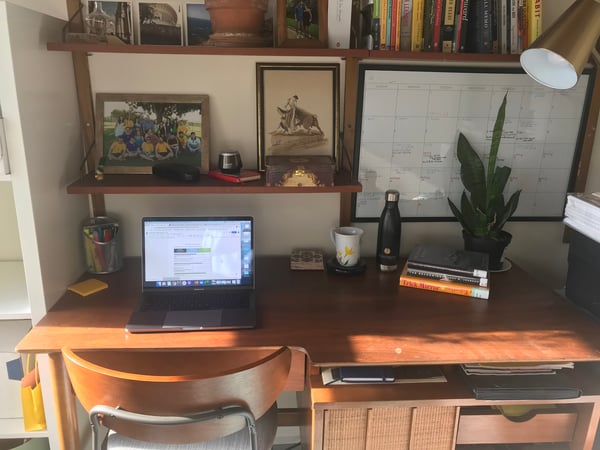 (Guess whose office space is pictured above? Full transparency: navigating two people working from home full-time means that oftentimes I am working out of a side chair in a guest bedroom we have fondly renamed, "Conference Room A." These times are tricky, so find what works!)
If you're looking for more tips, check out this resource: Best Practices for Digital Learning and Virtual Meetings.
2. Prioritizing Tasks
After you have figured out where you are going to work, think about what you are going to work on. Ask yourself: How do I manage all of my to do's? How do I prioritize my tasks?
These past two weeks might have been full of a stream of tasks that demanded your immediate attention, and now might be a good moment to pause and reorient yourself. Do you have a system to manage your to-do's like Google Keep, Trello, a Kanban board, or something else? Where do you capture the next steps from all the meetings you are having so that you don't lose track of them? Maybe you take a moment this week to ask someone on your team what they use, and try out a new system or make tweaks to yours.
After you have your tasks in one place, think about how you are going to prioritize. Will you use a matrix to evaluate tasks according to importance and urgency? Will you choose the hardest task and tackle that first? Whatever your process is, think about how you will be intentional in the way you approach your tasks instead of responding in whichever order they appear in your inbox.
3. Scheduling Time
In addition to managing your virtual work schedule, you may also be balancing taking care of someone at home, figuring out your little one's distance learning plan, and trying to fit in lunch somewhere in the middle of it all. After you have captured all of your to-do's, take some time to set up your daily schedule. Some questions to ask yourself: What time of day do you think best? When are you building in time for positive connections with the teams you support? What are the non-negotiable events you have on the horizon?
With the sudden surge of virtual meetings, you might be in front of your computer a lot more these days than ever before. Instead of the natural breaks built in between meetings as you walked from one office or classroom to another, you might be experiencing the back-to-back (to-back-to-back-to-back…) meetings with the only buffer being the time it takes you to click on the next virtual meeting invitation. A couple of tips: schedule meetings for 45 minutes so that you have a natural buffer and can take a quick stretch break. Schedule breaks on your calendar to remind yourself – and others – to take a moment to catch your breath.
Try out a Calendar Audit: Look at your calendar. Do you have these things built into it?
Work time dedicated to specific projects
Scheduled meetings
Small breaks
Time to eat
Time to check in with people you support/work with
Time for daily administrative items (organizing and responding to emails, making sure your calendar is up to date, creating to-do lists, sending calendar invites, etc.)
Think about: What does your calendar show is important to you? Does it match with what you value? What shifts might you need to make in the coming days or weeks?
At a time with so much uncertainty, hopefully these few small things can bring a semblance of order and routine to the chaos.