Subscribe
The Core Four Continuum - a New Framework for Personalized Learning Implementation
Since 2010 Education Elements has supported more than 140 districts, 750 schools, and 550,000 students with personalized learning implementations. Through our work with schools and districts across the country, we established the Core Four of Personalized Learning: four key elements that we believe ensure that personalized learning is implemented with high fidelity and success.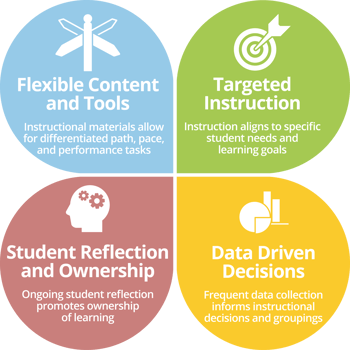 The Core Four is designed to provide educators with a guide for their personalized learning implementation. The elements of the Core Four should be viewed as spectrums that can be started immediately by building on what you are already doing in your schools and classrooms. As we have worked with schools the past 8 years it has been rewarding to see the Core Four in action across the nation. We have seen it transform classrooms as teachers get started and advance deeper in their implementation. Along the way, we have been asked the question of "Where should I start?" or "What next?" This past school year we were asked a question that sparked a need bigger than we could have imagined.
In Fall of 2017, Farmwell Station Middle School in Loudoun County, Virginia started their second year of personalized learning. As their PL team collaborated to plan for the 2nd year of staff development, they wanted to create a rubric for each of the Core Four areas of PL. Sherryl Loya, Principal at Farmwell Station Middle School in Loudoun County Virginia says, "We contacted Education Elements for their expertise in helping us create this specialized rubric. Within a few weeks the team sent us an amazing rubric to use with our staff." The team at Farmwell Station used the continuum to edit and refine the rubric to represent their subject area, reflect individually, select one area to work on for the next three months and created a presentation to share their growth with the rest of the staff. "It was amazing to see the growth of each content area team and also to see how much they enjoyed learning from one another. Our plans for year three are to revisit the rubric again, self-evaluate, choose an area for further growth, and again allow the teachers to share their growth with their colleagues. Teachers are truly the greatest resource in your building for staff development." From this request, the Core Four Continuum of Personalized Learning was created and has now helped districts from Virginia to Alaska.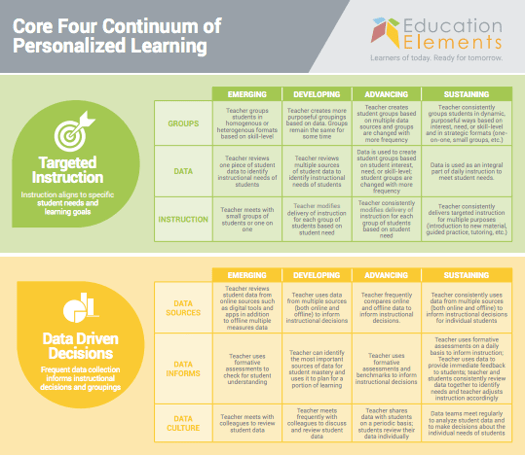 If you are just seeing this continuum for the first time or you have seen it before and are looking for additional ways to use it at your school, we have compiled a list of the top ways teachers and school leaders can use the Core Four Continuum.
Deeper Dive: Check out Megan's interview on TL Talk Radio about the Core Four Continuum
Reflection


Pausing and taking time to reflect on anything at the end of the school day is the last thing we have the mental space for as we are wrapping up and feverishly planning for the next day. We know the importance of reflection, but we may not create the space to do so regularly. As educators, we want our students to reflect and develop their own learning plans based on their current needs but we are not always the best at modeling this practice. Try out these tips below to start reflection as an adult learner.

School Leader Tip: Build in time to an upcoming faculty meeting to have each teacher in your school reflect on their current teaching practice.

Teacher Tip: Add time to your calendar quarterly to truly reflect on the continuum and see where you feel your practice is at right now.

Goal Setting


A common practice among schools is for teachers to set goals at the beginning of the school year. It also may be a common practice to set said goals and not do anything more than set the goals and check that off our list of things to do. Just as we value the importance of reflecting with students, we also want our students to set goals and act on those goals.

School Leader Tip: Coaches set up meetings with teachers or teams of teachers to use the continuum to set 3, 6 and 9-month goals with a few action steps to move to the next level.

Teacher Tip: Set both long and short-term goals using the continuum and share them with 1-2 other people to hold you accountable to the goals.

Focus Area


In a personalized learning classroom, we want students to have varied learning experiences based on what they need and when they need it, yet our professional development may still remain identical for every teacher. The Core Four Continuum is a perfect tool to use to guide and define the support structures and processes needed at your school.

School Leader Tip: Identify the highest need for particular teams of teachers and provide differentiated professional learning experiences. This could look like breakouts during a faculty meeting, setting up collaborative learning based on levels of the Core Four, or optional coaching sessions based on the Core Four area of need. A great way to capture this information is through something like a Google Form so the leadership team can use data to drive the learning opportunities for staff and create varied groups.

Teacher Tip: Select an area that you want to grow in this semester and seek out personal learning opportunities. You could visit other classrooms that feel really confident in this area, set up collaborative brainstorm sessions with others working on the same area, or set an hour aside each month to read more about this area.

Learning Walk Tool


Whether you have 2 months of teaching experience or 20 years, we may still share a bit of anxiety when an administrator walks into our classroom. A few questions pop in your head ranging from, "What are they looking for today?", "Are they here to pick up a student?," "What do you think they want to see?" or "If only they would have come 10 minutes ago…" If you have had similar feelings, you are not alone. That is in part because we still see someone visiting our classroom as an accountability check and less as a coaching opportunity.

School Leader Tip: Find a way to get teachers involved in the learning walk process. This could include having teachers sign up for visits based on a Core Four area they are focusing on or having them sign up to visit other classrooms who are a bit further in that particular area. You could also have teachers visually display outside of their classroom what area of the Core Four they are working on for all to see. Check out how this school in Charleston, South Carolina did just that.

Teacher Tip: Let visitors know what you want them to look for when they are in your classroom. If you are working on developing your skills in Targeted Instruction, this is a great opportunity to practice and ask others for feedback and ideas to continue to improve your practice. You can also visit other classrooms that are excelling in Targeted Instruction and apply lessons learned in your classroom.
We would love to see how you are using the Core Four Continuum in your schools and classrooms. Download the continuum below, and tweet @edelements to share how you have put this tool to use in your school using #Core4PL.
---
About Kelly Freiheit, Megan Huneck, Natalie Shoults
Kelly Freiheit is an Associate Partner on the Design and Implementation Team. Kelly is a former blended learning science teacher from Charlotte, NC. Kelly was a part of the Opportunity Culture positions with Project L.I.F.T. in North Carolina, where she was recognized as a Blended Learning Teacher in Charlotte-Mecklenburg Schools. During this time she taught 150+ students and coached two other science teachers using a blended learning model. Kelly was recognized as Meck Ed Teacher of the Year in Charlotte-Mecklenburg Schools for the 2013-2014 school year.

Megan Huneck is a Design Principal on the Design & Implementation team, collaborating with district and school leaders to develop and implement personalized learning initiatives. Prior to joining the Education Elements team, Megan taught for six years in Arlington Virginia Public Schools (VA). While teaching, Megan was chosen to be a member of the LearnZillion DreamTeam where she facilitated engaging blended professional learning experiences for Syracuse City School District (NY) instructional leaders and teacher leaders.

Natalie Woods is an Associate Partner on the Design & Implementation team and works with schools to create and support personalized learning across districts. Natalie has six years of high school teaching experience, three in St. Louis and three in Virginia. Natalie was the collaborative team leader for the Economics and Personal Finance course at Fairfax High School and helped implement a new state required course for graduation. Natalie was part of the Innovation Institute at Fairfax which supported the BYOD, bring your own device, initiative and worked with teachers to come up with new ideas and show them how to incorporate devices in the classroom.