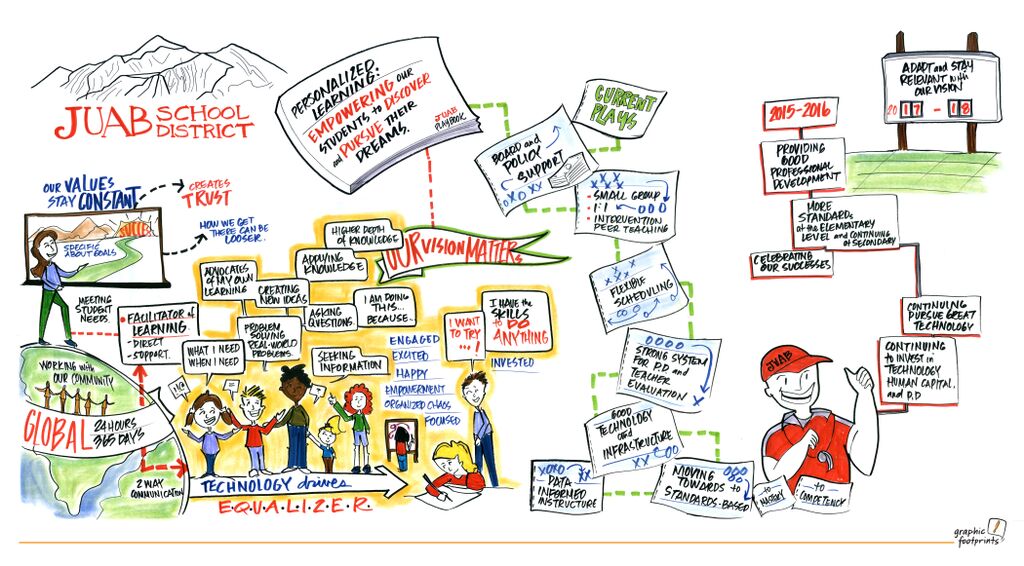 Subscribe
Lexington Institute Announces 27 Finalists for the Second Cohort of Personalized Learning LELA Fellows
Personalized Learning | School Districts | Innovative Leadership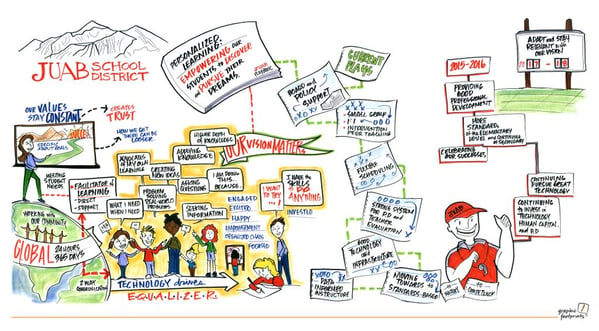 The personalized learning vision capture of the Juab School District (UT) whose Superintendent, Rick Robins, from the inaugural LELA fellowship, by the Graphic Recording Artist Sophia Liang.
The Lexington Institute has selected 27 outstanding district leaders from across the country as finalists for the second cohort of the Lexington Education Leadership Award. Each is a pioneer in the space, ready to do even more to support students and teachers in personalized learning.
The Lexington Institute, a non-profit public policy think tank focused on education reform, today announced the names of 27 finalists for its second cohort of personalized learning fellows. Based on the success of the first ten leaders to go through the program. Lexington opened applications for a second cohort of 10 in July. To date, over 100 leaders have applied to participate in this fellowship. For this round, 27 were selected as finalists and 10 will be selected as fellows.
The LELA fellowship is an exciting and highly selective 6-month program designed to expose district leaders to personalized learning and facilitate the first steps to implementation. The first class of 10 fellows represented leaders from districts across the country including UT, IA, NE, NJ, CA among others. (For a reflection from a current LELA fellow, see here). The 27 finalists include: Raj Adusumilli (Arlington Public Schools, VA), Darryl Adams (Coachella Valley Unified School District, CA), Phil Auger (North Kingstown School Department, RI), John Carver (Howard-Winneshiek Community Schools, IA), Wanda Creel (Gainesville City School System, GA), Marie Doyle (Longmeadow Public Schools, MA), Jason Ellingson (Collins-Maxwell, IA), Dale Ellis (Montgomery County Schools, NC), Jeff Hawkins (Kentucky Valley Educational Cooperative, KY), Kim Hendon (Roanoke City Schools, AL), Shon Hocker (Big Horn County SD #1, WY), Eric Hibbs (Marlboro Township Public Schools, NJ), Marvin Howard (Randolph County, GA), Richard Hughes (Central Valley CSD, NY), William Hunter (Polk School District, GA), Dennis Krueger (Howard-Suamico School District, WI), Valya Lee (Liberty County, GA), Kimberly Moritz (Randolph Central School District, NY), Michael Murphy (St. Clair R-XIII, MN), Brad Newkirk (Batavia School District 101, IL), Angelique Nedved (Lawrence Public Schools, KS), Scott Niven (Red Oak ISD, TX), David Pyle (Nuview School District, CA), Sandra Sheldon (Churchill County School District, NV), Randy Smasal (Edina Public Schools, MN), Richard Tomko (Belleville, NJ), and Kevin West (Roselle Public Schools, NJ).
"We are so excited to include 27 distinguished leaders as finalists for the second cohort,"said Don Soifer, Executive Director of the Lexington Institute. "Every application we received was impressive and this group of finalists even more so. It was wonderful to see the commitment to supporting student learning expressed by every leader. It will be difficult to select only 10 of these innovative districts to move forward with the more intensive support provided by the fellowship."
The 27 finalists selected will participate in a specialized track and special networking opportunities at the iNACOL symposium in Orlando this November. The 10 selected as fellows will spend six month learning from each other and receiving support from Education Elements, the personalized learning organization selected by The Lexington Institute to provide technical assistance and work closely with each of the fellows on articulating their vision for personalized learning and developing a strategic framework for a district implementation. "Education Elements has provided excellent support to the first 10 fellows, acting as mentors, guides and facilitators and helping each of them to move forward with personalized learning. We are fortunate to be able to work with them again," said Soifer.
The ten district leaders included in the first round each ends the fellowship having made significant leaps from where they started. Not only does each district have a clearer vision for personalized learning, but many districts have laid the groundwork for school and district-wide implementations, considered how to support teachers and leaders, and begun the process of thinking about classroom designs and digital content selection. Equally important, while the fellowship is coming to an end this group will keep in touch and continue to share with, and learn from, one another.
"The first round of LELA fellows has been a terrific experience for us as an organization," said Amy Jenkins, who supported the LELA fellowship at Education Elements. "We have learned a tremendous amount from each district leader and are honored to be selected to work with the next cohort."
Applications for the next class of LELA fellows will open this Spring. Please email lela@lexingtoninstitute.org to be added to a notification list.
About Lexington Institute: The Lexington Institute is a nonprofit, nonpartisan public policy think headquartered in Arlington, Virginia. Founded in 1998, its major areas of focus include education, national security, energy and logistics. Please visit www.lexingtoninstitute.org/category/education/ to learn more.
About Education Elements: Education Elements is a nationally recognized company that helps districts develop and implement personalized learning strategies. Ed Elements' services help districts to create strategies, design instructional models and support teachers in integrating technology and instruction. Our platform provides students, teachers, and administrators each with a single entry point to access digital content and the detailed performance data they need to guide instruction and learning. This innovative cloud service offers simple and accessible data visualizations with actionable insights for users of all types. Education Elements has worked with over 100 schools across 40+ districts in the US; more than any other company. Please visit http://www.edelements.com to learn more.
Original Press Release here.