Subscribe
Flexible Content & Tools: Part 1 - An Interview With Newsela's Chief Content Officer
Personalized learning represents a shift in how we teach students, a reflection of our changing educational landscape, and an acknowledgement that the world we must prepare our students for is different than the one we grew up in. One of the biggest ways education has already changed is in the content and tools students engage with. This blog series is made up of interviews with education leaders who work with digital content, curricular resources, and instructional tools. It is meant to highlight ideas and perspectives we aren't normally exposed to. In doing so, this series is meant to spark new ideas, discussions, and ultimately empower teachers and leaders.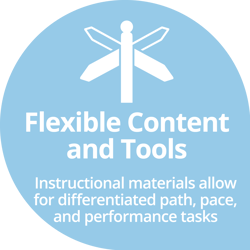 Introduction
Jennifer Coogan is the Chief Content Officer at Newsela, a widely used instructional content platform. She helps to illustrate some of the intentions behind the creation of digital content and has suggestions for its use.
If you could take on a super power, what would it be and how would you use it to better support the teachers and leaders you work with?
I would love the power to stop time. And if I were doing that in service of teachers, I would just stop time after the students enter the classroom and allow teachers to address any of the issues in the classroom that might impair their lesson going the way they plan it. What I've observed is that the best laid lesson plan can be blown to bits, just because of some incidental glitch in the classroom, anything from one kid's Chromebook isn't charged or somebody doesn't have their materials. I would love to freeze time for teachers so that they could have a moment to look around and address what's missing...and then reanimate everybody so that they can start the lesson under the best circumstances.
How has Newsela's approach to providing curricular resources changed throughout the evolution of your company?
I think that what's happening in education and with regards to curricular materials is mirroring what is happening in the consumer world. I don't pay for cable anymore...I subscribe to Netflix and I get a personalized stream. Netflix knows what I want so I'm seeing only the content that is relevant to me. We're all coming to expect a more bespoke array of content in our personal lives, and so it's no surprise that teachers would have that same expectation in their professional lives. Education is certainly not the fastest moving industry, but I think it's definitely reflecting a lot of what is going on in the regular consumer space.
Deeper Dive: Check out our webinar on April 3, School Leader Habits - Promoting Next Gen Teaching and Learning Models: Flexible Content & Tools
What are some of the best ways you've seen Newsela used?
The very best example is when a teacher uses the article to expose students to a happening in the world, and then, as a class, they go out into the real world and do something in reaction to what they read. Be it writing letters to their Congressperson, or going to a protest, or starting a charity fundraiser for a cause they read about. Once we had students who read about a new prosthetic technology and they wrote to the doctor who invented the technology in order to get a hand made for one of the faculty at their school. School isn't meant to be sitting at your computer all day. It should be a launchpad. It's a great way to expose you to things in the outside world, but then ultimately you need to go into that outside world.
What would be your advice to folks who are using Newsela or people who are coaching teachers using Newsela?
I would say frequency of use is what I would wish for. Rather than having a current events unit in April, where we just read Newsela for a month, I would think a more frequent use, ten minutes daily, would be more useful for students.
Why would you suggest that kind of frequency?
Teachers should model the way that they, as an adult, consume news. I start my day by hearing what's going on in the world, so I'm always informed and always ready to participate in the debates that are going on. With students, let's see what's happening in the world, let's see what's intriguing or outraging you, let's start a debate.
There's a concern about the potentially negative effects of technology in the classroom. How would you respond to folks who have a concern about technology in the classroom?
"Digital resources require teachers even more". My trips into the classroom are always so illuminating. Having digital resources requires teachers even more than in the analog world. It's easy to put a kid in a quiet room with a paper book and say, "go read that." But when you're dealing with digital technology, there's so much going on. Keeping students on-task and making sure the learning is actually happening and the objective is being met. That requires trained professionals.

"Teaching students how to consume digital media". I think one of the most important things that teachers are doing today is teaching students how to consume digital media and how to use digital tools. Those of us who are of a certain age, we didn't get that and I think we're now paying the price for that.

"No good machine learning algorithm to really evaluate true depth of knowledge." There are assessments that we make, but at the end of the day, there is no good machine learning algorithm to really evaluate true depth of knowledge. We can check progress on skills and see what areas the teacher might need to give more attention to, but it's the job of the teacher then to figure out how to best address those areas.
Related Resource: Learn more about Flexible Tools & Content and the Core Four Elements of Personalized Learning
Let's imagine I have the super power now, and I can show you the future. What does the future of digital look like five, ten years from now?
Five or ten years from now, teachers spend zero time looking for what they need; that is almost instantaneous. The bulk of the teacher's time goes into thinking about how they might administer a lesson in a way that will best spark learning for their students. And that may the best practice win. A teacher finds a practice that really suits their class, they go and put that out in the world, and for anyone who is teaching in similar circumstances, they are able to find that and build upon it. I think that's the future.
About Jennifer Coogan

Jennifer Coogan is the Chief Content Officer at Newsela, leading the team that writes and develops the articles and collections that students and teacher engage with. She previously worked as a business reporter for Bloomberg and Reuters, a content marketing consultant for Fidelity, American Express, and Citibank, and was the Managing Editor of Mint.com. Jennifer has a master's degree from the Medill School of Journalism at Northwestern University and a bachelor's degree in comparative literature from Wellesley College.
If you're looking for more learning and inspiration around personalized learning, content & curriculum, classroom practices, and more – join us at the Personalized Learning Summit 2019 May 14-16 in Atlanta, GA. Tickets are going fast, so register today to save your spot!