Subscribe
Flexible Content & Tools: Part 4 - An Interview With a Design Expert for Google's Education Tools
Personalized learning represents a shift in how we teach students, a reflection of our changing educational landscape, and an acknowledgement that the world we must prepare our students for is different than the one we grew up in. One of the biggest ways education has already changed is in the content and tools students engage with. This blog series is made up of interviews with education leaders who work with digital content, curricular resources, and instructional tools. It is meant to highlight ideas and perspectives we aren't normally exposed to. In doing so, this series is meant to spark new ideas, discussions, and ultimately empower teachers and leaders.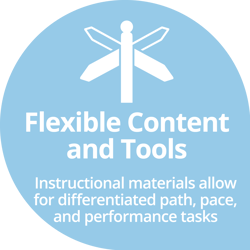 Introduction
Ryan Fedyk leads the UX Design team for Google's education tools, including Google Classroom, a streamlined, easy-to-use tool that helps more than 40 million students and teachers organize assignments, boost collaboration, and foster better communication. Read about his views on the role of technology in the classroom today and in the future.
If you could take on any superpower, what would it be and how would you use it to better support teachers who are using Google Classroom?
I would control time. We find that the biggest barrier for teachers is lack of time, from the amount of time it takes to prep curriculum and lesson plan, to grading papers and giving rich feedback, and critical workflow tasks like communicating with students and guardians, conducting assessments, and encouraging collaboration in the classroom. That's been the fundamental principle of Google Classroom since it was released, streamlining these workflows so that teachers can spend more time giving personalized attention to their students.
What do you see as the role of technology in the classroom?
Technology in the classroom has always been a critical aid to formal learning. If we look back at different technologies that have affected learning, the printing press was huge, because it allowed for the democratization of knowledge and the mass distribution of texts. The internet is another rich database of knowledge and it is also a communication tool. We are using a tool that's both social and a set of knowledge for consumption at any given time. Technology empowers educators with the tools they need to facilitate learning within the classroom.
The access to knowledge now is something that's outside of the scope of the teacher; the teacher doesn't control knowledge. The teacher becomes the facilitator of the learning, they're setting up the architecture for a student to learn in.
Students have always been able to collaborate; the thing that's really exciting for me is that Google's tools are seamlessly synchronous and asynchronous. Two people can be working on a document at the same time and having that synchronous experience, from sitting next to each other or across the globe. But it's just as easy for one person to log-off and for the next person to continue. Historically students who haven't been good at synchronous collaboration – maybe they're the quiet one of the group – now they have the opportunity to contribute to a document or an assignment in a way that works for them.
How do you respond to folks who are concerned about the use of technology in the classroom?
Technology is critical to the modern-day workplace and it's critical to the future of learning. It can be scary, looking into a classroom full of kids with Chromebooks, not knowing who is doing what, and who is on task. It's a shift in a learning and teaching style. It's also about trust and building a culture where students are encouraged to explore new means of expression.
Going back to the printing press example, when everyone who has books is suddenly able to gain knowledge if they're able to read; that could have been a scary moment as well. Now, technology is going one step further, where students have access to a vast number of resources on the internet, and that shift is also scary. It is my hope that teachers will embrace the role of facilitator and begin feeling comfortable in that space because students' ability to use technology to learn is critical to their success in the workplace.
Let's imagine you are running a workshop for a group of teachers who are just getting started with Google Classroom, what's the non-technical lesson you really want to impart to them.
We want to see more student-teacher engagement on the platform, more bringing the whole classroom experience into Google Classroom. The big benefit of this is consistency for students. We've seen that when teachers use Google Classroom more holistically, it's simpler for the students to understand and it doesn't fracture the curriculum across multiple platforms. The Classwork page gives a place to manage a larger bulk of assignments and resources. I think that is a big opportunity for teachers to take more advantage.
Related Resource: Check out our upcoming webinar, Personalized Learning PD for Your Staff
What about for teachers who have been using Google Classroom for a while now? What do you want them to know?
I would encourage all teachers to use the feedback button because we really use their input to help drive new features or changes to the product. For example, we went through a big change during the last back-to-school season when we launched the Classwork page. That was a huge feedback moment for us because users were able to really impact refinements to the product. For example, we discovered that teachers prefer having the most recent assignments listed at the top of the Classwork page. As a result of that critical feedback, we added the ability to order the Classwork page in chronological order by default.
Imagine for a moment that I have the superpower now and I can show you the future. What does the future of education and technology look like five, ten years from now?
In the future, teachers will become facilitators of learning, and technology will be a tool that enables that. Teachers will be able to use tools, including artificial intelligence and machine learning capabilities, that help them personalize learning, create rigorous curriculums and give richer feedback. This will help students better augment their learning paths with supplemental learning resources that are tailored to their needs and interests.
The learning content on the internet will be easier to find across all sources and technology will assist teachers in collating those into a cohesive curriculum. In that world you just input the student's interests, learning objectives, and press a button. The value of the teacher is not going to be automated. Technology is just minimizing the amount of work that it takes to personalize curriculum, track progress, and understand student performance. These are all things that wouldn't be really time-consuming if it wasn't for technology tools.
About Ryan Fedyk

Ryan Fedyk is a Design Manager at Google. He has been working on Google Classroom for the last three years. His background is in product design, having previously worked for Microsoft and several other technology companies. He focuses on designing user experiences with technology that are intuitive and visually appealing. Ryan has a masters degree in motion graphics from the Glasgow School of Art where he explored the interplay between animation, narrative, music and dance.
Learn about how digital tools fit into the greater curriculum picture, and what to keep in mind when selecting digital tools for your classrooms and schools in our white paper, Guide to Selecting Curriculum to Support Personalized Learning - Phase 3.