Subscribe
Flexible Content & Tools: Part 3 - An Interview With an Elementary Educator
Personalized learning represents a shift in how we teach students, a reflection of our changing educational landscape, and an acknowledgement that the world we must prepare our students for is different than the one we grew up in. One of the biggest ways education has already changed is in the content and tools students engage with. This blog series is made up of interviews with education leaders who work with digital content, curricular resources, and instructional tools. It is meant to highlight ideas and perspectives we aren't normally exposed to. In doing so, this series is meant to spark new ideas, discussions, and ultimately empower teachers and leaders.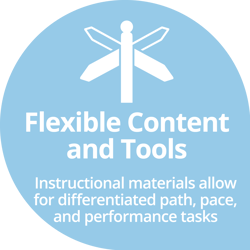 Introduction
Paul Emerich France is an elementary educator and writer. He advocates that when it comes to content and tools, 1) less is more and 2) teachers must strike a balance between a "one-size-fits-all" model and what he calls "hyper-individualization".
If you could take on any superpower, what would it be and how would you use it to support yourself as a teacher or other teachers you're working with?
I think most of the problems that need solving are systemic. If I could somehow get into the minds of policymakers, I would get them to start making decisions that are best for all kids. I would reform the education system in a way where schools were funded equitably and teachers are paid fairly. To me, it all comes back to equity.
We've seen huge changes in education over the last 10-15 years; how has your understanding of curriculum and curricular materials evolved over the course of your education career?
I've gone from a consumption mentality to a creation mentality. I used to be purely consumption, I would make the packets and we would do a lot of worksheets, and it didn't take me long to realize that's not best practice. I'm still consuming materials, but I'm doing so to create something new. For example, we all engage in a math task, and students have a math journal. They glue that task in their journal and the rest of the time is them showing their thinking and really writing about math. The kids are consuming to a certain degree, they're consuming the math task, but they're creating meaning out of them in their math journals, as opposed to a worksheet where they're just filling in empty boxes.
Deeper Dive: Learn about how digital tools fit into the greater curriculum picture, and what to keep in mind when selecting digital tools for your classrooms and schools in our white paper, Guide to Selecting Curriculum to Support Personalized Learning - Phase 3
It sounds like it's not just about a change in your understanding, but also helping kids to think differently. It's about getting students to use fewer materials to go way more in depth.
It's a much more challenging way to teach. My students this year are not used to this way of learning. I have to talk a lot about jumping in and taking a risk and being okay with it not being accurate right away. I still have to catch myself from falling into a trap when they're not immediately right. I'll be like, "I need to print out a worksheet!" But I know that's not going to solve the problem; the problem is that there's a conceptual gap that I need to address, and that's going to take some time, and that's okay.
How do student journals help you personalize learning?
I am of a mindset that personalization is a partnership between a student and the teacher. It's the art of making learning meaningful to the individual, and I think that journaling is an amazing concrete artifact for what personalization should be. I give all students the same task and they manipulate it in a way that works for them in their journal. All the while, I'm able to give them individualized feedback, either by walking around and talking with them, pulling a small group, or conferencing with them one-on-one.
You've written about the risks of what you call "hyper-individualization" in PL. Can you talk more about this?
Think about it on a continuum. On one end is "one size fits all", when every student has the same worksheet and you teach them in the exact same way. On the other end of the spectrum is that every student has a different worksheet or is on a different program at the same time. Education frequently poses this false choice; there's nothing in between. I don't think there's a line that exists between them, it's gray in the middle.
In a well-differentiated learning environment there is a healthy amount of individualization, which is really about equity. Every kid is able to get what they need to be successful. For example, let's say I pose a multiplication word problem. My advanced kids might go straight to multiplication, but my kids who are still in more concrete learning stages can get out the blocks or draw pictures. There are all these ways for them to access the same task. It preserves equity and access and it doesn't individualize in a way that splits kids up.
When you personalize, it's important to ask the questions:
Is this equitable? Is it allowing every kid to get what they need?
Is it just? Is it removing barriers without creating new ones?
Related Resource: Check out our upcoming webinar, School Leader Habits for Promoting Next Gen Teaching and Learning Models
Imagine I'm giving you the superpower to see the future. What is the future of teaching ten years from now?
My hope is that we see it's not about competition and comparison, it's about actualizing agency in our kids. We don't know what the world will look like in ten years, and the best thing I can do is help my students overcome the obstacles they face now, so that they can eventually be independent in overcoming future obstacles. It's not about comparing ourselves to another person, or district or country, it's about helping our kids become independent so that they can see how they contribute to their larger community. And in order to do that, they need to be able to solve problems on their own.
About Paul Emerich France

Paul France teaches third grade and is coming out with a new book on personalized learning later this year. He has written extensively on his approach to personalized learning and equity on his blog and has been featured in EdSurge and ASCD's "Educational Leadership". Paul previously worked for an EdTech startup in Silicon Valley. He is a National Board Certified Educator and has a master's degree in Language and Literacy from Roosevelt University and a Bachelor of Education from the University of Illinois at Urbana-Champaign.
If you're looking for more learning and inspiration around personalized learning, content & curriculum, and classroom practices – including Personalized Learning Simulations to see PL from a student's perspective – join us at the Personalized Learning Summit 2019 May 14-16 in Atlanta, GA. The registration deadline is coming up next week, so register today to save your spot!