Subscribe
Families and Distance Learning: A Guardian's Guide To Kicking Off Distance Learning
Classrooms | Virtual Learning | School Leadership
There is no question that our lives have been flipped around over the last few months. For many of us, we are adjusting to redefining our workspace and even our roles. Our work has changed and so has how we interact. One role that has significantly changed is the role of the parent or guardian of school-aged children. We know that active adults make a huge difference in a child's success in school but the level to which this is needed has been redefined. While teachers navigate a new normal, the "job" they now must lean on guardians for is to assist in supporting students. This upcoming school year is going to require a level of flexibility from all parties involved and we want to support the parents and guardians as they collaboratively navigate the year with their child's educators.
In order to best understand your role as a parent or guardian, it's important to deconstruct the traditional role of the teacher.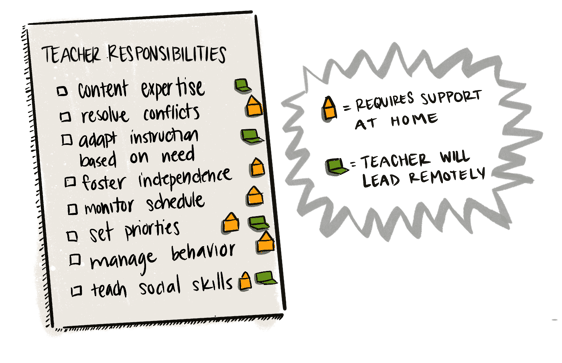 As you can see, teachers are master multi-taskers! Their spidey-sense helps them read body language, tone, and energy levels while interpreting questions and explaining content, all the while adapting their lessons in real-time. As you can imagine, having less real-time feedback from students in remote instruction adds a challenge to meeting their needs. Much of the art of teaching is limited when we are in 2-D but at Education Elements we believe that by breaking down a few tips we can optimize the role of the adults at home in a way that is manageable for parents. The goal is not for you to take on your child's learning but to help your student grow in their own self-advocacy and independence. If you take some time to establish guardrails for at-home learning, you can create a work/life balance for yourself and set your student up for success. This post will provide tips aligned with the three priorities of the first month of school. We know that if you invest on the front end you will reap the benefits of your child's self-reliance later on.
Student Independence
You do not have to be available to your student 24 hours a day. In fact, it's better if you are not. In addition to the standards and curriculum your teachers teach your students, they focus on building important skills such as prioritization, resilience, collaboration, and reflection. One of the benefits of flexible learning models is that it allows for just that: students to take ownership of their learning. During the first few weeks of distance learning, you can focus on the following things to build independence in your student.
Work Space Set-up
We wrote a recent post about considerations for young students. Check this out as you consider your student's workspace. For older students you might make the following adjustments:
Digital Schedule: Have your child manage their schedule on Google Calendar where you can send each other invites. This serves the dual purpose of helping you sync it to your work calendar AND give your student practice with managing their time in a tool they might use in the workforce.
Digital Task Management: Introduce your students to tools like

Google Keep

,

Trello

,

Todoist

, or a notes app on the computer to manage tasks on their own. Remember, organization and prioritization is a learned skill so set up times where you connect with your student to review how they plan to spend their time. If you are a manager in your own profession think of it as a meeting with a direct report where you want to provide guidance but allow for them the freedom to make choices that work with their style.
Logging into video conferencing: If your students are new to real-time lessons it would be wise to spend the first week helping your student navigate the conferencing tools used by your school. Small things like logging in, muting and unmuting, sharing videos or using the chat are all a new set of skills and tools to leverage. Fluid management of these items will help your student actively participate in the instruction.
Battery management: Our kids are pretty comfortable with the digital world and yet you would be surprised how often we see students run out of battery in the middle of a lesson or conversation. Be sure to set expectations around charging devices and already being ready for lessons.
Check out our easy-to-read infographic, "Best Practices for Digital Learning for Students" to help students prepare for online learning.
Taking Breaks
One of the advantages of remote learning is that students get more flexibility. Having the choice of when to complete certain assignments or when to take breaks can be incredibly empowering for your students. It's important to remember that this is a big shift for your kid to have control over their schedule so it's important to put in some support and these will depend on the needs of your kid. There are two types of breaks:
| | |
| --- | --- |
| Scheduled | Spontaneous |
| Work with the energy levels of your child. For example, after a few days, your child might express or you might make this observation on your own that the hours of 2-3 pm are really difficult for them to focus during. Work with their energy and think about building in a break for them to do something physical or creative at around the same time every day so they look forward to the break. | Virtual instruction takes a different type of focus and your students might find that they are fatigued after a certain assignment or lesson. Additionally, the stress of the pandemic might be impacting them differently at unexpected times. Encourage your students to identify when they feel fatigued or frustrated and encourage them to take a 10 to 15 minute break to recalibrate. Provide some choices for what they can do during those breaks – maybe listen to music, take a walk, or change activities. |
Navigating School Resources
You are likely working with many tools; some familiar and some completely new. In the spring you likely tried a large variety of tools. Generally, schools have spent time this summer refining the tools based on what worked in the spring. Take some time to become familiar with where your child's resources are housed. Some questions to ask your child's teacher are:
How do I log on to the website or learning management system my child is using?
Where are my child's assignments? Who do I go to if something isn't working?
How do I ensure my child stays on top of their assignment? How do I know if they have been submitted?
What are the teacher's expectations for collaboration and communication?
Student Schedule & Routine
Class Schedule
Schedules are not straightforward these days. We find that ours resembles the jig-saw puzzle on our coffee tables more than anything. At Education Elements we have been using the analogy of big rocks. Here are a few steps to take to ensure both you and your students stay on track.
Identify your "big rocks" that are hard to move and mark those on the calendar. These are the items that are not flexible such as a "synchronous lesson" (lessons that willoccur in real-time). If you have multiple children you might consider mapping out when everyone will be on their lessons. If you are also managing your own full-time job this is a good time to schedule meetings (after the first week or so in order to be availablefor tech support) since you know your students will be occupied.
Identify your pebbles. In this case, pebbles are the times you plan to check in with your child or when they will work independently. Set the expectation that you will be available during certain times for them to ask questions and problem-solve. You might want to strategically block 15-30 minutes after a few lessons to check in on how it went and what they need to do next. If you are also managing your own full-time job consider blocking this time off in your own calendar so your colleagues are aware that you are not available.
Fill in the sand with the independent and/or flexible activities. Help your child build in breaks aligned to the items above. You should also block breaks for yourself so your child knows everyone needs time to wind down and decompress. Consider sharing your schedule with your child so they understand how you navigate your priorities.
Student Problem-Solving
The extent to which your child can problem solve completely depends on their age and comfort with ambiguity. Just like learning math skills, children require explicit instruction around how to problem-solve through challenges, be they academic or social. These are the "soft skills" that our students learn in the classroom to navigate their education that are just as important as the curriculum. A few things to consider when helping your child navigate challenges below.
Developmental Needs
A quick online search can show you many examples of the developmental needs and milestones of your child based on their age. Take a look at a few as no one resource is perfect, but this can give you an idea of how development impacts your child's stamina in school. For instance, you might find that your teenager is lethargic after independent work or multiple video calls. This may be a result of their need for informal social interactions. Consider building in times for them to connect with their friends to study or just hang out, whether that's virtually or in-person while maintaining physical distance. Older students need time with their peers to practice productive disagreement, building connections, and self-advocacy.
Alternatively, your younger kids might struggle with complex tasks. This is because it is not until the ages of 6-8 that children can manage more than 3 step instructions. This might mean that you need to simplify tasks or build in checkpoints. Odds are good, though, that your child's teacher will take this into account in many ways.
Self-Regulation
Andrea Bell from GoodTherapy.org defines self-regulation as "control [of oneself] by oneself." Stress has been heightened and students are grieving the loss of school as it was just as much as we are missing our old routines. Help your child identify their emotions and make choices to cope. If they are feeling frustrated maybe they need a break or maybe you can introduce the concept of resilience and help your student identify when struggle is productive versus debilitating. It's important to help your students build this skill for themselves. The goal is for your child to rely less and less on your prompting and stepping in.
Managing Priorities
Scheduling is certainly an important part of prioritizing. The next level is monitoring energy levels and helping children decide between tasks. Help your child understand when items are due, how much effort they will take, and how they might go about taking the first few steps to tackle the challenge. You might consider reflecting with your child after a big task and asking them how it went and how they might adapt for the next time. You can ask questions like:
Did you have enough time to complete this task?
Was there anything you could have done earlier?
Were there points where you might have asked for help?
What did you learn about your working style?
Hopefully, these tips help you plan for a strong start to the school year. Remember, the goal is not for you to take on the role of teacher but to set the stage for a collaborative relationship between you, your child, the teachers, and other school staff. Stay tuned to learn more about how to collaborate effectively with your child's teachers in our next post on "Families and Distance Learning".