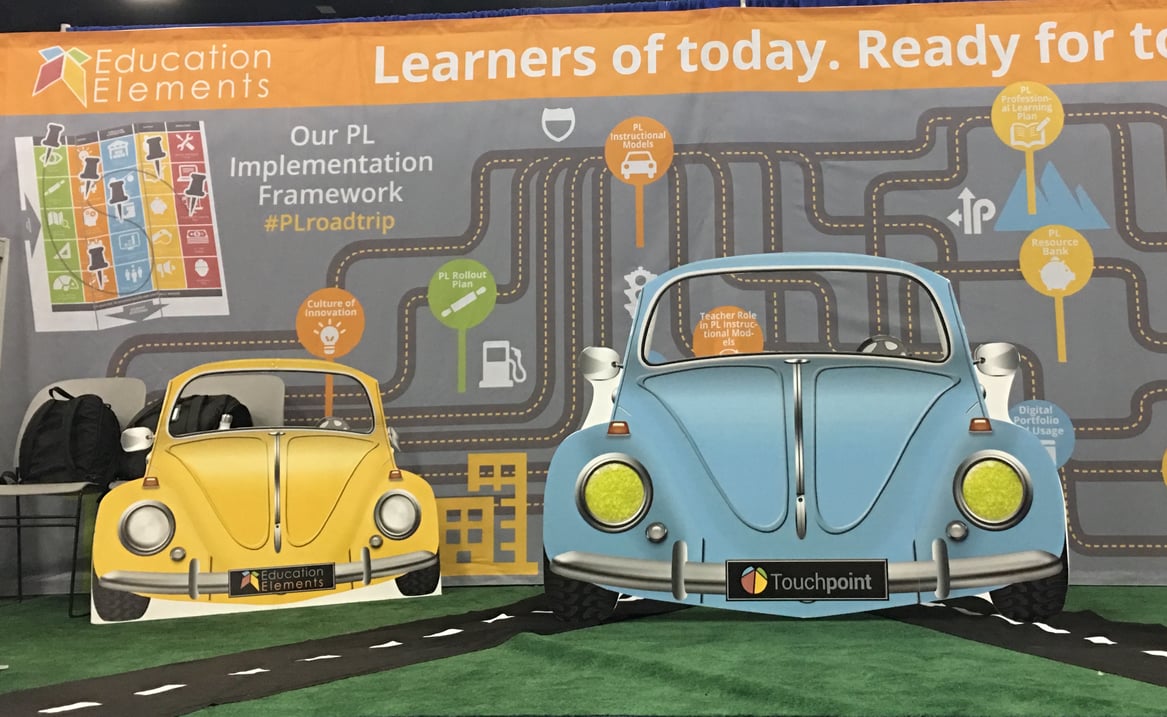 Subscribe
5 Takeaways From Our #PLroadtrip to iNACOL 2016
Personalized Learning | Education Elements
On Friday morning I looked around the Las Vegas airport on my way back from the iNACOL Blended and Online Learning Symposium in San Antonio and realized I looked just as tired as the people who had spent the last several days drinking and gambling. I noted one key difference though: tired as I looked, inside I was excited and full of inspirational ideas while the others in the airport, well, they were just plain tired.
For me, the annual iNACOL conference is like a reunion where everyone shares not just hugs and stories but also ideas and introductions. It was a week of new and old friends, of learning from and teaching others. Here are the top five takeaways from one of my favorite annual gatherings:
#1 We are all on this journey together
This year our booth at the conference showcased our Personalized Learning Implementation Framework and showed how several districts mapped out their pathways. While all districts started with the idea of a vision, they took distinct paths, "making stops" on their own roadmap per their district's own needs to focus on things like Creating a Culture of Innovation, Developing Roles to Support Teachers, Designing Instructional Models and Aligning Initiatives.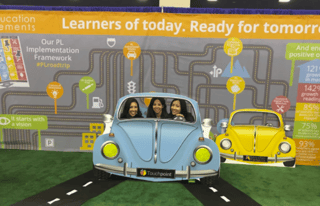 Personalized learning in each of the districts we spotlighted is different because each district is unique, yet it's important to note that in all of our districts' paths certain elements remained consistent -- their results for metrics like academic achievement, student engagement and teacher confidence were all high.
Visitors to our booth stopped by to take pictures with a blue or yellow VW beetle and talk about what they were working on in their own districts and organizations. What we found through those discussions was that, while some people were just starting and others had already taken many steps in their personalized learning journey, the iNACOL experience was a space where everyone was excited to learn from each other.
#2 We are starting to talk about talking about it
A few years ago there were only a few sessions about effective communication of personalized learning, something we at Education Elements have always thought is extremely important. Lately, this topic has become big concern for more and more of the districts we support.
We saw this trend mirrored in the conference agenda this year with many more sessions on communication, including a great one by The Learning Accelerator's Kira Keene where she shared a communication toolkit she had developed.
Our session "Make Personalized Learning Stick" attracted well over 100 people, each one eager to learn from our four different district partners who presented about their approach to personalized learning communications. The noise level and energy in the room couldn't have been much higher as everyone eagerly shared ideas for how to spread the positive potential and impact of personalized learning with their community.
Starting an #inacol16 session with participants getting to know each other @EdElements #plroadtrip pic.twitter.com/2xqowAhlDp

— Amy Yamner Jenkins (@amyyjenkins) October 27, 2016
While Heather Van Looy from Fulton County shared the importance of defining and communicating your "why," Kate Schwartz from Warren Township talked about the power of social media to support teaching innovation (check out #warrenbl). Rindy Ward from Yuma Elementary District talked about how they revamped their coaching system to support PL, and Edi Cox shared how, in Horry County, the district had begun a badging system for teachers to demonstrate effective personalized learning practices.
Given that personalized learning is a big shift from traditional classrooms and it is often hard for the community (teachers, leaders, parents, etc.) to understand its full implications, special attention and care should be given to communicating with all local stakeholders. In fact, not communicating enough is part of our Six Risks to Successful Personalized Learning infographic. I was excited to see increased focus on the topic of communication at this year's conference.
#3 We need to share more than once a year
The team from GettingSmart once again hosted a VoicesHub at the conference where attendees could come and share their stories which were to be included in future podcasts. In chatting with Caroline Vander Ark, who spent much of the conference doing these interviews, it was clear that this was a rare opportunity for many of the attendees. Too often they are so busy working hard in their classrooms, buildings, or district offices that their successes go uncelebrated by the general community. Or, they are recognized only within their district and not by their professional colleagues from across the country. Similarly, we find that many of our district leaders feel like they're facing these challenges alone and do not know where to go for support and idea sharing. VoicesHub provided a great forum for talking about successes, attempts, and sometimes even failures.
Sadly, VoicesHub is a once-a-year thing and the community is demanding more. Wouldn't it be amazing if there were more ways for practitioners and leaders to ask questions and share ideas with each other and thought leaders throughout the year? We don't have a perfect solution to that meet this growing demand for sharing, but luckily in just over six months from now Education Elements will be hosting our third annual Personalized Learning Summit. And, for the first time, it is open to everybody! We invite people to join us May 10-12 in San Francisco to learn from experts, pioneering school districts, and each other.
#4 The work is hard, and we are all looking for ways to make it easier
A single teacher shifting her own instructional practice to personalized learning is one thing; an entire district re-organizing itself, its PD, its communications, instructional models, indicators of success, culture, etc. is another. It is really hard to implement personalized learning at scale. We know; we have helped over 100 districts to do it!
That's why a gathering of 3000+ educators and leaders engaged in this work at iNACOL seemed like the perfect place to announce Touchpoint, our new tool developed to support districts in managing all the elements of district transformation.
Touchpoint is the first platform of its kind to simplify the change management process through organizing resources, timelines and actions. It complements the consulting services we already provide to partnering school districts and helps leaders to map their initiative, track progress, and support various school teams as they design learning experiences that meet the needs of students.
The invite-only Touchpoint launch party included a mojito-making contest, live merengue band and of course, a photo booth. Between drinks, food and catching up, participants learned how they could be among the first to use Touchpoint. Check out the #FiEEsta on twitter.
What you missed on last night : #touchpoint launch party #Fieesta #inacol16 @nacol pic.twitter.com/MAcEBcUVlL

— Education Elements (@EdElements) October 27, 2016
The excitement from the party spilled over to the next day where our booth was busy with both people taking pics for our #PLroadtrip wall and checking out a demo of our new tool. Everyone was excited about the chance to get their teams on the same page.
#5...
If we are being honest, when I first started this blog post it was going to have ten takeaways. It then became a list of seven, then five, and now...here we are with four so far.
There are too many ideas for me to capture them all, so what you see here are really the best of the best in terms of my experiences. Which is fitting because during my time at iNACOL, I truly felt surrounded by the best of the best -- since that is who this conference brings together. Which I guess is my #5 takeaway.