Subscribe
The Remote Work Series: Remote Work Routines
Organizational Leadership & Change Management | Remote Work
Remote work is a hot topic right now, and if you are not used to working remotely, it can be very difficult to adjust, particularly in these very special circumstances where schools are closed, kids are around, etc.
Anthony Kim, speaker and author of the Corwin best-seller The NEW School Rules, is using some of the practices in his book to explain how they can apply in a remote work context.
This is part one of a 7-part series.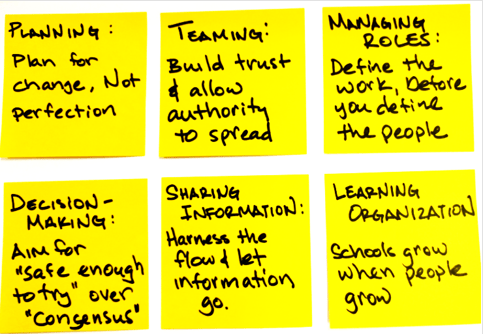 From Anthony:
I decided to start a 7-part series on the 6 rules from The NEW School Rules that you can use to implement better remote work practices for you and your team. I've had tons of experience in the remote work environment, but this is a work in progress for me too. I am constantly trying to improve the way I work with my team remotely and I hope some of these practices help you!
An important first step when transitioning to remote work is to get the shape of the vessel right. In a remote work situation, it's easy to get lost in time, whereas you might have certain visual cues that you need to transition to something to new in an office. For example, people waiting outside of your conference room might signal that your meeting is about to begin or has already run over. In contrast, you can find yourself sitting in your chair for 4-6 hours straight going through meeting after meeting in a remote working context. I've combatted this by placing time for routines throughout the day; when you no longer need to commute to your office or the gym after work, you realize that you have time on your calendar for new activities.
When I think about these routines, I think about things I can do in the morning, mid-day, and at the end of the day to make sure that I am taking care of myself and setting myself up for success. These routines have helped me build in my own transitions that are thoughtful and allow me to adjust as the day goes on.
Morning Routine:
In the morning, I focus on making sure that I am physically and mentally ready to take on the demands of the day. I start with making sure I drink water to hydrate. I might also spend:
10 minutes stretching, meditating, or exercising to ensure I have enough energy for the day.

10 minutes setting my intentions and attitude for the day.

10 minutes reviewing my calendar so I understand what to expect and when I can fit time for my mid-day and end-of-day routines.
Mid-Day Routine:
During the middle of the day, I will hydrate and stretch again to make sure I am keeping my body in motion for the rest of the day. Because it can get easy to get stuck in back-to-back meetings, I make sure I eat food to maintain my physical energy. Lastly, I will review how my day is going and adjust my calendar accordingly.
Make sure to check out the next post in the Remote Work Series: Planning for Change, Not Perfection
End of Day Routine:
At the end of the day, I spend 15 minutes asking myself four questions that help me thoughtfully reflect on my day. Those questions are:
What did I learn? Even while working remotely, it's possible to learn new ideas from colleagues or other sources. Taking time to reflect on new learnings and how you might apply them on a project can help you wrap up even the longest days more thoughtfully.

What did I get done? Reviewing the tasks that you completed not only allows you to cross items off your checklist and adjust your priorities, it also allows you to celebrate your success in a small, yet meaningful way.

What were big some ideas I came across? Big ideas can help you think about how you can take your work to another level, bring more colleagues onto a project, and more.

What is the most important thing I need to do tomorrow? After you've crossed items off your list, it's important to prioritize and re-prioritize responsibilities.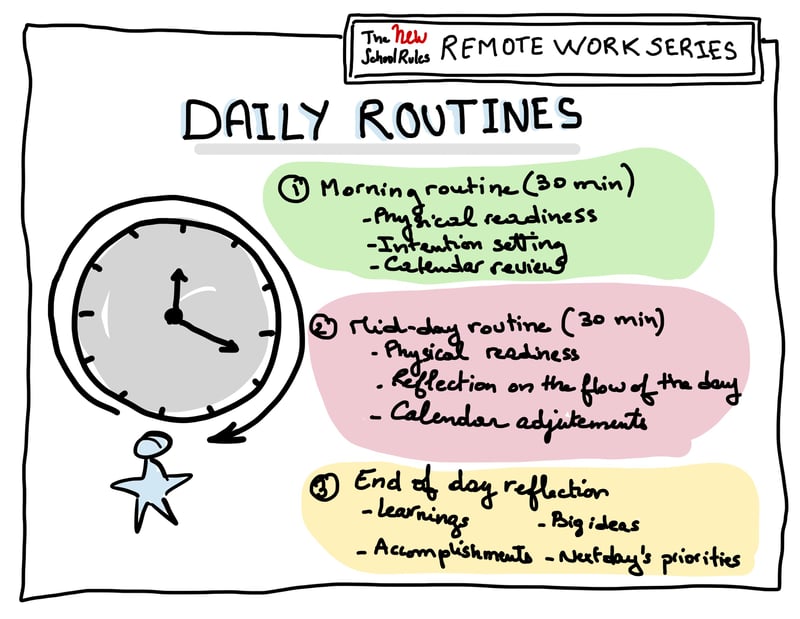 Adjusting to remote work will take time and practice. But over the course of this blog series, I'll be helping you learn how you and your team can use the rules to transition to a remote work environment successfully.
This is how I approach working remotely. I invite you to check out the video below, and to subscribe to the YouTube channel if you'd like to follow along with the entire series.
Subscribe to my YouTube channel to check out the rest of the series, and for more videos about learning organizations, team habits, and leadership.