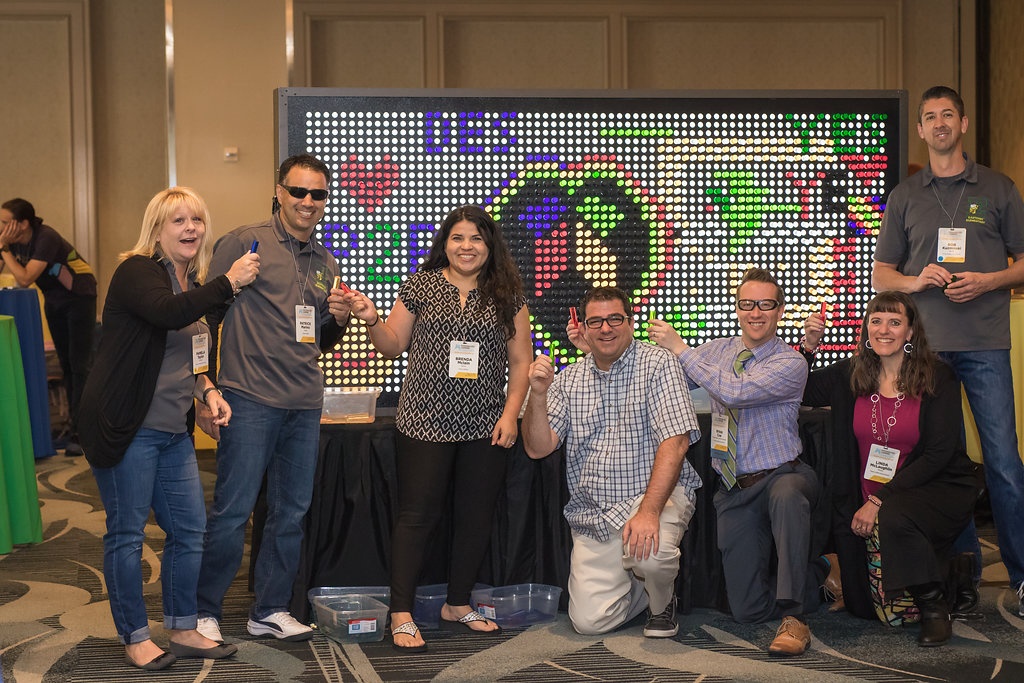 Subscribe
7 Reasons You Can't Miss the Personalized Learning Summit 2019!
Personalized Learning | Innovative Leadership
We're counting down the days to this year's 5th annual Personalized Learning Summit! We're so excited to gather together again this year and share the experiences and innovation we've all been developing since the last PL Summit. If you've never been to the Personalized Learning Summit before - or you're making the case to attend again - here are the top reasons to join us in Atlanta, GA May 14-16 this year!
1. Outstanding Keynotes, Featured Speakers, and Presenters
Inspiring keynotes from experts in the field of education, as well as change-makers across innovative industries, set the tone of learning and inspiration for the PL Summit every year. From award-winning educators, to motivational speakers, to best-selling authors - and even a Tony Award winner! - our speakers bring deep expertise and empathy onto the Personalized Learning Summit stage with them.
This year, we will be joined by keynote speaker Principal Baruti Kafele - an educator with decades of experience, more than 150 achievement awards in education, and author of multiple best-selling books; keynote speaker Golriz Lucina - Head of Creative at SoulPancake and co-author of the New York Times bestseller SoulPancake: Chew on Life's Big Questions; and featured speaker Chad Littlefield - co-founder of We and Me, Inc., co-author of the Amazon #1 besteller Ask Powerful Questions: Create Conversations that Matter, and a facilitator of meaningful conversations and connections; and more.
We're also lucky to have a diverse group of session and workshop presenters who are educators from across the country, giving us all an opportunity to learn from and work with those on the front lines. We're so excited to learn from the collective experiences of our speakers this year!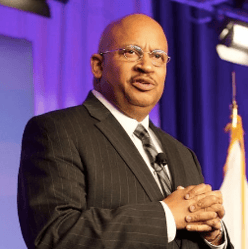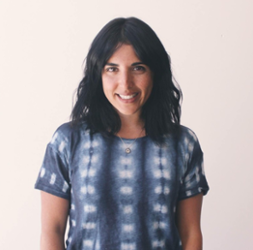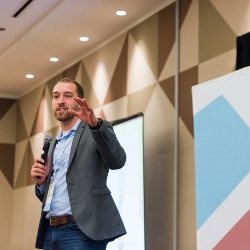 From left to right: Principal Baruti Kafele, Golriz Lucina, Chad Littlefield
2. Prepare for the Future with Innovation Tours
Ed Elements takes attendees on tours of the most cutting-edge Silicon Valley companies each year, with the goal of showing educators the careers and workplaces of the future for which they're preparing their students. In the past, these have included companies like Google, Twitter, IDEO, Lyft, Salesforce, Twitch, Stitchfix, and so many others. This year, attendees will visit and observe behind the scenes at the most innovative companies in the Atlanta area, to see how they are building networks of learning. Some of the companies we will be visiting include MailChimp, Bark.com, Coca Cola HQ, and the KSU Maker Space Bus. We are looking forward to announcing more innovation tours soon!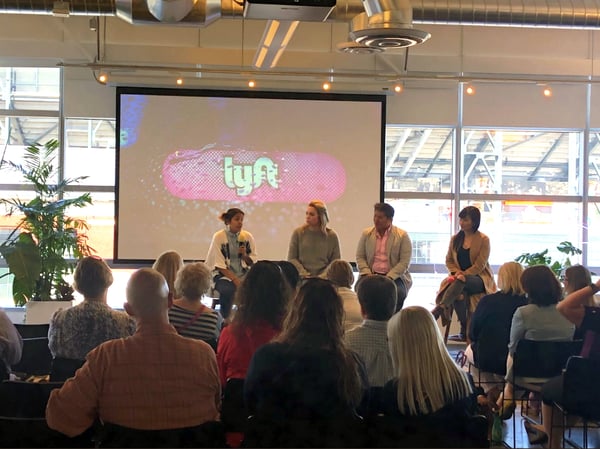 A group of PL Summit 2018 attendees on an innovation tour at Lyft in San Francisco, CA
3. Networking Built Right In
With administrators and teachers from all across the United States, from districts and schools large and small, rural and urban, with a range of class sizes, and unique challenges and innovative ideas - there's no end to the learning opportunities. The PL Summit learning experience is specifically crafted to facilitate collaboration and interaction between attendees, with a focus on developing learning networks that educators can build on for years to come.
4. Something for Everyone
Every year, we're excited to offer a wide range of sessions for all of our attendees, to provide learning experiences in the areas of your interest - and this year is no exception. With our most comprehensive variety of sessions yet, both in topic and format, there is something for everyone. At this year's Summit, just some of the things on the agenda are: 1:1 and small group coaching sessions; collaborative design meetings to tackle common challenges; simulations to experience a personalized learning classroom from a student's perspective; interactive sessions to develop big, inspiring ideas to transform education; special pre-conference sessions focused on team planning, decision-making, and collaboration based on https://www.newschoolrules.com/https://www.newschoolrules.com/; and more!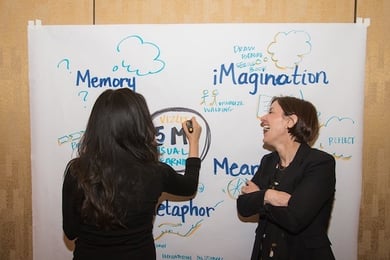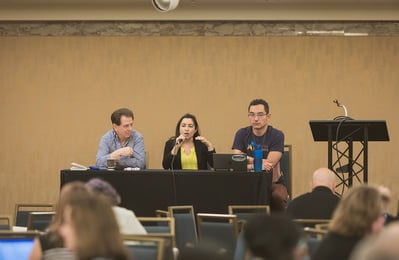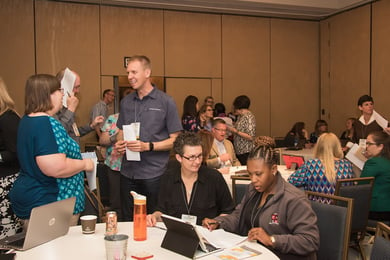 5. Party
We can't forget the annual Education Elements PL Summit Party, which draws on local entertainment and is a ton of fun each year. From live band performances to costume contests to our own karaoke stars, it's a great way to deepen connections with other attendees, unwind, and enjoy the local scene!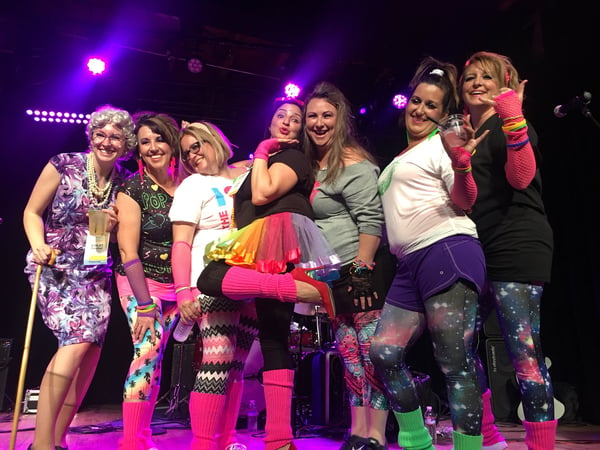 6. Unforgettable Learning and Motivational Experience
As the PL Summit ends each year, it's impossible to ignore the sheer amount of learning and inspiration jam-packed into about 2.5 days. Attendees walk away with tried and tested school and classroom strategies and new ideas, connections with other innovative educators, new reading and listening lists, and fresh motivation to tackle challenges back home. But you don't have to take our word for it - just check out some of what attendees had to say at last year's Personalized Learning Summit!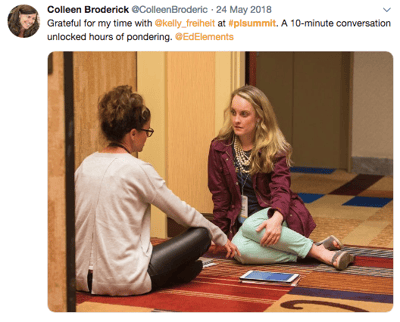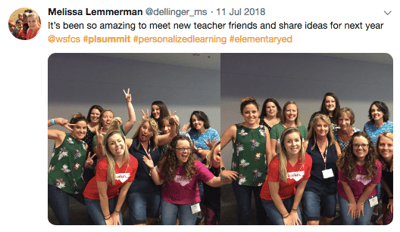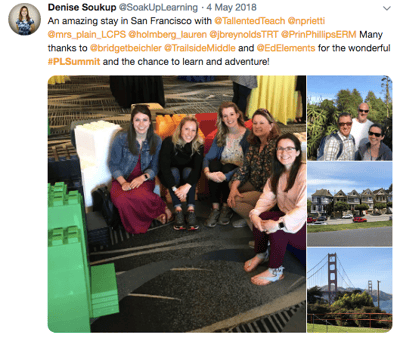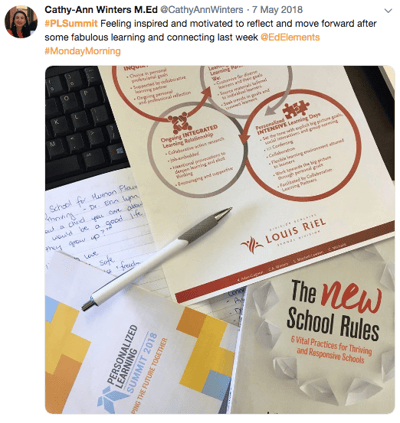 7. Atlanta, GA!
This year, we're moving the PL Summit from San Francisco - where it's been for 4 years - to the opposite coast in Atlanta, Georgia! We're excited to explore a new city together, and Atlanta is home to such famous sites as The Fox Theatre, The Center for Civil and Human Rights, the World of Coca Cola, and the College Football Hall of Fame.
The Ed Elements team is working hard to put together the best Summit yet, and we hope we'll see you in May! To learn more about the speakers and agenda, visit the PL Summit website below.
If you've attended the Personalized Learning Summit in previous years, what's been your favorite part? Share with us on the comments or on Twitter @EdElements.