Together, Google for Education Texas, Education Elements, and Dallas ISD are hosting The National Academy for Personalized Learning in Dallas, Texas.
The National Academy for PL is a one-day event of professional development, designed for district leaders at all stages of their personalized learning implementation. For district leaders just starting their journey, the academy will give them clarity on priorities. For district leaders who have been moving towards personalized learning for several years, the academy will provide guidance around what to do next.
REGISTER NOW TO SAVE YOUR SPOT!

We encourage districts to attend in teams of 2-6 people.

ATTENDEES WILL:
Learn strategies for effective collaboration
Understand how innovation translates into change for students and teachers
Access excellent professional development from two leading companies in personalized learning and technology in the classroom
Experience a full day of learning, collaboration, design thinking and more. - Check out the full agenda here.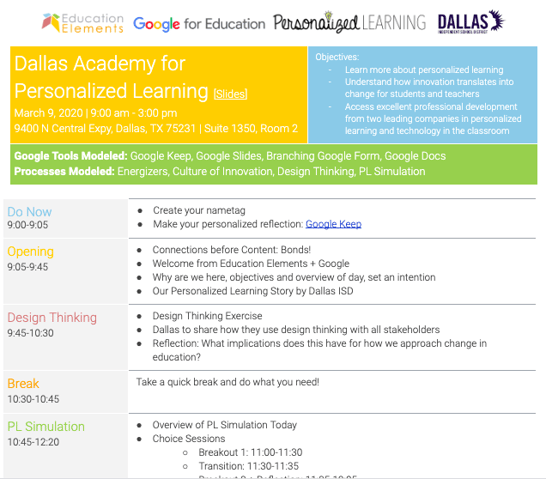 LOGISTICS:
When: March 9th, 2020 from 9:00 am - 3:00 pm
Where: 9400 N. Central Expressway Dallas, TX 75231 - 13th Floor [1350, room 2]
Who: Superintendents, Cabinet, District Leaders
Meals:

Morning coffee will be provided starting at 8:30 am.
Lunch will be catered by Tacodeli and we will enjoy a delicious buffet including Frontera Fundido Sirloin, Frontera Fundido Chicken, tortillas (flour, corn or whole wheat), organic Mexican red rice, organic pinto beans, Tacodeli tortilla chips, salsa (Verde, Roja & Doña®), queso and guac.
Snacks and beverages are provided.

Dallas ISD has two special events happening on March 10 and you are invited to join those as well!
CONTEXT:
About G Suite for Education:
G Suite for Education and Chromebooks are the backbone of creating a personalized learning environment for schools. Google's Admin solution for schools allows for a safe, secure environment for students and teachers to share, work and learn together.
About Education Elements: Education Elements works with districts to build and support dynamic school systems that meet the needs of every learner, today and tomorrow. We take the time to understand the unique challenges school leaders face, and then customize the Education Elements approach for each district. We have worked with more than 750 schools and 140 districts across the country. We bring deep expertise, design thinking, expert facilitation and the spirit of collaboration, along with our extensive toolkit of resources and technology, to deliver sustainable results. Check out our latest annual report.


Education Elements is incredibly excited and honored to be one of the first two organizations that are part of Google's newly created Transformation Partner program.