What is the definition of innovation? It turns out that most people can't agree. I'm not surprised! It's one of those words we use so much, but we rarely pause to think about what it really means. Now that I've read over 100 different definitions of "innovation," I'm going to lean on this one:
As Thanksgiving approaches and 2019 nears an end, I'm taking some time to reflect on what I'm grateful for this year. When I zoom out and think about the past 11 months, I realize that I am especially grateful for all the ways that teams have shown up in my life this year.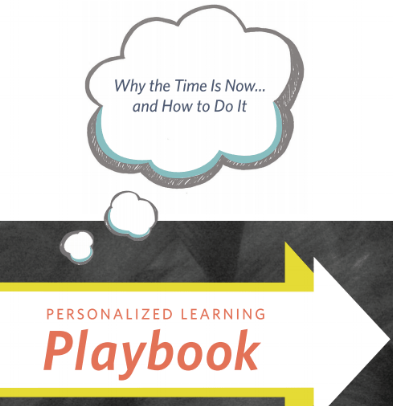 Interested in Personalized Learning But Don't Know Where to Start?
Subscribe to the blog to get your free copy of our Personalized Learning Playbook. A Playbook that will help you make the case for personalized learning, and reflect on the important elements to take in consideration.
Have you ever caught yourself working deadline to deadline without coming up for air? I have and I've sworn to myself it would be the last time, only to return to that place and wonder, how did I get here again? Inertia is a property of matter by which it remains in uniform motion within its existing state. I've seen many versions of "working inertia" in my time in education: teachers planning lesson to lesson, coaches jumping from PD to PD, leaders thinking from meeting to meeting, schools operating from year to year. While the scale of this phenomenon varies, the pattern is consistent: over time, our repeated habits slowly mold us into ways of working that don't leave room to step out of ourselves, reflect, and question our approach. Wondering 'how did I get here again?' now signals to me that my working inertia has built up a disconnect between how I want to work and how I am working. It is in those moments that I can feel trapped in a habit loop of working, where I lose sight of my purpose and my pursuit of innovation.
The start of a new school year often brings with it discussions about new vision statements, improvement plans, yearlong initiatives and sweeping changes in the name of increasing student success. Yet in our work with school districts across the country, we've learned that it's the smaller, individual leadership practices and team habits that lead to larger systems changes.
I was on a phone call with two principals earlier this week who shared a concern I hear often in working with school districts through large change management initiatives. Three years into their personalized learning journey, there are still at least a few teachers in their building who are resistant to the instructional shifts necessary to make learning personalized for each child. If you are a leader facing a similar situation, here are four key strategies for moving forward.
Leadership | School Districts | Team Habits
How are you? What is bringing you to this blog post today? What is top of mind for you as you're reading this? Would you rather have the ability to fly or read minds? Did those questions interest or engage you? Are you now mulling over your current feelings or intentions? Or did you stop reading entirely to properly dedicate your attention to choosing between superpowers? Regardless of your actions, the questions I posed required you to pause for a moment, consider your thoughts, and engage with your imagination. These abilities are vital to our roles as educators - we are consistently tasked with keeping calm through perceived chaos, being conscientious of the numerous needs of others, and maintaining a level of creativity to capture the attention of students. Yet in schools and districts across the country, very little time – our most precious resource as educators – is dedicated to the exploration and development of those skills.