About the Event:
The 2019 Hook Center Assembly on Continuous Quality Improvement (CQI) will provide you and your team with a unique opportunity to engage with fellow educators, thought leaders, College of Education leadership, and DESE leadership sharing and listening around the theme: The Heavy Lift: What Continuous Improvement Means to Missouri Schools. The Assembly will allow you to engage a full range of CQI content from national trends and current best practice—to statewide initiatives—to school district improvement efforts—to continuous improvement strategies employed at the school, classroom, and student levels. If we focus on planning as a process, not just plans as static products, we prime ourselves to evolve and change.
About our Presentation:
Education Elements is thrilled to be participating in this event and our very own, Anthony Kim, will be leading a keynote and a breakout session. Anthony Kim is a Corwin Press bestselling author, with publications including The New Team Habits, The New School Rules, and The Personalized Learning Playbook. His writing ranges the topics of the future of work, leadership and team motivation, improving the way we work, and innovation in systems-based approaches to organizations and school design. Anthony believes that how we work is the key determinant to the success of any organization. He is a nationally recognized speaker on learning and his work has been referenced by the Christensen Institute, iNACOL, EdSurge, CompetencyWorks, Education Week, District Administration, and numerous research reports.
In addition to his writing, Anthony is the founder and CEO of Education Elements, a trusted partner and consultant to over 1,000 schools nationwide
Join us at the 2019 Hook Center Assembly! Register here
December 11, 2019: Registration begins at 9:00 am with beverages. Sessions begin promptly at 9:30 am and run to 4:30 pm with lunch provided and Networking Reception at 4:30.
December 12, 2019: Breakfast from 8:00 am to 8:40 am; Sessions begin promptly at 8:40 am and will end at noon.
Meet the Presenters:
The NEW School Rules: 6 Vital Practices for Thriving and Responsive Schools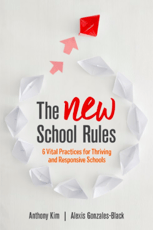 The NEW School Rules: 6 Vital Practices for Thriving and Responsive Schools is both a practical guide for how to improve the practices of schools and districts as well as a thoughtful examination of the self-imposed barriers that can get in the way of getting work done in organizations. Designed to be actionable, the book offers leaders the ability to implement immediate change in order to have a lasting impact. While many books in education focus on curriculum, budgeting, technology or talent, The NEW School Rules focuses on processes, people and organizations. It is a game-changer in the education space.
Fill out the form to get a free copy of Chapter 1 of NSR.
Interested in getting your copy of the book? You can follow this link to purchase the book on Amazon. Happy reading!