Is personalized learning a priority for your district this school year? Is your district leadership team ready to spend the time over the next 4-8 months to take your instructional model to the next level? If so, apply to join the Personalized Learning Toolkit back-to-school cohort.
Overview:
Google for Education is teaming up with Education Elements, a trusted Transformation Partner, in a pilot to offer a Personalized Learning Toolkit to leaders at select participating districts. If personalized learning is a priority for you, apply now.
Want to learn more? Fill out the interest form below.
No later than Aug 30

[Recommended]

Due Sep 12 at 8pm ET

[Required]
Application Information:
Applications are due by 8pm ET September 12, 2019

There are limited spots available, so apply ASAP if interested
Selected districts will be notified in early October

Requirements of district:

$2,250 paid by district to Education Elements (a savings of more than $2,000)
4-8 months commitment from district leadership to work on your personalized learning implementation
What you will get:
Onpoint Survey - A survey administered to teachers, school leaders, and district leaders in order to help your leadership team (1) understand your personalized learning implementation, (2) know where you stack up against other districts and (3) identify focus areas for improvement.
Onpoint Report - A comprehensive report with benchmarking data to identify areas of strength, areas of improvement, and recommended next steps.
Personalized Learning Toolkit - A customizable roadmap that includes all of the materials needed to train your staff and to design, launch, and improve personalized learning within your district.
Consultation Call - A 1-hour consultation call with Education Elements to discuss your Onpoint Report and recommended next steps for leveraging the Personalized Learning Toolkit to meet your goals.
Touchpoint Subscription - A project management tool to help you implement your plan and keep your team on the same page.
Resource Database - Access to Education Elements' Resouce Database.
Webinars - Webinars with experts from Education Elements and Google for Education designed to build your knowledge around developing a culture of innovation.
Community - Membership in a community focused on personalized learning and innovation in school systems.
Coaching Calls - [Up to] 4 1-hour coaching calls with an Education Elements Consultant.
About Education Elements & Google Partnership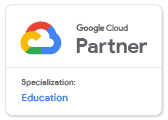 Education Elements is incredibly excited to be one of the first two organizations in Google for Education's Transformation Partner program. Through this pilot, we will have the opportunity to work with innovative districts across the country that are thinking deeply about the next steps they can take to support student-centered learning in their districts. We started our partnership, not in the Mountain View HQ, but in Chicago, where we worked with four amazing districts on developing a culture of innovation. We also led two sessions at ISTE: one for teachers on flexible content and tools and another for leaders on our new Core 4 continuum. In addition, we had the opportunity to engage with 100 district leaders at the CA Google for Education Summit.