This event has passed. All sessions have been recorded and are now available. Register below to access the recordings.

Designing Student-Centered Learning Opportunities
Join innovative education leaders from across the country in a two-day virtual conference highlighting the latest trends in student-centered learning. This conference will feature sessions on: personalized learning; remote learning; equity in education; competency-based education; school design; and managing change.
This conference will include:
A keynote speaker each day

Expert facilitators will focus on different aspects of student-centered learning such as equity, assessment and instructional design.

Collaboration opportunities to share ideas with educators from across the country
EVENT INFORMATION
LOCATION: This event took place on Zoom. Recordings are now availble.
DATE: May 13th - 14th- passed.
TIME: 9am - 12pm PT / 12pm - 3pm ET
PRICING:
AGENDA

KEYNOTE SPEAKERS
| | |
| --- | --- |
| Kristen Howell | David Hardy |
PRESENTERS
| | | |
| --- | --- | --- |
| Jill Thompson | Noah Dougherty | Elizabeth Lambert |
| Courtney Flanders | Drew Schantz | Cristina Strunk |
| Maria Morrisson Corpolillo | | |

Get a free copy of our brand new downloadable guide when you register!
Designing A Responsive Return Plan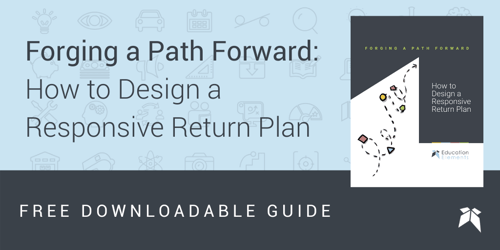 Education Elements works with districts to build and support dynamic school systems that meet the needs of every learner, today and tomorrow. We take the time to understand the unique challenges school leaders face, and then customize the Education Elements approach for each district. We have worked with more than 950 schools and 200 districts across the country. We bring deep expertise, design thinking, expert facilitation and the spirit of collaboration, along with our extensive toolkit of resources and technology, to deliver sustainable results. Check out our latest annual report.