Anthony Kim | Blended Learning | Blended Learning Models | District LEaders | EdTech | Education Technology | Personalized Learning | School Districts | School Leaders
Today we have access to more instructional strategies, procedures, and technologies than ever before. From competency-based learning (I just gave a presentation at Keene State's Education Summit) to personalized learning, Stemscopes (hands on science curriculum) to Dreambox (adaptive math), and Edusight (robust gradebook) to Fishtree (adaptive learning system), we have a lot of choices.
Anthony Kim | District LEaders | Leaders | League of Innovative Schools | Personalized Learning | School Districts | School Leaders | Superintendents | innovation in education
Everyone is an innovator Within the last two decades, the barrier to entry to be innovative has dramatically decreased. Today, people can have multiple careers and innovations within a lifetime. Innovation has become so frequent that it's part of everyone's vernacular and a topic in many industries including healthcare, auto manufacturing, and education. Who doesn't want to be innovative? It's cool to be considered innovative and disruptive. Clayton Christensen wrote several best selling books on innovation and Clayton and Michael Horn put out a seminal book which in many ways shaped changes we have seen in education, "Disrupting Class: How Disruptive Innovation Will Change the Way the World Learns". This book made innovation cool even in education.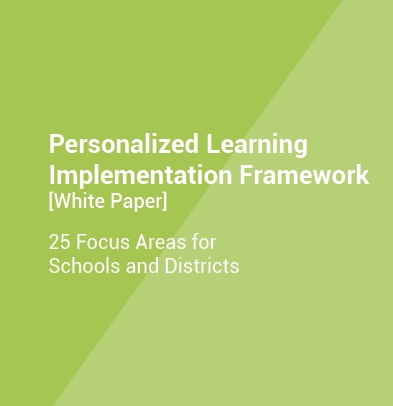 Considering Personalized Learning But Don't Know Where to Start?
Subscribe to the blog to get this resource to find out the essential areas to effectively launch, support and sustain personalized learning.
District LEaders | Leaders | Personalized Learning | Personalized Learning Strategies | School Leaders | Superintendents | Teachers
It's that time of year again! Time for long days, relaxing nights.... and summer reading. Our team at Education Elements loves a good read, but like many of you, it can be difficult to stay on top of it during the school year. Summer's the perfect time to catch up on blogs or books we just haven't had a chance to get around to reading. Here are a few education reads we're excited about the summer -- many with implications for personalized learning!
Blended Book | Blended Learning | District LEaders | Education Elements | Education Elements Team | Heather Staker | Michael B. Horn | Partners | Personalized Learning | Results | School Leaders | Team | Thanksgiving
This year, at iNACOL's annual conference on blended and online learning, we were honored to host and celebrate the launch of Michael Horn's and Heather Staker's book, "Blended: Using Disruptive Innovation to Improve Schools." For a special edition of the book, they allowed me to write a preface focused on how superintendents should think about blended learning, and I'm grateful for that. If you didn't make it to the book launch party in Palm Springs, you missed some good fun, but don't worry, you can still get a copy of the preface here. Both Michael and Heather are two amazing people who truly care about innovation in education. I'm thankful for the work they do to provide thought leadership in making blended learning and innovation a way of life for all educators and students.
1:1 | Achievement Gap | District LEaders | Partners | Personalized Learning 101 | School Leaders | Teachers
Everywhere you look this time of year, things have gotten prettier. There are lights on homes and buildings, trees in windows, and decorations on mantles. Everyone is making things sparkle.