District LEaders | PL Summit | Personalized Learning | Personalized Learning Summit | School Districts
Yep, that's me belting out "Roxanne" at our holiday party last December. Until a few years ago I swore I'd never karaoke and prefered singing to be something done in the my car or kitchen. But once I sang my first "Sweet Caroline" with a group of friends I was hooked. There's something powerful about a group of people taking a risk together and attempting to follow along with "How Will I Know" (you're welcome for that little Wednesday Whitney gift). It's always rough for the first brave soul who steps up to sing, but it gets more fun and increasingly compelling as more people and voices join in. As Leadership Lessons From A Dancing Guy teaches us, "as more people jump in, it's no longer risky...and that is how a movement is made."
Blended Learning | District LEaders | Education Elements | Education Elements Team | Heather Staker | Michael B. Horn | Partners | Personalized Learning | Results | School Leaders | Team | Thanksgiving
This year, at iNACOL's annual conference on blended and online learning, we were honored to host and celebrate the launch of Michael Horn's and Heather Staker's book, "Blended: Using Disruptive Innovation to Improve Schools." For a special edition of the book, they allowed me to write a preface focused on how superintendents should think about blended learning, and I'm grateful for that. If you didn't make it to the book launch party in Palm Springs, you missed some good fun, but don't worry, you can still get a copy of the preface here. Both Michael and Heather are two amazing people who truly care about innovation in education. I'm thankful for the work they do to provide thought leadership in making blended learning and innovation a way of life for all educators and students.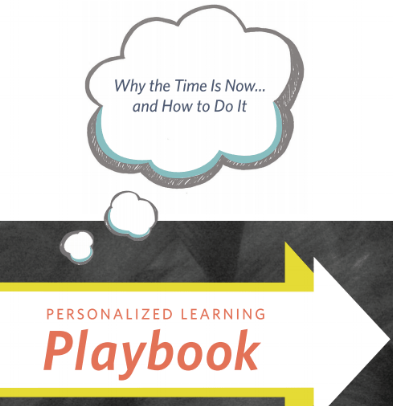 Interested in Personalized Learning But Don't Know Where to Start?
Subscribe to the blog to get your free copy of our Personalized Learning Playbook. A Playbook that will help you make the case for personalized learning, and reflect on the important elements to take in consideration.
Achievement Gap | District LEaders | Partners | Personalized Learning | School Leaders | Teachers
Everywhere you look this time of year, things have gotten prettier. There are lights on homes and buildings, trees in windows, and decorations on mantles. Everyone is making things sparkle.
District LEaders | Leadership | School Districts
I had a great experience in Boston earlier this month at the LearnLaunch event and I left feeling energized and excited about the rising tide of education entrepreneurs working to improve our K-12 education system in innovative ways. The range of speakers provided both hopeful notes and cautionary considerations about the future of EdTech. I applaud LearnLaunch for creating a forum to support a new generation of education entrepreneurs in the New England area.
District LEaders | Districts | RTTT-D | School Districts
Big congratulations are in order for the Race to the Top District Competition's 16 winners, who were announced yesterday. The winners spanned the great diversity of school districts nationwide – from the country's fourth biggest district in South Florida (Miami-Dade County Public Schools) to a consortium of 24 largely rural districts in Kentucky (Green River Regional Education Cooperative) and from a charter management organization based in Texas' Rio Grande Valley (IDEA Public Schools) to a consortium of districts bordering Washington's Puget Sound (Puget Sound Educational Service District).
District LEaders | Education | School Districts
We are looking forward to participating in the Lexington Institute's Building 21st Century Catholic Learning Communities on October 16 in Washington DC. Our founder and CEO Anthony Kim is one of the confirmed speakers.