UPCOMING EVENTS

Virtual New School Rules Leadership Cohort
September 17 - November 1, 2020
Registration for this event has closed.
We invite you to apply to join our Virtual New School Rules (NSR) Leadership Cohort (previously The New School Rules Leadership Institute). Based on the best selling book, The NEW School Rules: 6 Vital Practices For Thriving and Responsive Schools, the Institute provides an opportunity to learn directly from a team of experts in change management, organizational design, and leadership. The Institute also offers the unique space to grow your leadership practice, while learning and collaborating with school and district leaders from around the country through a virtual cohort model.
The Institute is designed for education leaders who want to improve how their teams collaborate, make decisions, and achieve their goals. We know there is a better way for school and district teams to meet, function, and make decisions, and that the changes we make to processes can lead to better academic results, greater teacher retention, and more thriving school systems.
Responsive Strategic Planning in Uncertain Times
November 5 - 6, 2020
This Spring and Summer have been very different from what any of us could have expected. With the rapid changes and influx of information, the responsiveness of your strategic plan has likely been tested this year! You have likely had to pivot and direct your energy to return planning. This rapid planning process is likely to stick around. There is so much we cannot predict and responsive planning helps you stay nimble no matter what you encounter. At Education Elements, we believe the process of planning is just as important, if not more, than the plan itself. Engaging your stakeholders throughout the process leads to a plan that is a launching pad for inspired work in your organization. This one and a half days of virtual learning opportunities will introduce responsive strategic planning through hands-on activities and helpful resources that you will be able to apply back at your districts.
When:

November 5 from 9:00 AM - 11:00 AM and 1:00-3:00 PM
November 6 from 9:00 AM - 11:30 PM

Where: This is a virtual event that will take place on Zoom. We will provide instructions on how to join closer to the event.
Pricing:

$45 (live)
$65 (live + recordings after the event + digital swag)
3 tickets for $95 (live + recordings after the event + digital swag)
Distance Learning Virtual Road Race
November 9-14, 2020
As summer winds down and the weather starts to cool... we are tying up our sneakers and hitting the pavement!
Education Elements is excited to announce our first-ever Distance Learning Virtual Road Race on November 9-14. Invite your friends and families to join us as we promote mental and physical wellness, model best practices in distance learning, and give back to our community. So choose your race distance, set a goal, and lace up your shoes to run with us this Fall. Follow our runs on social media #DLRoadRace
Who: This is a private event open to Ed Elements employees + friends and family, and Ed Elements Clients.
When: You can complete your run any day from November 9-14
Where: This is a virtual road race, so you get to choose your own course near the comfort of your home and neighborhood!
Although this event is private, we do plan to host a second Virtual Road Race this Spring open to the public! Stay tuned for more information.
---
PAST EVENTS
Responsive Leadership and Team Habits for Return to School
September 14 - 15, 2020-
This event has passed, registration is now closed.
This Leadership Institute is for you if you are looking to improve your own leadership, nurture a culture of trust on your team, enhance the efficiency of team meetings, and maximize effectiveness of managing projects. The content is best suited for district and school leaders and we encourage people to attend in teams, though individual leaders are also welcome.

Minnesota Personalized Learning Virtual Academy
August 5, 2020-

This event has passed, registration is now closed.
The Minnesota Personalized Learning Academy will take place virtually on August 5. This one-day virtual event of professional development is designed for district leaders at all stages of their personalized learning implementation.
For district leaders just starting their journey, the academy will give them clarity on priorities. For district leaders who have been moving towards personalized learning for several years, the academy will provide guidance around what to do next.
We believe that in order to create more responsive classrooms that foster ownership over learning, we must model and support all learners to be innovators themselves.
Designing School for Learning Continuity Conference (3-day event)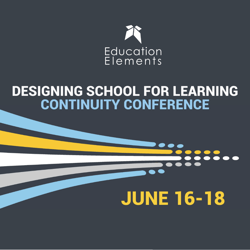 June 16th -18th, 9:00am - 12:00pm PT / 12:00pm - 3:00pm ET (3 hours each day)
The COVID-19 pandemic has made clear the need to redesign school to ensure that meaningful learning can continue even if our brick and mortar school buildings close. This is urgent now that public health officials predict that future infection spikes could disrupt the upcoming school year. This is important because our changing understanding of learning continuity can have a significant impact on how we respond to natural disasters, student suspensions, and workforce development.
Join Education Elements and experts from across the country for a three-day virtual conference where participants will design a new school model that ensures learning continuity. This conference will include:
Expert workshops on school design; equity; personalized learning; competency-based education and mastery grading; staffing; responsive teaming; and strategic planning.

Opportunities to work with an Education Elements consultant in a 1:1 or small group setting

Collaboration opportunities to share ideas with leaders from across the country

Protected space to create a plan to redesign school for learning continuity
Recordings now available!
Pricing:
Responsive Leadership and Team Habits in the Age of COVID (2-day event)

This event has passed and only recordings are available.
Join responsive education leaders from across the country in a two-day virtual conference highlighting best practices on navigating through change using agile and responsive virtual practices. This conference will feature sessions on: virtual meetings; responsive practices in the age of crisis management; best practices for teaming and communication; and thinking about long-term response to the impacts of the current pandemic. Participants will hear from leaders in responsive work and become a part of a community of practitioners in responsive change management.
Recordings now available!
Pricing:
Designing Student-Centered Learning Opportunities (2-day event)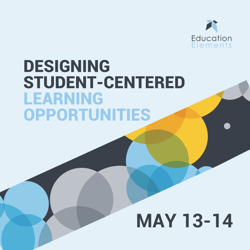 This event has passed and only recordings are available.
Join innovative education leaders from across the country in a two-day virtual conference highlighting the latest trends in student-centered learning. This conference will feature sessions on: personalized learning; remote learning; equity in education; competency-based education; school design; and managing change.
This conference includes: A keynote speaker each day, expert facilitators that focus on different aspects of student-centered learning such as equity, assessment and instructional design, and collaboration opportunities to share ideas with educators from across the country.
Recordings now available!
Pricing: