Resources:
White Paper: A Systems-level Approach to Addressing Schooling Loss - Grab your free copy here.
Build Your Roadmap Planning Doc:
Recording:
This recording is of the full 2 hour event, including breakouts, but note that the actual breakout rooms are not recorded.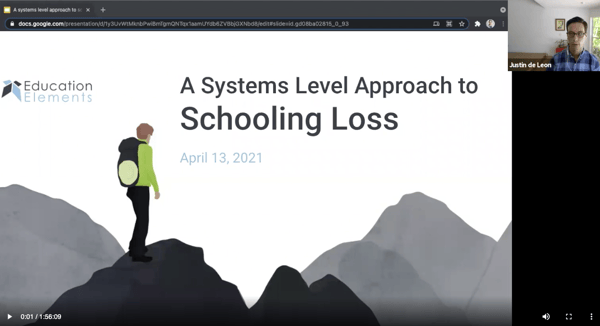 ---
About This Event:
A Systems Level Approach to Schooling Loss
Educators face systems-level challenges due to the pandemic. This workshop introduces the first part of our approach to addressing schooling loss. More often referred to as learning loss, we focus on the whole-school systems that need to be addressed. When the challenge is ambiguous, there are two initial priorities: getting a clearer view of your situation and imagining multiple pathways forward.
In this workshop, you will:
Learn methods to gain clarity on how to move forward

Explore multiple pathways of addressing schooling loss

Align solutions to your unique organization and workforce strengths
This two-hour workshop will introduce new ideas, allow for individual reflection, collaboration in breakout rooms, and planning time. Participants will leave with the start of a roadmap and the roles that might drive this work.
Agenda
Opening

Session 1: Getting a clearer view

A phenomenon of the pandemic
Mission: Getting clear on your purpose
Plan for change, not perfection
Use known and anticipated data
Session 2: Imagining pathways forward

Identify place marks
Place data pivots to consider multiple routes
Define the work before you define the people
Debrief

Closing
About Our Approach
Addressing schooling loss is a complex, new and unknown reality that all districts must navigate. While selecting interventions and solutions seems like an obvious first step, we encourage you to step back and make time for reflection before diving into solutions. We approach planning to address schooling loss in three parts, beginning by looking at the big picture and progressively getting more detailed and tactical.
Discovering a Path Forward: The first priority is to gain clarity around what we know and begin to recognize the different pathways that we might take to address schooling loss.
Reflecting on Current and Future States: The second step is to reflect on where you are and where you want to go.
Aligning Solutions to Strengths: The third step is to select or deepen solutions based on organizational and workforce strengths.