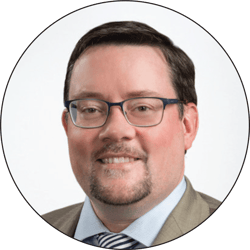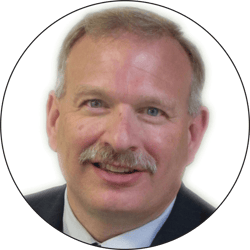 Names, Roles, and Districts: David O'Rourke, Erie 2 BOCES Superintendent (NY): 27 component districts; Scott Bischoping, Wayne-Finger Lakes BOCES Superintendent (NY): 25 component districts
Years in education: David: 22; Scott: 30
Years BOCES have worked with Education Elements: 1+ years
Role & Impact: As BOCES superintendents, David and Scott have the responsibility for shaping conversations among district and leaders about instructional improvement. Scott and David have created space for conversations around how to use technology to transform pedagogy. Their BOCES and component districts have begun pursuing personalized learning strategies. In a subset of districts, David and Scott also pioneered a consortium model with Education Elements that allowed districts to work together and learn from each other.
Why is personalized learning important to you?
David: "In New York, we are undergoing a digital conversion through the Smart Schools Bond Act. I saw school districts in our region moving to 1:1 without a deep instructional framework to ground the technology. I didn't want to see our districts repeat what happened with SmartBoards, where they were installed, yet they didn't change pedagogy. That resource gave us the responsibility to act more urgently."
Scott: "I think it's always been important to all of us, but without technology, we haven't had the means to make it happen for all students. Even more so now than 50 years ago, it's critical that students learn how to be independent; any work we can do to make them more independent in their learning will help make careers open to them."
What are you most proud of this past year?
David: "Seeing the level of investment of our principals in the work has been really gratifying. We're developing new leadership skills. I think that our faculty also understands the emotional and moral purpose in this work."
Scott: "That all of our 25 districts are working collaboratively. They may be at different levels in getting to a personalized approach but are all headed in that direction and will get there and are looking to support each other in that process."
Follow David on Twitter: @David__ORourke
Follow Scott on Twitter: @ScottBischoping
"David is an amazing visionary. He could see the impact of personalized learning on our organization long before we could see it for ourselves. Personalized learning is transforming our organization." Danielle O'Connor, Erie 2 BOCES, Assistant Superintendent for Curriculum and Instruction
"Working with personalized learning has sparked a fire and passion inside Scott that inspires me and others to want to tackle this work headfirst. He'll be the first to admit that personalizing learning for students is not easy work but that it is the right work. Scott is a great leader because he has the determination to do what is best for students while being humble enough to know that working as a Wayne-Finger Lakes region is more powerful than going at it alone." –Jessica Sheridan, WFL BOCES, Director of Staff Development