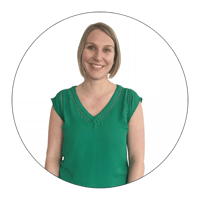 Jill Thompson is an Associate Partner on the Design and Implementation Team where she works closely with schools and district leaders to help them make the shift towards more personalized learning. Prior to working with Education Elements, she was the Director of Personalized Digital Learning at Charlotte-Mecklenburg Schools (CMS). She was responsible for leading the CMS transformation in a highly complex, large urban environment. She developed a personalized data driven model to provide professional learning, and created micro-credentialing learning paths. Jill is a former classroom teacher, who has won multiple awards for being an outstanding educator. She is an authorized Google Education Trainer and Apple Teacher. She grew up in Syracuse NY and currently lives in the Charlotte area. In her free time, Jill enjoys reading, working out and spending time with friends and family.
Connect with Jill


Leadership Questions to Help Guide Design of a Virtual School
Co-authored with Allison Zmuda
February 16, 2021
To support the planning of opening a virtual school, leaders can be overwhelmed with the volume of questions to consider — logistics, strategy, and purpose to name a few. To guide the planning process, we offer the following table with phases of implementation with related questions. While the guide is set up sequentially, each phase may trigger a deeper articulation of previous phases to refine or reimagine the virtual school.

Slow Pivots — What's Driving the Change to Reimagine School Schedules?
Co-authored with Allison Zmuda
January 26, 2021
School schedules and use of time are one of the few remaining relics of the industrialized learning model. Even when most schools moved to virtual learning in March 2020, many organizations replicated the existing bell schedule and instructed teachers to move their onsite instruction online. The school leaders believed it would hold teachers and students more accountable and create more predictability to help families plan their own schedules.
But pre-pandemic, some schools began to look across the systems that were set up and consider more flexible and agile options that were more in tune with designing learning that is more compelling, personalized, and appropriately challenging for their students.

Virtual Schooling Is Here to Stay: Reimagining Post-Pandemic Virtual Learning in Public Schools
Co-authored with Allison Zmuda
January 19, 2021
From North Carolina to California to Alaska, public schools around the United States are planning to preserve a virtual school option for students after the pandemic is over. The constant drumbeat of getting all students back to school as quickly as possible does not tell the whole story of learning in the pandemic.
Singing the praises of virtual learning was not something many students, educators, and families would see themselves humming along to twelve months ago. But from the early and draining days, there has been a rhythm and stability that has flourished in expected and unexpected ways.

Mythbusters: Breaking Down 10 Common Misconceptions of Personalized Learning
Co-authored with School District 197
January 22, 2020
Since 2003, Discovery's show Mythbusters has been a smash hit. Though Adam & Jamie stopped hosting in 2016, the reruns and spin-offs continue. Why? Because rumors, myths, and curiosity are a part of what it means to be human. Finding answers to questions we've wondered about helps us process and move on with new knowledge. Sometimes the myths they would bust were fun and quirky – like, is there truth behind the 5-second rule for food? Or can you really shoot a scuba tank and it'll explode? Spoiler alert – NO to both.
But sometimes there are myths that aren't fun and quirky, and don't end up on TV. Some myths have depth and need to be addressed in order for progress to be made. This is true for advancing the work of personalized learning.

Working on Working: How to Make Deliberate Decisions that Respond to the Needs of Your Team
Co-authored with Andreea Mitran, Drew Schantz, Kelly Freiheit, & Megan Campion
November 17, 2020
The Education Elements team, like the rest of the world, has been adapting to life-during-COVID-19, striving to serve our partners and our mission with a set of unplanned-for constraints. In short, we have had to walk the walk – living by our own New School Rules and practicing our best New Team Habits as we have tried to find ways to connect as a team and with our partners through times that, on a good day, could be described as turbulent. We've experimented with how to best operate in a virtual world, and want to share with you five lessons that we've learned in adapting to life during COVID-19.

How to Practice and Promote a Culture of Learning
Co-authored with Andreea Mitran, Drew Schantz, & Kelly Freiheit
June 17, 2020
In times of uncertainty, organizations tend to shift their focus to getting results, maintaining order, and ensuring safety. While these actions make sense to counteract the challenges of complexity, it is in fact a culture of learning that allows organizations to increase agility and heighten their ability to navigate uncharted waters.
A 2008 article by David Garvin, Amy Edmonson, and Francesca Gino in the Harvard Business Review outlines three fundamental building blocks for organizations that want to prioritize a culture of learning. Below, we've broken down those building blocks into their respective subcomponents and connected each of them to specific practices you can apply to work in your school or district right away.

What We Learn About Building Team Habits from Ripples and Basketball Movies
Co-authored with Gabrielle Hewitt
October 30, 2019
The start of a new school year often brings with it discussions about new vision statements, improvement plans, yearlong initiatives and sweeping changes in the name of increasing student success. Yet in our work with school districts across the country, we've learned that it's the smaller, individual leadership practices and team habits that lead to larger systems changes.
One of the greatest basketball movies of all time illustrates this concept in a pivotal scene. You immediately thought of Space Jam, right? Actually, this movie premiered a year later and centers around a golden retriever. In the movie Air Bud, a young basketball team wants the "sweeping change" of winning a basketball championship. Coach Chaney (portrayed by Bill Cobbs) decides first to instill some small shifts, or team habits, in his players. Before he gives them a real ball to practice with, he challenges them to use an imaginary one. By considering the larger outcome the team desired and backwards mapping the habits they would need to get there - verbal and non-verbal communication, eye contact, equal ball handling and sharing - Coach Chaney guides his team to a championship title. The golden retriever Buddy had a bit to do with this win, but so did the concept of the ripple effect illustrated in The New Team Habits.

Reframing a Paradigm for Professional Development and Learning
October 9, 2019
How does professional development get labeled in your school or organization? Too often, I hear: boring, unproductive, compliance-driven, not based on my needs or interests. Research on professional development shows that the "drive-by" workshop model does not meet the needs of teachers. No two people learn the same way, though many leaders do not change the way they provide instruction for professional development. Just like education should be personalized for students, professional learning should be personalized for adults. Effective professional development or learning (semantics to me) needs to improve educators' professional knowledge, competence, skill, and effectiveness. No matter if you are a teacher, school leader or district leader, below you will find ways you can reframe professional learning in your school or district.

10 Reasons We're Excited to Attend the Responsive Conference
Co-authored with Keara Mascareñaz, Megan Campion, & Katie Camp
August 28, 2019
This year, four of us from Education Elements (Megan Katie, Jill, and Keara) will be attending the Responsive Conference, September 13-14 at Zappo's Headquarters in Las Vegas. We sat down with conference founder Robin Zander to lay out the top ten reasons why we are so excited for this year's conference.

The Six Competencies that Every Leader Should Model Through COVID-19
Co-authored with Andrea Goetchius
June 24, 2020
There is something about this crisis that has brought out the baker in many. Even the two of us, people who have tried elimination protocols to reduce our gluten intake, have made a few attempts at biscuit and sourdough making. And it's not just us! We recently learned that King Arthur Flour has seen a 600% increase in demand for their product as home cooks are rediscovering the art of making their own bread.
One would think that this was welcomed news for the flour company but with the unfathomable increase in baking, the company was faced with the challenge of meeting the growing demand. King Arthur's Flour was presented with unique challenges beyond simply increasing their production. Whereas home cook needs were increasing during quarantine, bakeries were pausing orders due to closures or a smaller customer base. Suddenly, industrial-sized bags of flour were needed less than the 2-3 pound bags you see in the store. Additionally, the King Arthur's Flour telephone helpline saw a decrease in the professional bakers calling for support while more novice bakers were calling in droves. Much like its namesake, King Arthur's Flour has had to meet the times, pivot with the needs, and reach deep within their creative processes to retrieve the proverbial sword to fortify the masses

How Do You Shift the Role of the Teacher as a Leader?
June 5, 2019
During the last 100 years in the workforce, we needed farmers and factory workers; which is why our classrooms replicated the workforce, designed to have a teacher at the front of the room and desks in rows. Times have changed, and we must make shifts to the role of the teacher in order to prepare today's students for a different workforce. To succeed, students will need a different set of skills such as creativity, communication, critical thinking, and collaboration. They will also need to be able to adapt to change, be resilient, and to work effectively in a variety of environments – which is why we need to change the traditional role of teacher-as-expert standing and delivering content from the front of the room to a facilitator who designs customized approaches for students.

Choice Boards, Playlists, Pathways...Oh My!
April 17, 2019
For many districts and schools, choice boards, playlists, and pathways are used interchangeably to describe instructional designs that provide students with a menu of options to guide and own their learning. Yet we ask educators to use these design practices very differently. We often define other terms, like the different blended learning models, and the different levels of student compliance. How is it that we have not created clear distinctions between choice boards, playlists, and pathways yet? We all want our students to have the best educational experience they can, and that starts with them showing ownership over their learning. But before students can engage with instructional design geared towards putting them in the driver's seat, we as educators need to calibrate the differences between choice boards, playlists, and pathways to ensure we're providing teachers with the right supports.

3 Pillars to Build On When Opening a New School
Co-authored with Dexter Korto – Guest Author
March 13, 2019
Planning and opening a new school is an exciting yet daunting task. As a leader of a brand new school, you are involved in every aspect of what the school day will look and feel like, and how it will be remembered. When you begin to design experiences that equip students with the skills to fulfill your school's mission and vision, consider what your strategic priorities should be to get your goals accomplished. Think about yourself as a 6th grader on the first day of school: what carefully planned academic and non-academic experiences would you need to best prepare you for the rest of middle school? What instructional skills would your teachers need to engage you and your peers in rigorous work throughout the day? What type of environment would allow you to grow and reflect on your progress in a meaningful way?