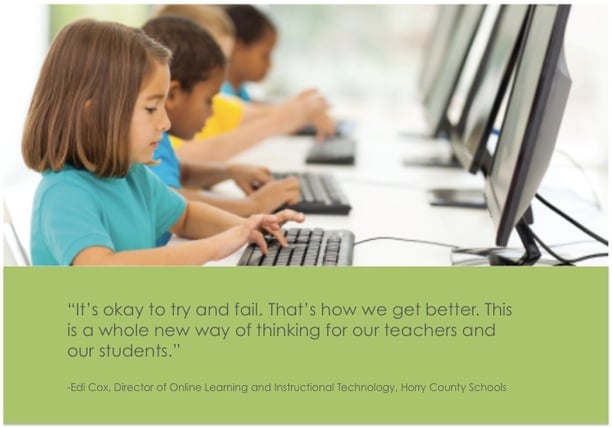 As South Carolina's third largest school district— and the county's largest employer—Horry County Schools (HCS) comprises 54 schools and programs, with 2,700 teachers serving more than 40,000 K-12 students. It has long been at the forefront of technology adoption, with its district virtual school, extensive use of technology in the classrooms, and deep involvement of students in technology-assisted project-based learning.
With an eye to retaining that edge, Horry County embarked on a Personalized Digital Learning (PDL) initiative. Its objective is to "transform teaching and learning by immersing all students in rich, authentic, relevant, personalized digital learning experiences that lead to college and career readiness and enable deeper learning across the disciplines."
Personalized learning for 40,000 students? There's no software for that. But with perseverance, pluck, and a plan, HCS is making blended learning happen, one step at a time.
THE DATA POINTED TO DIFFERENTIATION
According to Chief Academic Officer Cindy Ambrose, HCS is a very data-driven district, and keeps close tabs on a variety of academic performance indicators. When the district's Title I schools received technology funding and began using Compass Learning personalized learning software, Ambrose and her team saw a significant uptick in their math assessment Measures of Academic Progress® (MAP®). "We noticed a difference in growth targets when we could differentiate for students," Ambrose says. "At one of our Title I schools, more than 90 percent of students were hitting their growth targets.
" After delving deeper into the data and presenting the findings to its forum of K-12 principals, curriculum coaches, and staff, it was clear to everyone that personalized learning was the way to go. "We knew that others across the nation were going that route, but when our people saw that kind of data [from HCS], they became believers," Ambrose says.
Ambrose's colleague, Edi Cox, director of online learning and instructional technology, stepped up as project lead for the PDL initiative. But like their peers in many schools districts, Cox and Ambrose were taking on the PDL work in addition to all their usual duties. They sought a partner to guide them through the process of designing and implementing blended learning— the instructional basis for the PDL initiative— districtwide. "When we realized that we had to take it to scale, we knew we couldn't do it alone," Ambrose says.
A PERFECT PILOT OPPORTUNITY
Fortuitously, around the same time Horry County began its PDL initiative, one of the schools in the district—Whittemore Park Middle School— was applying for a Next Generation Learning Challenge grant. It was through the efforts of this grant application process that Ambrose and Cox became acquainted with Education Elements. "We felt that Education Elements fit all the criteria we were looking for," Cox recalls, "and that this would be a great place to pilot blended learning and see how we could use those experiences to scale it districtwide."
Ambrose says those criteria included knowing how to build a blueprint to scale blended learning to a district as large as Horry County; an understanding of the importance of creating consensus from the school up rather than top down; and the flexibility to accommodate Horry County's unique ways of doing things. "Our nickname is 'The Independent Republic of Horry'," she chuckles. "We needed someone who would accept it when we say, 'That may have worked with other districts, but it won't work here.'"
iPADS ARE COOL, BUT INSTRUCTIONAL MODEL IS KEY
Horry County is phasing in blended learning over three consecutive school years. Eleven middle schools (grades 6-8) will be first, based on the pilot at Whittemore Park. The following year, the program will extend upward to the high schools, and the year after that, third through fifth grade classes in the elementary schools will join in.
As with the middle schools, high schools and elementary schools will spend a semester planning, designing and implementing foundational elements of the blended learning program. Then, in the following semester, students and teachers will fully implement personalized learning models, with all students receiving a personal computing device.
For the middle schools, that device is an Apple iPad. Paid for largely through a local penny tax, the tablets have generated much excitement— and a great deal of preparation work for the district. But Cox is quick to point out that the blended learning plan was a key enabler for the district's 1:1 initiative. "We knew that without an instructional model, a device for the sake of a device would not be successful," Cox says. "Education Elements helped create a road map that would get us through our three-year rollout, slowly and comfortably, without overburdening teachers."
To ease Horry County into the blended learning process, Education Elements advisers first conducted readiness assessments with the school leadership teams. They looked at the schools' infrastructure, their teacher collaboration processes, and other variables that would affect the success of the PDL initiative.
Next, Education Elements conducted design workshops with groups of schools to help them decide what type of blended learning design each school would use. Ambrose and Cox also looked to Education Elements to assist in the selection of digital content providers.
"Their team was very knowledgeable about the content that's actually on the market, and helped us narrow down the choices to those that fit our instructional needs and would work on the device we were providing the students," Cox says.
In the implementation phase, Horry County purchased its digital content, and Education Elements integrated it into its cloud-based platform. The platform serves as the dashboard both for teachers and for students, giving them a single sign-on to all of the content, as well as data on student progress.
Early in the process digital integration specialists and blended learning lead teachers began a series of professional development workshops with Education Elements covering the foundations of blended learning. They later utilized Education Elements' professional development modules to inform skill-building around developing independent learners, technology basics, and understanding digital content. The professional development will continue into the spring semester, as the iPad tablets are rolled out to the middle schools, and blended learning gets underway.

With a full cycle of blended learning planning, design and implementation under their belts, Ambrose and Cox reflect on the lessons learned: "In our pilot, we rolled out a lot of new digital content at the same time," Cox recalls. "But as we scale, we'll be better off starting with one or two pieces of content, and gradually adding to the bank of resources over time."
They also learned that it's okay to revise a blended learning plan in progress. "In the future, we'll make sure all our stakeholders know that even if we have a certain plan in place, it could change," Ambrose says. Cox concurs, adding, "It's okay to try and fail. That's how we get better. This is a whole new way of thinking for our teachers and our students".
Cox and Ambrose found that the PDL initiative affirmed the value of the district's robust communication structures. "We already had mechanisms for bringing principals together, for bringing in curriculum coaches, for holding regular lead teacher meetings," Ambrose says. "Now, we've tweaked those structures, and we'll be increasing the frequency of our meetings this year."
Thanks to a school board that understands the value of PDL, Horry County has received funding to recruit three more digital integration specialists. Currently, the district has five such specialists providing weekly embedded training at the schools, helping teachers to get onboard with the hardware, the software and the processes associated with the PDL environment. The final lesson learned comes back to the reason HCS sought out a partnership with Education Elements in the first place: "While Edi's the lead on this project," Ambrose notes, "PDL is massive, and it takes a team effort. And we all have to be on the same page.