We are excited to announce our winner of the Personalized Learning grant:
Laura Crow, Principal of Pomerado Elementary School, Poway Unified School District, CA.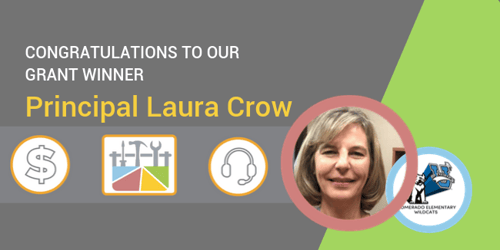 Pomerado Elementary is very excited about the amazing opportunities the Education Elements grant will bring to our students and staff. We know this grant will provide strategic resources for creating personalized learning environments for each student. These environments will allow students to recognize and use strengths, take responsibility for their own learning, and become confident in their learning abilities and future possibilities

- Laura Crow, Elementary School Principal, Pomerado Elementary
---
About the Personalized Learning Grant
At Education Elements, we understand that school leaders operate on a tight budget of both time and money.
Our mission is to make education accessible, and that starts with schools like yours. Fill out an application to be eligible to receive a $3,000 grant to put towards classroom redesign or PL projects that will make a positive impact on your students! Plus, you will also get access to our PL Toolkit that contains a series of resources to implement personalized learning using the proven Ed Elements methodology.
"The resources in the Personalized Learning Toolkit have been super valuable. In fact, whereas I used to spend time researching activities and planning agendas for my schools, I am now able to leverage the resources directly from the kit. The kit also has a project management tool that keeps me very organized; it has streamlined our transformation process"
- Heather Hurley
, Supervisor-Personalized Learning, Arlington Virginia

Grant Details:
Amount: $3,000
Free PL Toolkit access
6 hours of virtual support
Application deadline: September 30, 2019
Awarded once annually

Only individuals holding a School Principal role at a US Public School or a US Non-Profit School (pre-K to 12th Grade, only) are eligible to apply
Grant Provider & Conditions:
The Education Elements Grant for Personalized Learning Schools award is provided by Education Elements.
The winner will be notified following the deadline. The cash award will be sent directly to the recipient by check to the permanent mailing address provided in the application, and the access to the Personalized Learning Toolkit will be provided through a link sent to the applicant's email address provided in the application.
Grant winners will be issued an IRS form 1099 (or the equivalent). This will require contest winners to provide Education Elements with their W9 prior to receipt of their winnings.
Eligibility Criteria:
Education Elements awards one School Principal grant per school year. The next deadline for applications is September 30th, 2019. There will be one winner per submission cycle.
All full-time school leaders seeking funds for their schools are encouraged to apply! The application process is completely online. Selection will be based on the eligibility criteria below as well as free responses submitted by applicants. Financial need will not be considered.
Must be a U.S. Citizen or Permanent U.S. Resident.
Must consent to provide a digital photograph of self and quote for display on if notified as the award winner by the selection committee.
Must be an active, full-time K to 12th-grade school principal
Funds must be applied to classroom redesign or programs that will directly benefit student learning and outcomes (including teachers pd)
Funds may not be applied to student loans or personal needs.
Terms and Conditions:
Read the terms and conditions here.