Education Elements will be partnering with Tennessee Organization of School Superintendents (TOSS) for its third institute this school year to create an impactful event for all district and school leaders in the Tennessee area. The New Team Habits (NTH) Leadership Institute is for district leaders who want to improve the way their teams work. Teams are critical in driving change across a district and the key to any successful transformation is the team leading and supporting that work. Too often teams try to launch new initiatives while working in the same way. In this workshop, we'll look specifically at team habits for more effective learning, meetings, and projects.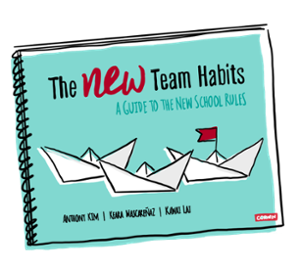 As part of the best selling book, The New Team Habits published by Corwin Press in November 2019, we plan to introduce the framework, "5 Steps For Building Team Habits." You will leave with new knowledge and specific habits you can implement with your team tomorrow.
WHO ATTENDS THE NEW TEAM HABITS INSTITUTE
The content is designed for school and district leaders, but we welcome all interested leaders to connect with us, if they're interested in attending. We want to bring together a group of innovative leaders who can support each other's learning during and beyond the institute. We want to ensure that every single attendee who joins us will contribute to the engaging and transformative event.
REGISTRATION
There is limited space available, so please reserve your ticket early. We are encouraging teams of leaders to come together, so we want to reward districts who sign-up with a minimum of 5 leaders. They will be rewarded with an additional free registration ticket! Please email Kelly Freiheit, kelly@edelements.com, for the code for the free registration ticket for the sixth attendee.
Early Bird: $400 until March 7, 2020
Regular Price: $550 until March 31, 2020
IMPORTANT INFORMATION
When: April 7 -8, 2020

Registration + breakfast: 8:30 - 9:00 AM CST
Event begins/ends: 9:00 AM - 2:30 PM CST

Where: theCO, 41 Wiley Parker Rd, Jackson, TN 38305
Light breakfast, coffee and lunch will be provided each morning from 8:30 - 9:00 AM CST
MEET YOUR PRESENTERS
Kelly Freiheit
"I believe in the power of networks and positivity."

Crystal Xu
"I believe in the power of people building connections and leveraging strengths."
Have questions? Reach out to Kelly Freiheit, kelly@edelements.com.
Will you receive any professional development credits?
There is the potential to earn 8 credits. Each participant will receive a certificate for Professional Development Points (PDP). You should receive your certificate the week of April 6th. Participants will be able to upload their certificate for proof of attendance, which will be titled, "The New Team Habits Leadership Institute," on the system.
The New Team Habits Institute on Social Media #teamhabits
Creating psychological safety on a team is critical for team habits to form and generate success. It's not just about being heard, but acting on what is shared to learn and grow together...#teamhabits @EdElements @kearamas @anthonx @Edu_Thompson

— Amy Miller (@amyemiller1473) November 8, 2019
Such a fabulous two days!! Thank you @EdElements https://t.co/ENo28L5UCO

— Rindy Ward (@Rindy_Ward) November 7, 2019
People know you better than you know you. Listen to the people that know you best, they are the best reflection of who you are. @jcasap #teamhabits @EdElements National Leadership Institute pic.twitter.com/ICVphJKfNP

— Rick L. Robins Ed.D (@rickrobins12) November 7, 2019
Spending time with leaders across the country talking about #teamhabits to increase belonging, create a positive culture, and build trust on teams. @kearamas @anthonx @kawai_lai @EdElements https://t.co/vTX3vLIdbZ

— Gabrielle Hewitt (@gabEEinDC) November 7, 2019
Load the entire Twitter Moment by clicking here

Education Elements works with districts to build and support dynamic school systems that meet the needs of every learner, today and tomorrow. We take the time to understand the unique challenges school leaders face, and then customize the Education Elements approach for each district. We have worked with more than 950 schools and 200 districts across the country. We bring deep expertise, design thinking, expert facilitation and the spirit of collaboration, along with our extensive toolkit of resources and technology, to deliver sustainable results. Check out our latest annual report.


About the Tennessee Organization of School Superintendents: The Tennessee Organization of School Superintendents (TOSS) is the leading advocate for public education in the state of Tennessee. Since 1975, TOSS has been progressing public education and addressing the needs of its students and administrators. TOSS is comprised of district leaders who are committed to lifelong learning, best practice sharing, and continuous improvement.