PL Summit | Personalized Learning | School Districts | yuma school district one
Michael Fullan describes the necessity of harnessing the power of "new pedagogical innovations with technology," in his article, "Choosing the Wrong Drivers for Whole System Reform." He continues by stating that the advances in digital content for educational purposes involve key elements needed for increased student achievement. These include, "engagement; entertainment; ease of access to information and data; group work; humanity; social relevance, and so on. In a word they make education easier and more absorbing. Learning and life become more seamless" (Fullan, May 2011).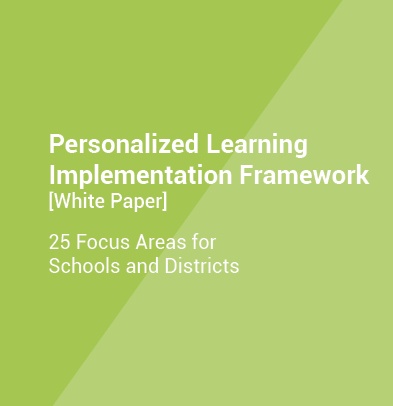 Considering Personalized Learning But Don't Know Where to Start?
Subscribe to the blog to get this resource to find out the essential areas to effectively launch, support and sustain personalized learning.
Blended Learning | CBE | Horry County Schools | Middletown | Personalized Learning | School Districts | Uinta County School District | yuma school district one
Today nearly any time that you are online you are constantly provided with personalized content: music, shopping, dating services, entertainments, etc. You constantly receive content and information that are relevant to your needs and interests. And this personalization remains true even in your everyday life, away from screens: At the gym, your activities are personalized, through dashboards, data and even trainers. At the mall, if you can afford it, you can get your personal shopper; at work, you may be personalizing strategies and communications to your clients. Education doesn't have to be an exception.
Education Elements | PL Summit | Personalized Learning | School Districts | yuma school district one
As a Senior Consultant at Education Elements I have the pleasure of visiting more than 100 schools and districts each year--- some are just starting to think about innovation and others have completely re-imagined the thing we call school. As I return to school sites over the course of a year or many years, one of my favorite moments is when the leaders I work with develop phrases, images, and metaphors that clearly articulate their goals and challenges around personalized learning. This week, Yuma School District One Superintendent Darwin Stiffler shared an image with me that I think captures so much of what we try to do in our work supporting districts. The picture above shows what often happens with a personalized learning initiative. Tech folks see it as a "device roll out," instructional folks see it as "21st century learning," teachers may see it as "another district initiative." It's essential we make it clear that personalized learning is the elephant, not just a tusk or a tail.