Math | Partners | Personalized Classroom | Personalized Learning | STEM | STEMScopes | Students | Teachers
I have always been fascinated by water sports - waterskiing, sailing, and even synchronized swimming. Recently my attention has been drawn to SUPs – Stand Up Paddleboards. This surfboard-like watercraft requires a steady balance and the ability to stand up on board. I wasn't sure I had that agility anymore but I sure wanted to try one. I mentioned my fascination to my husband, who as it turns out has a friend who has one. His friend invited us over for me to try it out.
Blended Classrooms | Blended Learning | Blended Learning Models | Creative teaching | Digital Content | Digital Learning Solutions | Digital content selection | EdTech | Education | Education Elements | Education Technology | Students | Teachers | Teaching and Learning Showcase | technology in education
Students in Wendy Daniels 4th grade blended classroom in Evanston, WY join a virtual pen pal session with 5th grade blended students in Middletown, NY. Guest Blog Post by Wendy Daniels, 4th Grade Teacher at North Evanston Elementary School in Evanston, Wyoming In February Lori Lawrence, a 5th grade teacher in Middletown, New York, reached out with a request. She wanted to create a virtual pen-pal class for her 5th grade blended classroom. I thought it would be neat to connect my students in Wyoming with hers in New York and so we scheduled a time for our classes to Skype. The results were amazing!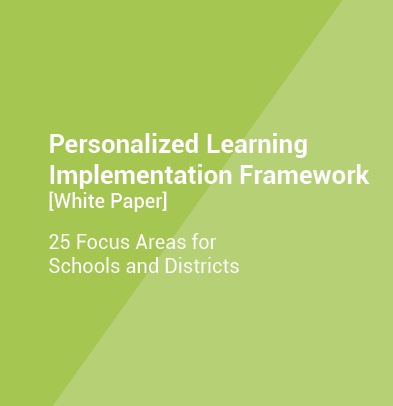 Considering Personalized Learning But Don't Know Where to Start?
Subscribe to the blog to get this resource to find out the essential areas to effectively launch, support and sustain personalized learning.
Blended Learning | Digital Content | Students | Teachers | reflection
Schools around the country are leveraging the integration of online digital content and offline curriculum to allow for increased student flexibility over path and pace. However implementing digital content and targeted instruction without structured processes for student reflection can make for hollow implementations. Having completed walkthroughs in hundreds of personalized classrooms nationwide, our consulting team found, yet again, that the most successful personalized classrooms have a culture of student ownership that comes from scaffolded, regular, and supported student reflection.
Blended Learning | Matthew Peterson | Partners | Personalized Learning | ST Math | Spatial-Temporal Math | Students | Teachers
When I was young, I struggled with math. It was always taught in a language-heavy way, and I'm dyslexic, so that didn't work out too well for me. Eventually, my dad tried something that got me over those language barriers. He drew pictures of what the words and the symbols were trying to convey. Math transformed into mechanisms that I could visualize, and that made all the difference.