PL Summit | Personalized Learning
Earlier this year, Digital Promise and the Center for Teaching Quality co-authored a paper on how micro-credentials help drive teacher learning and leadership. In it, we discuss the challenges teachers face in the classroom to ensure that all students' learning needs are met. To do so, educators must engage in ongoing professional growth. However, evidence suggests that current professional development does not meet educators' needs. Enter micro-credentials
PL Summit | Personalized Learning | School Districts
"At RUSD it all starts with a conversation." When we were asked to present at the Education Elements Personalized Learning Summit in San Francisco this past May, we were honored to have an opportunity to bring others on this amazing journey and to include them in on this conversation of personalized learning at Riverside Unified. Our students live in a world today in which 21st Century skills are crucial to their success and their ability to contribute globally in a positive manner. We recognize that, although the four core elements of learner profile, flexible environments, learning plans and competency based advancement are important to create a culture of personalized learning, students also need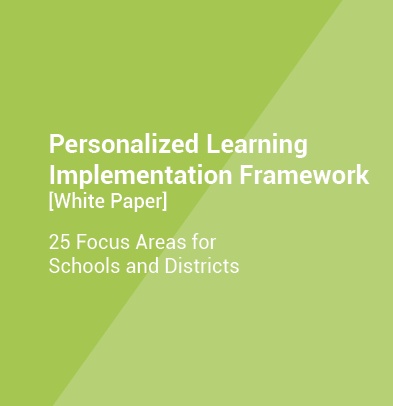 Considering Personalized Learning But Don't Know Where to Start?
Subscribe to the blog to get this resource to find out the essential areas to effectively launch, support and sustain personalized learning.
PL Summit | Personalized Learning
"Look out - it works!" Two of the teachers in our workshop at the Education Elements Personalized Learning Summit had just gotten their wheel-launcher to work, and they were bubbling with excitement. When I saw the little wooden wheel fly across the room, I went over to check it out (trying to keep out of the line of fire). Their invention, made from a small electric motor, some laser-cut wooden parts, and rubber bands, was certainly an effective wheel flinging machine! It was also completely different from any other wheel launcher I had ever seen.
Leaders | PL Summit | Personalized Learning
"Preaching to the choir (or the converted - for secular appeal)!" This phrase sums up the amazing experience of sharing our district's story amongst a room full of skillful professionals working on the same mission in education. It was exhilarating to learn as much as we were able to share, if not more, at Education Elements' Personalized Learning Summit in San Francisco.
PL Summit | Personalized Learning | School Districts | yuma school district one
Michael Fullan describes the necessity of harnessing the power of "new pedagogical innovations with technology," in his article, "Choosing the Wrong Drivers for Whole System Reform." He continues by stating that the advances in digital content for educational purposes involve key elements needed for increased student achievement. These include, "engagement; entertainment; ease of access to information and data; group work; humanity; social relevance, and so on. In a word they make education easier and more absorbing. Learning and life become more seamless" (Fullan, May 2011).
Middletown | PL Summit | Personalized Learning | School Districts
For anyone who attended the Education Elements Personalized Learning Summit this May, you had a chance to attend a workshop focusing on the Core Four. While districts across the country are using the Core Four of personalized learning to focus instructional habits as they make the shift to personalized learning, some of them are doing it with a bit more fidelity and spirit than others. So we wanted to share with you some of the passion that went into the Core Four session at the Summit. Get ready for a blog post with a twist -- and read it with your best Insanity / ESPN voice…