Agora Cyber Charter Academy | Blended Learning | Blended Learning Models | Ed Tech | Horry County Schools | K-12 | NGLC | Personalized Learning Tour | School Districts
My Education Elements' journeys this past month were quite enjoyable! Not only did I get to meet some amazing teachers and school leaders, but I got the opportunity to visit some new places across the country. What strikes me the most is that despite where my travels have taken me, the educators that I meet continue to reinforce the fact that the passion for learning and teaching in the K-12 space has never been greater than it is today. My journeys took me first to Horry County Schools in South Carolina and from there I was fortunate enough to visit Wayne, Pennsylvania to collaborate with the Agora Cyber Charter School. I continued my road trip (literally - no flights for these two visits) to Columbus, Ohio to meet with some pretty progressive folks at the Buckeye Association of School Administrators and the Ohio Blended Learning Network. I finished up my month's travels with an amazing trip to Idaho to conduct some Personalized Learning Tours with Idahoans in Boise and Moscow! A huge thank you to NNU and the University of ID for hosting and bringing together a great group of leaders to learn about personalized learning! (Want a PL Tour in your district? Email info@edelements.com!)
BLAST Model | Competency-Based Education | NGLC | Next Generation Learning Challenges | Personalized Learning | Students | Teachers
NGLC just announced a big round of funding. 15 schools across the country were awarded grants of $450K each, bringing over $7M to schools that are pushing the edges and focusing on innovative ways to realize competency-based, personalized learning.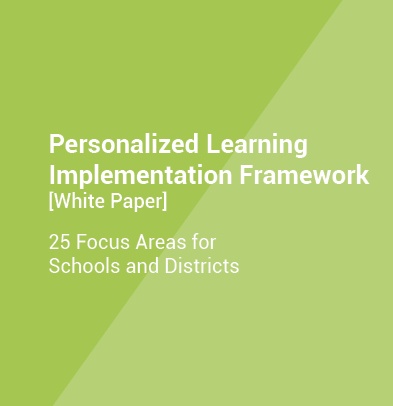 Considering Personalized Learning But Don't Know Where to Start?
Subscribe to the blog to get this resource to find out the essential areas to effectively launch, support and sustain personalized learning.
Blended Learning | CABLE | City Bridge Foundation | Continuous Access to Blended Learning Experience | Digital Learning Solutions | Education Inovaion Fellowship | Education Technology | Leaders | NGLC | Next Generation Learning Challenges | Teachers
As one of many tools used in building the best-performing urban school district in the country, District of Columbia Public Schools (DCPS) has invested in blended learning and developed a district-wide strategy to support various blended learning models through its 111 schools. To do so, DCPS is starting small, focusing on strategy and exploration, and using varied blended approaches in select–mostly low-performing–schools with a handful of digital learning solutions. DCPS has three specific implementation strategies: seeding innovation, developing blended learning feeder patterns, and building upon existing instructional models.
1:1 | Beth Havens | Blended Learning | Blended Learning Models | Ed Tech | Education Technology | Judy Beard | NGLC | Next Generation Learning Challenges | Rotational Model | Students | Teachers | Whittemore Park Middle School
A school in crisis, a D rating on the state report card, disadvantaged students working below grade level, generational poverty, a culture of underperformance, a widely held view that the situation was hopeless - all of these were descriptions and perceptions of Whittemore Park Middle School a little over a year ago. The elephant in the room? Perhaps it was the unspoken belief that bringing about transformation and increasing student achievement and engagement in a public school in which nearly 90% of the children were children of poverty was impossible; perhaps it was the notion of some educational reformers that change can occur only if we could find the "right" teachers; perhaps the elephant was the weight of the public education system itself and the years of moving students through our factory model; perhaps it was all of these.