Leaders | Middletown | Personalized Learning | School Districts
In Middletown, we are personalizing education, not standardizing it! In 2004, the Enlarged City School District of Middletown, New York, found itself in a whole lot of academic trouble. We knew that we were not necessarily any different than most other high-minority/high-poverty school districts; our performance numbers of a 54% graduation rate and an even a greater percentage of students who were not proficient in either math or literacy mirrored other similar school districts. Over the next few years things seemed to become more problematic
Middletown | PL Summit | Personalized Learning | School Districts
For anyone who attended the Education Elements Personalized Learning Summit this May, you had a chance to attend a workshop focusing on the Core Four. While districts across the country are using the Core Four of personalized learning to focus instructional habits as they make the shift to personalized learning, some of them are doing it with a bit more fidelity and spirit than others. So we wanted to share with you some of the passion that went into the Core Four session at the Summit. Get ready for a blog post with a twist -- and read it with your best Insanity / ESPN voice…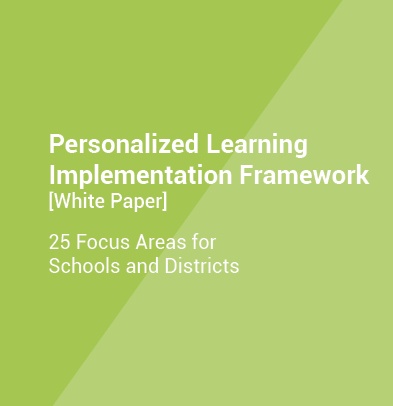 Considering Personalized Learning But Don't Know Where to Start?
Subscribe to the blog to get this resource to find out the essential areas to effectively launch, support and sustain personalized learning.
Leaders | Middletown | Personalized Learning | School Districts
In an era in which many districts are considering making significant pedagogical shifts in their districts (such as the shift to personalized learning or other models of teaching and learning), the idea of how to make those shifts last longer than the tenure of a leader is more important than ever. As the superintendent of the Enlarged City School District of Middletown, a district undertaking several big initiatives, I am keenly aware of the importance of making the work we are doing stick.
Blended Learning | CBE | Horry County Schools | Middletown | Personalized Learning | School Districts | Uinta County School District | yuma school district one
Today nearly any time that you are online you are constantly provided with personalized content: music, shopping, dating services, entertainments, etc. You constantly receive content and information that are relevant to your needs and interests. And this personalization remains true even in your everyday life, away from screens: At the gym, your activities are personalized, through dashboards, data and even trainers. At the mall, if you can afford it, you can get your personal shopper; at work, you may be personalizing strategies and communications to your clients. Education doesn't have to be an exception.