One of the pitfalls of being new to any situation is the mistake of being quick to rush to judgment. Entertaining the idea that what you see as a problem has actually been vetted to be the most viable solution by someone who came before you is a skill that requires patience, understanding and respect. When this core tenet is dismissed, and you assume too quickly that you know better, it often can lead to a downward spiral from which there is no return.
At Starbucks we always said, "It's not about the coffee, it's about the people." No matter what type of work you do, putting people first – your team, your customers, your partners, your family – will do more for your long-term personal happiness and professional success than any short-term "wins."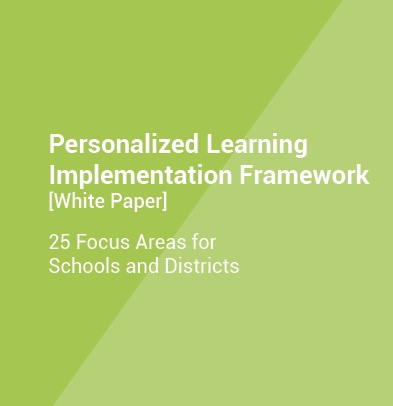 Considering Personalized Learning But Don't Know Where to Start?
Subscribe to the blog to get this resource to find out the essential areas to effectively launch, support and sustain personalized learning.
In education reform, the focus is often on the sexy idea-of-the-day—the vision that lights donors up and causes them to give, that can grab headlines, that can give policymakers a political win. All too often we—thought leaders, foundations, policymakers, and, yes, some educators—forget about the real work that has to happen to put these things into action. The actual operations.
As we continue to progress through the 21st century we are compelled to ask whether current models of schooling are well designed for the world beyond classroom walls. In particular, it's worth reflecting on 3 essential questions in school model design, a term we use to refer to how schools are organized to deliver instruction to students.
Classrooms | Competency-Based Education | Leaders | Personalized Learning | School Districts
I've mentioned to a few people that I'm having my education mid-life crisis. After almost 20 years in education, I've seen various initiatives, software solutions, and programs come and go. Hundreds of millions are spent each year trying to move the needle, yet we continue to get similar results. It isn't without the sweat, blood, and tears of all the educators in the country that work so hard.
Lately I have been meditating. It is only somewhat by choice – we are doing a company-wide meditation challenge and I am usually up for competitions, especially when they get me out of my comfort zone. Within the course of a few days of the challenge I discovered that just sitting and breathing doesn't work for me – I have one of those brains that doesn't turn off. It is not always full of important things, thoughts range from how to support a certain school to what I should get at the grocery store to if it's going to be hot or cold tomorrow but you get the point, focus can be a challenge. So I started to do themed meditations and have recently been enjoying seven days of focusing on gratitude. Because while December may be the season of giving, November is the season of being grateful.