"I don't think I would have made it through that year without her." "His support and confidence in me helped me grow and achieve in ways I never had before." "She pushed me to change the way I think about my work and my life, and I am a better person for it." In a recent conversation with a group of district leaders, each individual reflected on key benchmarks in their careers that profoundly impacted their leadership trajectory. While there were many experiences, decisions, and opportunities discussed as moments that helped to shape their path, each individual credited a specific person, specifically a coach, as the most important contributing factor to who they are as leaders today. Based on the reflections each leader shared about a coach they have worked with, it is clear the impact that these coaches had is both powerful and lasting.
As a former superintendent and now consultant for a small startup tech company, I have experienced both sides of hiring a third party vendor. I have hired consulting firms and edtech vendors as a superintendent, and as a consultant, I have partnered with schools to employ a technology platform for growth and reflection.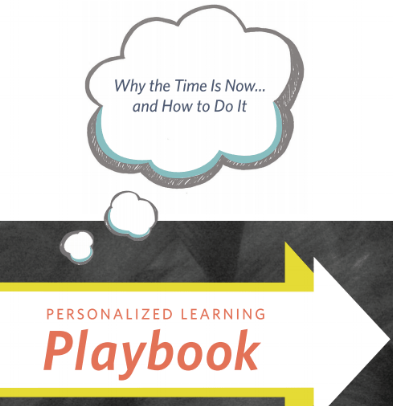 Interested in Personalized Learning But Don't Know Where to Start?
Subscribe to the blog to get your free copy of our Personalized Learning Playbook. A Playbook that will help you make the case for personalized learning, and reflect on the important elements to take in consideration.
Many people enjoy sitting in the front row while attending a movie they have not seen before. This is exactly how I would describe the experience of leading Blended Learning from the district-level. As a district administrator, you are expected to sit in the front row; and in many respects, Blended Learning is a movie that most in education have not seen before.
Several years ago, I was selected by the Lexington Institute for their initial leadership cohort, which focused on the implementation of personalized learning. It was a tremendous honor and a great learning experience for me. It is where I first met Anthony Kim and became aware of Education Elements. Over the next year, myself and a team of colleagues were involved in a series of phone conversations with districts from around the country and ultimately visited with other Lexington Institute Fellows in Juab, Utah. While the district team I led was well into its journey towards personalized learning for all students, this experience extended our thinking and mastery on the best ways to transform learning.
"The more senior you are, the more important listening becomes. Once a leader speaks, most people stop listening to one another and start positioning themselves. But when the leader doesn't speak, then, just like a great choir, people have to listen and respond to one another. That's how and when distinctive work emerges. Knowing you will be heard creates space for thinking." Vicki Abeles, Beyond Measure We have been on a journey that began with personal reflection and then expanded to thinking about the way we work with others and develop teams and communities. In the final installment of our three-part leadership series, we will discuss how to use the Innovative School Leader Competencies to take the reins and drive innovation.
I recently read Chip and Dan Heath's new book, The Power of Moments: Why Certain Experiences Have Extraordinary Impact and was struck by the impact that expressing gratitude and appreciation has on both the receiver of the message, as well as on the giver. According to research, the feel-good benefits of sending or saying a sincere thank you can last up to a month. So as I sit here, outside on a balmy evening on vacation with my family, I recognize how much I have to be grateful for and know that I should write about it more than once a year...for my own benefit as well as for the benefit of others. And as always, my potential list is long but I recognize our average attention span is short and getting shorter, so here it is - just 7 of the many things we are grateful for this season.