Education Elements | Personalized Learning | iNACOL
On Friday morning I looked around the Las Vegas airport on my way back from the iNACOL Blended and Online Learning Symposium in San Antonio and realized I looked just as tired as the people who had spent the last several days drinking and gambling. I noted one key difference though: tired as I looked, inside I was excited and full of inspirational ideas while the others in the airport, well, they were just plain tired. For me, the annual iNACOL conference is like a reunion where everyone shares not just hugs and stories but also ideas and introductions. It was a week of new and old friends, of learning from and teaching others. Here are the top five takeaways from one of my favorite annual gatherings: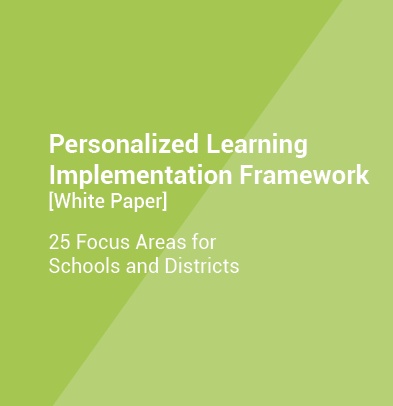 Considering Personalized Learning But Don't Know Where to Start?
Subscribe to the blog to get this resource to find out the essential areas to effectively launch, support and sustain personalized learning.
#plearning | Blended Learning | Personalized Learning | iNACOL
Except for the fact that our whole team is so tired it is hard to get anyone to put a full sentence together, we kinda wish we could go to iNACOL once a month, not once a year. Being at a conference surrounded by smart, passionate, people that recognize the need to fundamentally shift the way we educate students now in order to enable every student to succeed is pretty exciting. I'm not going to lie, the conversations I overheard during meals are a nice change from what I hear in a typical restaurant - even while eating cheesy egg sandwiches at 7 am I was impressed with both the level of understanding and the thirst for knowledge expressed by conference attendees. So what did we do as a result? Well, we tried to capture all that energy and excitement with a personalized learning map!
Adaptive Digital Content | Blended Learning | Competency-Based Education | CompetencyWorks | Digital Content | Education Elements | MetisNet | Personalized Learning | RISC | Re-Inventing Schools Coalition | Students | Teachers | iNACOL
Last week, Justin DeLeon and I attended the Competency Based Education Convening in Los Angeles, held by CompetencyWorks, an initiative led by iNacol and MetisNet. The goal of the convening was to bring together technical assistance experts in the field around competency-based education and blended learning to better understand how blended, competency-based programs can facilitate personalized learning (which emphasizes student voice and choice). The technical assistance providers in attendance were comprised of competency-based learning organizations, such as Re-Inventing Schools Coalition (RISC), recent authors of papers on pertinent topics including Liz Glowa and Julia Freeland, in addition to practitioners of competency-based programs like Boston Day and Evening Academy. The group visited USC Hybrid High and further developed practices pitches to superintendents on what ideal steps we would take to achieve a blended, competency-based program to achieve personalization across a set of schools. Over two intense days, we determined a current roadblock to understanding how blended learning could better facilitate competency based learning was the glaring need to clarify for the field how digital content providers' pedagogy is designed to personalize.
Blended Learning | EdTech | Education Elements | Virtual Schools | iNACOL
Come and visit us at the upcoming iNacol Virtual Schools Symposium in New Orleans October 21-24. We will be in Booth #108 in the exhibition hall and presenting at the following three sessions on Monday October 22nd. A Case Study in Blended Learning and an Opportunity to Design Your Own Case Monday October 22, 2012 10 am – 12 pm