Horry County Schools | Personalized Learning | School Districts
It was so exciting for me to visit South Carolina for the first time last month. What was most exciting was that I got to join the Ed Elements team at our partner Horry County Schools (HCS), South Carolina's third largest district. HCS has 54 schools, 2,700 teachers and more than 40,000 K-12 students.
Blended Learning | Horry County Schools | Leaders
As one of today's most promising models for learning, blended learning is growing rapidly across the country. But what is blended learning, and how can educators use it to improve student outcomes? In a blended learning environment, students learn through a combination of online instruction – with some element of student control over time, place, path, and/or pace – and instruction in a supervised brick-and-mortar location away from home. There are several different blended models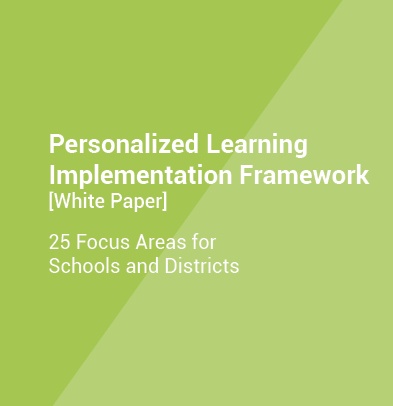 Considering Personalized Learning But Don't Know Where to Start?
Subscribe to the blog to get this resource to find out the essential areas to effectively launch, support and sustain personalized learning.
Blended Learning | CBE | Horry County Schools | Middletown | Personalized Learning | School Districts | Uinta County School District | yuma school district one
Today nearly any time that you are online you are constantly provided with personalized content: music, shopping, dating services, entertainments, etc. You constantly receive content and information that are relevant to your needs and interests. And this personalization remains true even in your everyday life, away from screens: At the gym, your activities are personalized, through dashboards, data and even trainers. At the mall, if you can afford it, you can get your personal shopper; at work, you may be personalizing strategies and communications to your clients. Education doesn't have to be an exception.
#plearning | #plearningframework | Blended Classrooms | Blended Learning | Creative teaching | Horry County Schools | Introduction to Personalized Learning | Personalized Learning | Personalized Learning Platform | School Districts
One of the best parts of my job is getting to see how teachers transform the learning experience for students. And one of the hardest parts for people considering doing personalized learning is imagining what it will look and feel like. I recently spent time talking to and observing a classroom in Horry County's Myrtle Beach Middle School. I hope by sharing this here I can give others a window into what teaching and learning can look like in a more personalized classroom... As Jackie Kennedy sits with a group of 5 students reading near a Smartboard, an 8th grader jumps up from his seat on the other side of the room. "Ahh" he groans, "almost had a hundred! That's an 88 though. Fifteen points." He flexes in celebration - as one does in middle school.
Agora Cyber Charter Academy | Blended Learning | Blended Learning Models | Ed Tech | Horry County Schools | K-12 | NGLC | Personalized Learning Tour | School Districts
My Education Elements' journeys this past month were quite enjoyable! Not only did I get to meet some amazing teachers and school leaders, but I got the opportunity to visit some new places across the country. What strikes me the most is that despite where my travels have taken me, the educators that I meet continue to reinforce the fact that the passion for learning and teaching in the K-12 space has never been greater than it is today. My journeys took me first to Horry County Schools in South Carolina and from there I was fortunate enough to visit Wayne, Pennsylvania to collaborate with the Agora Cyber Charter School. I continued my road trip (literally - no flights for these two visits) to Columbus, Ohio to meet with some pretty progressive folks at the Buckeye Association of School Administrators and the Ohio Blended Learning Network. I finished up my month's travels with an amazing trip to Idaho to conduct some Personalized Learning Tours with Idahoans in Boise and Moscow! A huge thank you to NNU and the University of ID for hosting and bringing together a great group of leaders to learn about personalized learning! (Want a PL Tour in your district? Email info@edelements.com!)