Curriculum | Personalized Learning
As an increasing number of schools and classrooms shift to personalized learning across the country, educators face many questions. Many of these questions focus on the need to define the purpose of curriculum, digital content, and tools in a personalized learning setting. While educators are certainly familiar with the use of curriculum in a traditional classroom, a shift to personalized learning brings up new questions like:
Classrooms | Curriculum | Personalized Learning
I was lying to myself and didn't even realize it. After completing numerous 5K and 10K runs, I was considering taking my running to the next level by training for my first half marathon. I would visit the specialty running store and look longingly at the glass case of GPS smart watches. "If I only had one, I'd run more," I'd say to myself. "I would have up-to-the-second data and an increased desire to run. Everything would be easier." I took the plunge and made the purchase. The features were helpful, and for the first few days, I did get excited to take my watch out for a spin. But over time, did it make me run more or was it essential to my running? Not at all.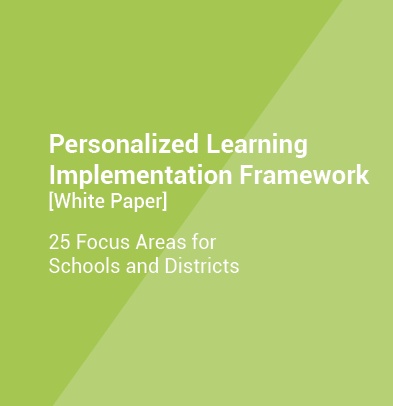 Considering Personalized Learning But Don't Know Where to Start?
Subscribe to the blog to get this resource to find out the essential areas to effectively launch, support and sustain personalized learning.
Curriculum | Personalized Learning | School Districts
The Syracuse City School District is in the second year of our Personalized Learning (PL) initiative. Schools are at different points of learning about, designing, and implementing school-based models to tailor student experiences to their unique strengths, needs, and interests. The PL work in SCSD is anchored in Education Elements' Core 4: Integrated Digital Content, Data-Driven Decisions, Targeted Instruction, and Student Ownership & Reflection.
Classrooms | Curriculum | Education Elements
How do teams capture knowledge about ideas and solutions in a way that is readily available throughout your organization? This is a question that challenges leaders everywhere, whether you direct a tech startup or a high school's English department. It is perhaps even more important when you are embarking on something new: rolling out a new initiative, starting to integrate new software and technology, trying out new devices. The last thing you want is for your lessons learned to get lost.
Classrooms | Curriculum | Personalized Learning
When we work with school districts to embark on a personalized learning journey, we empower students to be self-directed, independent, motivated, and well-versed in articulating and sharing ideas. We encourage students to reflect on their own performance data and collaboratively plan an academic path forward that meets their needs. Yet we don't build that sort of student agency when it comes to behavior and discipline.
Classrooms | Curriculum | Personalized Learning
This year marks my 17th in the classroom, and I have had the best first few weeks of my entire teaching career. For your reference, I am in the same classroom, I have the same team teacher, I have the same demographic of students, I am teaching the same classes (mostly 12th grade English), so...what is different? When it comes to what learning looks and feels like in my class, everything is different. Since dipping my toes in the pool of personalized learning