Classrooms | Personalized Learning
It was about a year ago that I took the plunge and implemented personalized learning in my classroom. That decision turned out to be one of the best I've made in my sixteen years as an educator. Under the guidance of and support from Kelly Freiheit at Education Elements, my traditional third grade classroom has evolved into a personalized learning classroom that has changed the way my students learn.
Classrooms | Personalized Learning
Selecting the right instructional model to personalize learning is a bit like cooking dinner for my family. It's an art, not a science. To better understand this analogy, it is important to be familiar with the three base models that teachers have in their proverbial pantry: station rotation, playlists, and flipped lessons. To learn more about each of these in the elementary and secondary settings, check out these infographics: PL models for elementary classrooms & PL models for secondary classrooms. Let's first explore where each model is most useful: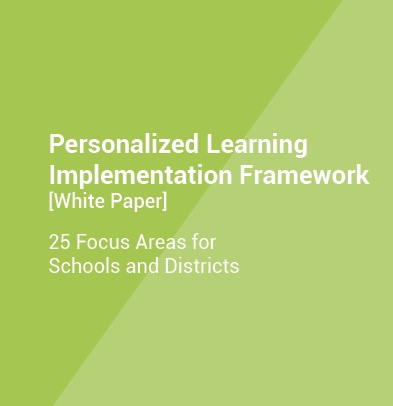 Considering Personalized Learning But Don't Know Where to Start?
Subscribe to the blog to get this resource to find out the essential areas to effectively launch, support and sustain personalized learning.
As we continue to progress through the 21st century we are compelled to ask whether current models of schooling are well designed for the world beyond classroom walls. In particular, it's worth reflecting on 3 essential questions in school model design, a term we use to refer to how schools are organized to deliver instruction to students.
Classrooms | Competency-Based Education | Leaders | Personalized Learning | School Districts
I've mentioned to a few people that I'm having my education mid-life crisis. After almost 20 years in education, I've seen various initiatives, software solutions, and programs come and go. Hundreds of millions are spent each year trying to move the needle, yet we continue to get similar results. It isn't without the sweat, blood, and tears of all the educators in the country that work so hard.
Classrooms | Personalized Learning
If Adam Savage and Jamie Hyneman of Mythbusters looked deep into the world of personalized learning, they would quickly note that one of the biggest misconceptions schools and teachers have is that personalization equals technology. I was in high school prior to the advent of Facebook, the iPhone, the Chromebook, and the popularization of blogs (ironic, given the medium of this article), and to this day, my most personalized educational experiences happened as a high school senior. I was a student in an Advanced Placement U.S. Government class, and I would frequently meet my peers and teacher, Mr. Allan, after school at a Starbucks.
Classrooms | Personalized Learning
School was never hard for me, it just wasn't engaging enough for us millennials. It felt prehistoric and bland, so I often doodled and wrote poetry. I was an average student until sports became my incentive to achieve academically. This wasn't due to lack of knowledge, but moreso a lack of interest. However, things changed once I got to college. College was the first time I was in charge of my educational path. It was a time I felt connected to school and empowered as a learner.