Blended Learning | Innovative Leadership | Personalized Learning | School Districts
Principals and teachers trying to personalize their students' learning are charged with radically reimagining the classroom. It's a tall order that requires educators to take risks, move outside their comfort zones and essentially overhaul much of their jobs. What we're seeing in the schools we've visited for this project makes it clear that this work shouldn't—and often can't—be done alone.
Blended Learning | Innovative Leadership
As one of today's most promising models for learning, blended learning is growing rapidly across the country. But what is blended learning, and how can educators use it to improve student outcomes? In a blended learning environment, students learn through a combination of online instruction – with some element of student control over time, place, path, and/or pace – and instruction in a supervised brick-and-mortar location away from home. There are several different blended models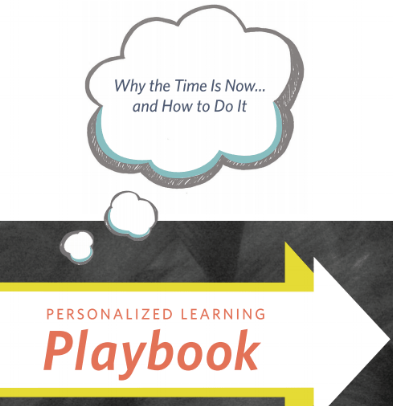 Interested in Personalized Learning But Don't Know Where to Start?
Subscribe to the blog to get your free copy of our Personalized Learning Playbook. A Playbook that will help you make the case for personalized learning, and reflect on the important elements to take in consideration.
Blended Learning | Innovative Leadership | Personalized Learning
When we published Disrupting Class in 2008, we had no idea what it would help unleash. As Gisele Huff, executive director of the Jaquelin Hume Foundation, observed recently, the book served as a vehicle to change the dialogue in education from school improvement to transforming schools through innovation. Innovation in our schools is critical so that we can personalize learning for each student's distinct needs such that
Blended Learning | Curriculum Strategy & Adoption
Back in my day, all schools were brick-and-mortar. Back in my grandfather's day, they were brick-and-mortar with everyone in one classroom, regardless of grade level. Back in my grandfather's grandfather's day… well, who knows? The point is: Education is evolving and changing as it responds to the needs of students and the opportunities around us. With virtual schools, classes, and learning opportunities gaining popularity, it's important to stay up to date on how to help these virtual educational experiences continue to be engaging and effective.
Blended Learning | Innovative Leadership | Personalized Learning
When I started writing Disrupting Class in 2006, I was stunned to learn that our school systems—not just in the United States, but throughout most of the world—were not built to optimize learning. They were built to standardize the way we teach and test and for sorting.
Blended Learning | Classrooms | Personalized Learning
Personalized learning came along at the perfect time in my life, like the deus ex machina in an M. Night Shyamalan film. It all started, as these things often do, just when I was ready to slam closed for good my own cosmic "Choose Your Own Adventure" book. Not long ago, I was reflecting on my visit to Marengo Cave and I couldn't help but think that the experience of those first two kids, hesitantly making their way through that small, scary opening, was not unlike the experience that many of my students bring into my classroom day after day: entering the vast, unknown, terrifying darkness with nothing more than a birthday candle to light the way. And here I am holding a flashlight.