#plearning | #plearningframework | Blended Classrooms | Blended Learning | Creative teaching | Horry County Schools | Introduction to Personalized Learning | Personalized Learning | Personalized Learning Platform | School Districts
One of the best parts of my job is getting to see how teachers transform the learning experience for students. And one of the hardest parts for people considering doing personalized learning is imagining what it will look and feel like. I recently spent time talking to and observing a classroom in Horry County's Myrtle Beach Middle School. I hope by sharing this here I can give others a window into what teaching and learning can look like in a more personalized classroom... As Jackie Kennedy sits with a group of 5 students reading near a Smartboard, an 8th grader jumps up from his seat on the other side of the room. "Ahh" he groans, "almost had a hundred! That's an 88 though. Fifteen points." He flexes in celebration - as one does in middle school.
Blended Classrooms | Blended Learning Leadership Academies | Blended Learning Models | Digital Content | Ecosystems | Education Elements | HLMS | Hybrid Learning Management System | Partners
San Carlos, CA––April 13, 2013 ––Education Elements, the leader in building Blended Classrooms that help schools integrate instructional practice and technology, announced that it has added over two-dozen new digital content and application partners to the ecosystem of educational products that integrate with its Hybrid Learning Management System (HLMS).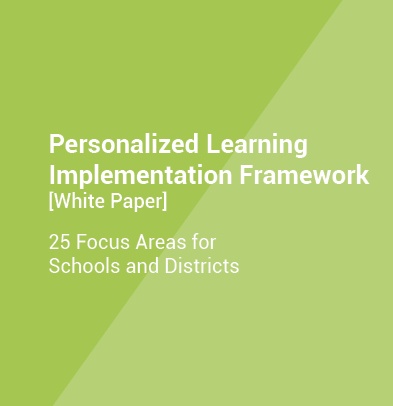 Considering Personalized Learning But Don't Know Where to Start?
Subscribe to the blog to get this resource to find out the essential areas to effectively launch, support and sustain personalized learning.
Blended Classrooms | Blended Learning | Digital Content | Partners
At the close of 2012, we believe there are about 70-80 US schools that have effectively implemented comprehensive blended learning models (see our definition here). At Education Elements, we are proud to be working with about 50 of these schools and are encouraged by the early indicators of student achievement. Last year, we saw an unexpectedly rapid increase in the number of public school districts adopting blended learning models; districts like those in the Pennsylvania Hybrid Learning Initiative now account for roughly 60% of our client base. In 2013, thanks in part to RTT-D, we are expecting that growth in blended learning implementations to further accelerate and reach over 300 schools by yearend. This is incredible growth as students, teachers and administrators seek more personalized and differentiated teaching and learning. I really enjoyed Michael Horn's predictions for blended learning in 2013, so I thought I would share my wish list for 2013 as we start the new year.
Blended Classrooms | Blended Learning | Digital Content | Digital content framework
The goal of the Race to the Top District competition is to foster personalizing learning environments in schools serving under-resourced students. As a result, for many students, the classroom next year will look very different from the way it does now. When schools across the country open their doors in Fall 2013, thousands of students find themselves in a new type of classroom-a Blended Classroom. They will have all sorts of questions: "What are all of these laptops doing here?" "How exactly will you 'blend' our learning?" "What do you mean our lessons will be on the computer?"